Advanced Copy function Partial copying - SnapOPC / SnapOPC+
SnapOPC only copies the "before" picture of data being updated, to the copy volume. By only copying data subject to change, copy volume capacity can be much smaller than the original business data volume. In addition, SnapOPC+ provides generation management of the updated data. The difference between SnapOPC+ and SnapOPC is that SnapOPC+ updates data only as history information while SnapOPC stores the data redundantly. Logging as history information can provide disk based generation backup using a smaller copy volume capacity.
ETERNUS AF/ETERNUS DX of entry class[1] provide 8 sessions of SnapOPC+ for free as standard.
The figure below is a description of SnapOPC+ operation.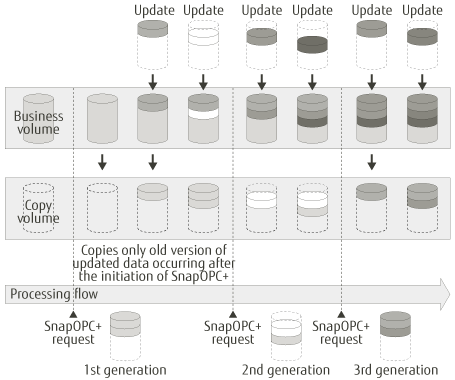 Applicable Operation
Backup of operations that have relatively few updates such as file servers.
Performing temporary backup for tape backup.
Performing a backup of the data that is updated in small amounts. (generation management is available for SnapOPC+)
Benefits
Enables efficient copy retention as the overall copy volume capacity is much smaller.
Product Requirements
SnapOPC
SnapOPC+
Supported Storages
All-Flash Arrays
ETERNUS AF150 S3
ETERNUS AF250 S3/S2, AF250
ETERNUS AF650 S3/S2, AF650
ETERNUS DX200F
Hybrid Storage Systems
ETERNUS DX60 S5/S4/S3
ETERNUS DX100 S5/S4/S3, DX200 S5/S4/S3
ETERNUS DX500 S5/S4/S3, DX600 S5/S4/S3
ETERNUS DX900 S5
ETERNUS DX8700 S3/S2, DX8900 S4/S3
ETERNUS DX60 S2[3] , DX80 S2, DX90 S2
ETERNUS DX400 S2 series
Supported Servers
Mission Critical IA Server, UNIX Server, Industry Standard Servers
Operational Interface
Mission Critical IA Server
UNIX Server
Industry Standard Servers
ETERNUS SF AdvancedCopy Manager[1]
-
ETERNUS Web GUI[1]
ETERNUS CLI[1]
Industry Standard Servers
-
ETERNUS SF Express[1][2]
Mission Critical IA Server
Industry Standard Servers
-
VSS(Volume Shadow copy Service)[1]
ETERNUS AF150 S3, AF250 S3/S2, AF250, DX200F , DX60 S5/S4/S3/S2, DX100 S5/S4/S3, DX200 S5/S4/S3, DX80 S2 and DX90 S2 provide 8 sessions of SnapOPC+ for free as standard.

Please refere to the ETERNUS Express operating environment for supported storages.

SnapOPC is not supported in the ETERNUS DX60 S2.