Advanced Copy function Partial copying - QuickOPC
QuickOPC initially copies all the business data volume to a copy volume.
Subsequently, it only copies updates that occur on the business volume (the differences).
This has the effect of reducing copying time, particularly with large databases, making high-speed backup operation possible.
Both the business volume and the copy volume have the same data size. This process is especially suited to backup operations on mission critical databases where robust data security is essential.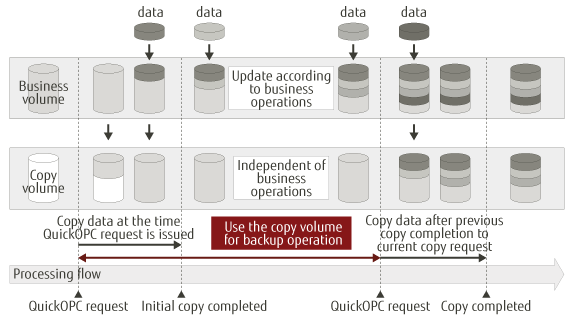 Applicable Operation

Backup operations, particularly with large databases, that need to be processed in a reduced time.
Creating a backup of the data that is updated in small amounts.
Performing system test data replication.
Restoration from a backup.

Benefits

Using QuickOPC, physical copying after the initial full copy significantly reduces the time required and the effect on business operation.

Product Requirements

Supported Storages
All-Flash Arrays
ETERNUS AF150 S3
ETERNUS AF250 S3/S2, AF250
ETERNUS AF650 S3/S2, AF650
ETERNUS DX200F
Hybrid Storage Systems
ETERNUS DX60 S5/S4/S3
ETERNUS DX100 S5/S4/S3, DX200 S5/S4/S3
ETERNUS DX500 S5/S4/S3, DX600 S5/S4/S3
ETERNUS DX900 S5
ETERNUS DX8700 S3/S2, DX8900 S4/S3
ETERNUS DX60 S2, DX80 S2, DX90 S2
ETERNUS DX400 S2 series
Supported Servers
Mission Critical IA Server, UNIX Server, Industry Standard Servers
Operational Interface
Mission Critical IA Server
UNIX Server
Industry Standard Servers
ETERNUS SF AdvancedCopy Manager
Mission Critical IA Server
Industry Standard Servers
VSS(Volume Shadow copy Service)

*Note:

Products/features/support content introduced on this page may be modified without notice.