Disaster Recovery by Remote Location Backup Remote Copy using Fibre Channel Interface (Remote Advanced Copy function (REC))
REC (Remote Equivalent Copy) provides a server-less remote mirroring function which ensures fast recovery when the primary site ETERNUS AF/ETERNUS DX become unusable because of a disaster, such as fire, earthquake or malicious damage.
Remote Advanced Copy for Storage Area Network (SAN)

By using Fibre Channel interfaces, Remote Advanced Copy can provide lower cost remote site support between a primary storage device and a secondary device.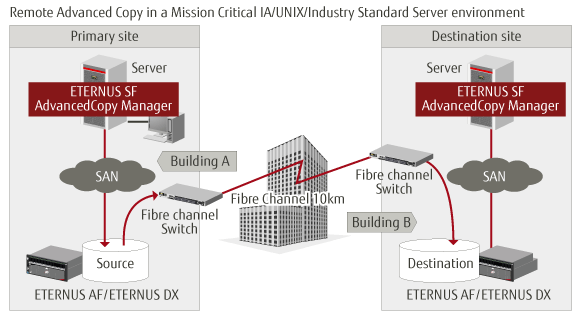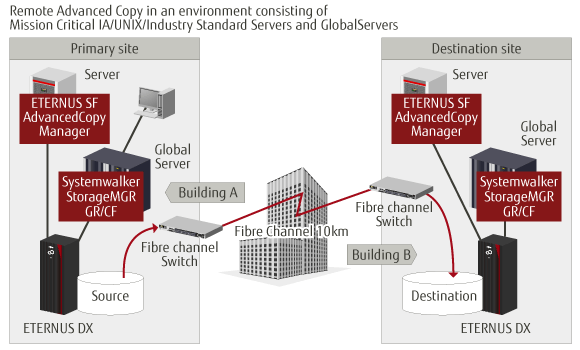 Extended Remote Advanced Copy for Wide Area Network (WAN)

Extended Remote Advanced Copy uses a combination of a Fibre Channel switch and WAN converter to support very long distances over WAN. Replicated data can be located at a remote site hundreds of kilometers away from the primary site. This provides high security for the protection of critical data from both man-made and natural disasters.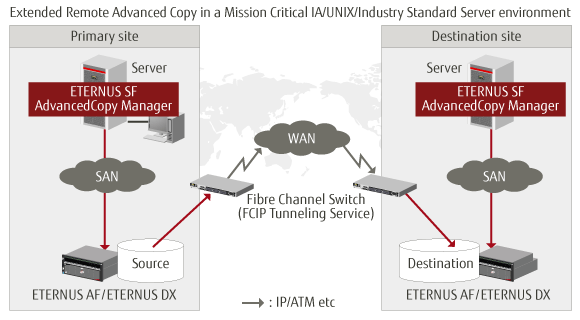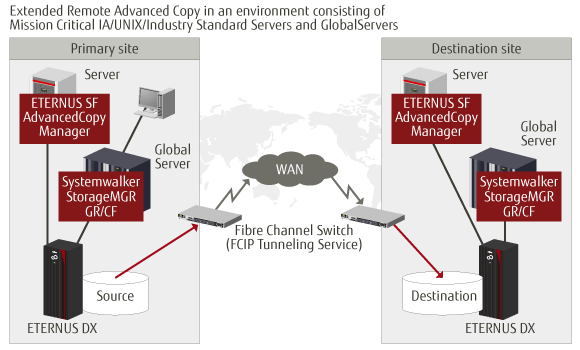 In addition, ETERNUS AF or ETERNUS DX S2 and later support replication between common models and newer/previous models, as well as N to 1 integrated backup. These capabilities enable flexible system configuration matched to requirements.
Benefits
Protects your critical data from disasters and provides fast recovery
Product Requirements
Supported Storages
All-Flash Arrays
ETERNUS AF250 S3/S2, AF250
ETERNUS AF650 S3/S2, AF650
ETERNUS DX200F
Hybrid Storage Systems
ETERNUS DX100 S5/S4/S3, DX200 S5/S4/S3
ETERNUS DX500 S5/S4/S3, DX600 S5/S4/S3
ETERNUS DX900 S5
ETERNUS DX8700 S3/S2, DX8900 S4/S3
ETERNUS DX90 S2, DX400 S2 series
Supported Fibre Channel Switches
via SAN
SAN Switches
via WAN
SAN Switches supporting "FCIP tunneling" function
via WDM devices
SAN Switches supporting "Extended Fabrics" function
Supported Fibre Channel Switches
GlobalServer, Mission Critical IA Server
UNIX Server, Industry Standard Servers
Operational Interface
Mission Critical IA Server
UNIX Server
Industry Standard Servers
ETERNUS SF AdvancedCopy Manager
GlobalServer
Systemwalker StorageMGR GR/CF