Cluster system support - PRIMECLUSTER
As well as enabling disk mirroring, PRIMECLUSTER also enables ETERNUS AF/ETERNUS DX to support cluster system configuration. Scalable up to 16 nodes, it provides for robust data processing and 24 x 7 availability.
In addition, when used with PRIMECLUSTER Enterprise Edition or PRIMECLUSTER HA Server delivers a parallel file server configuration capable of simultaneous access by multiple file servers.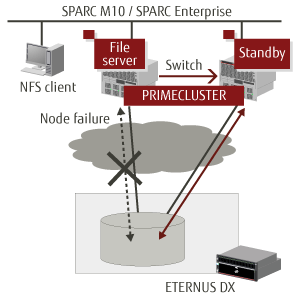 Benefit

Provides cluster system support for high availability of the entire system

Product Requirements

Supported Storages
All-Flash Arrays
ETERNUS AF150 S3
ETERNUS AF250 S3/S2, AF250
ETERNUS AF650 S3/S2, AF650
ETERNUS DX200F
Hybrid Storage Systems
ETERNUS DX60 S5/S4/S3
ETERNUS DX100 S5/S4/S3, DX200 S5/S4/S3
ETERNUS DX500 S5/S4/S3, DX600 S5/S4/S3
ETERNUS DX900 S5
ETERNUS DX8700 S3/S2, DX8900 S4/S3
ETERNUS DX60 S2, DX80 S2, DX90 S2
ETERNUS DX400 S2 series
Supported Servers
Mission Critical IA Servers
PRIMEQUEST
UNIX Servers
SPARC Servers
Industry Standard Servers
PRIMERGY
Required Software
PRIMECLUSTER[1]

[1]

To configure a parallel file server with multiple file server access, PRIMECLUSTER Enterprise Edition or PRIMECLUSTER HA Server is required.

*Note:

Products/features/support content introduced on this page may be modified without notice.