Inter-unit mirroring for even higher storage availability - PRIMECLUSTER GD
For even higher business continuity, PRIMECLUSTER GD provides an inter-unit mirroring facility for ETERNUS AF and ETERNUS DX (herein after called ETERNUS). With this facility logical volumes (LUNs) can be mirrored between two ETERNUS system units. Even if the primary ETERNUS system fails, business continuity is ensured using the mirrored data on the secondary ETERNUS system. Such highly available Storage Systems are essential for today's mission-critical systems and 24 x 7 operation.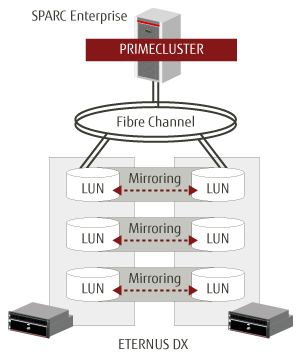 Benefit

Even if the primary ETERNUS system fails, switching operation to the secondary system ensures business continuity

Product Requirements

Supported Storages
All-Flash Arrays
ETERNUS AF150 S3
ETERNUS AF250 S3/S2, AF250
ETERNUS AF650 S3/S2, AF650
ETERNUS DX200F
Hybrid Storage Systems
ETERNUS DX60 S5/S4/S3
ETERNUS DX100 S5/S4/S3, DX200 S5/S4/S3
ETERNUS DX500 S5/S4/S3, DX600 S5/S4/S3
ETERNUS DX900 S5
ETERNUS DX8700 S3/S2, DX8900 S4/S3
ETERNUS DX60 S2, DX80 S2, DX90 S2
ETERNUS DX400 S2 series
Supported Servers
Mission Critical IA Servers
PRIMEQUEST
UNIX Servers
SPARC Servers
Industry Standard Servers
PRIMERGY
Required Software
PRIMECLUSTER GD[1]

[1]

To manage access between multiple UNIX servers and ETERNUS systems, PRIMECLUSTER Clustering Base is required.