Enhanced data reliability - Disk drive patrol
Data of ETERNUS AF/ETERNUS DX are protected via a disk drive patrol function. An internal controller regularly checks the disk drives, in background, to detect errors and write failures. This process also ensures that data consistency within the volume group[1] is also maintained.
The data on each disk drive is read, and if an error is detected, data is reconstructed using redundant information contained within the volume group. The corrected data is then written to a new valid area on the disk drive.
[1]

Volume group is a group configured in a RAID.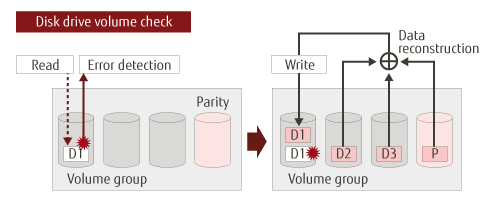 Benefit

Higher data reliability as data errors are quickly found and corrected (by reconstruction) and disk write failures are avoided.

Product Requirements

Supported Storages
All-Flash Arrays
ETERNUS AF150 S3
ETERNUS AF250 S3/S2, AF250
ETERNUS AF650 S3/S2, AF650
ETERNUS DX200F
Hybrid Storage Systems
ETERNUS DX60 S5/S4/S3
ETERNUS DX100 S5/S4/S3, DX200 S5/S4/S3
ETERNUS DX500 S5/S4/S3, DX600 S5/S4/S3
ETERNUS DX900 S5
ETERNUS DX8700 S3/S2, DX8900 S4/S3
ETERNUS DX60 S2, DX80 S2, DX90 S2
ETERNUS DX400 S2 series

*Note:

Products/features/support content introduced on this page may be modified without notice.