Cache data protection during power failures - Cache Guard
Redundantly configured batteries inside ETERNUS AF/ETERNUS DX allow data in cache memory to be moved to nonvolatile memory or to physical disk drives in cases of power failure. This secured data can then be maintained in that state indefinitely.
And ETERNUS AF and ETERNUS DX (S3 or later) have long-life Nickel-metal-hydride battery for backup so as to reduce the periodic replacement parts. This also helps reduce industrial waste.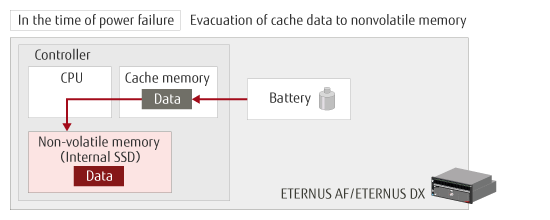 Benefit

Cached data remains secure during any power outage, whatever the duration

Product Requirements

Supported Storages
All-Flash Arrays
ETERNUS AF150 S3
ETERNUS AF250 S3/S2
ETERNUS AF650 S3/S2, AF650
Hybrid Storage Systems
ETERNUS DX60 S5/S4/S3
ETERNUS DX100 S5/S4, DX200 S5/S4
ETERNUS DX500 S5/S4/S3, DX600 S5/S4/S3
ETERNUS DX900 S5
ETERNUS DX8700 S3/S2, DX8900 S4/S3
ETERNUS DX400 S2 series