Online Storage Migration and offline Storage Migration
Storage Migration is a function that migrates the volume data from an old storage system to volumes in a new storage system without using a host in cases such as when replacing a storage system. The migration source storage system and migration destination ETERNUS AF/ETERNUS DX (ETERNUS) are connected using FC cables. Data read from the target volume in the migration source is written to the migration destination volume in the ETERNUS.
Since Storage Migration is controlled by ETERNUS controllers, no additional software is required.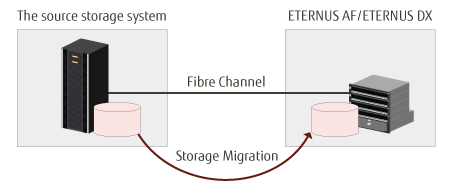 Storage Migration provides two data migration methods: offline and online. With offline, operations must be stopped in the storage systems during a data migration and with online, the data can be migrated while performing operations.
Each procedure is explained as follows.
Offline Storage Migration

During a data migration with offline Storage Migration, the destination storage system views and copies the data in the source storage system. Because the data is migrated by the storage system, the migration time can be reduced. However, as is the case with migrations via a server, business operations must be stopped during a data migration to prevent the data from being changed.

Online Storage Migration

Online Storage Migration allows the business server to read from and write to the destination storage system while data is being migrated from the source storage system. Operations can be resumed immediately after the cables are switched. Therefore, downtime can be reduced significantly with online Storage Migration. However, consider the effect on performance when business operations are performed at the same time since the load caused by data migrations affect the business operations.
Benefits
Both online Storage Migration and offline Storage Migration are supported
Without going through servers, data migration time is reduced
No additional software nor licenses is required
No need to change the configuration of the source storage system
No dedicated equipment for data migration is needed
Product Requirements
Supported Storages
All-Flash Arrays
ETERNUS AF150 S3
ETERNUS AF250 S3/S2, AF250
ETERNUS AF650 S3/S2, AF650
ETERNUS DX200F
Hybrid Storage Systems
ETERNUS DX60 S5/S4/S3
ETERNUS DX100 S5/S4/S3, DX200 S5/S4/S3
ETERNUS DX500 S5/S4/S3, DX600 S5/S4/S3
ETERNUS DX900 S5
ETERNUS DX8700 S3, DX8900 S4/S3