Increasing storage availability - Reverse Cabling
In order to provide higher availability, the controller enclosure is connected to the drive enclosure via reverse cabling. The connection of the primary path is implemented in ascending order while the secondary path is connected in descending order, as shown in the following figure.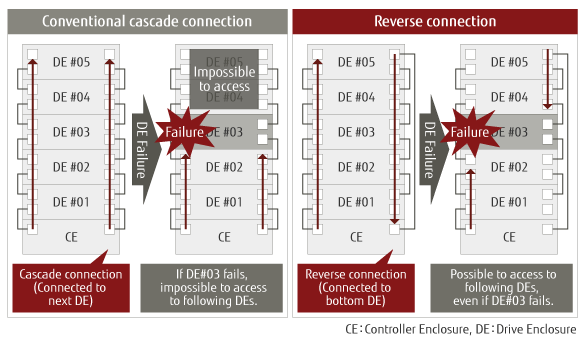 Benefits
Drive enclosure access is ensured even when a DE failure occurs.
Availability for data transfer paths between controllers and drives is better than older models.
Product Requirements
Supported Storages
All-Flash Arrays
ETERNUS AF250 S3
ETERNUS AF650 S3/S2, AF650
Hybrid Storage Systems
ETERNUS DX60 S5
ETERNUS DX100 S5/S4/S3, DX200 S5/S4/S3
ETERNUS DX500 S5/S4/S3, DX600 S5/S4/S3
ETERNUS DX8700 S3, DX8900 S4/S3