Non-disruptive Storage Migration
Non-disruptive Storage Migration is a function that migrates the volume data from an old storage system to volumes in a new storage system without stopping a business server in cases such as when replacing a storage system.
The migration source storage system (External Storage) and migration destination ETERNUS AF/ ETERNUS DX (Local Storage) are connected using FC cables. By using RAID Migration, the data that is read from the target volume in the migration source is written to the migration destination volume in the Local Storage.
By matching the device information of the migration destination volume with the migration source volume, the server recognizes them as the same volume.
Until the data migration is completed, data consistency is ensured because the data remains in the migration source volume for consolidated management after the connection between the External Storage and the server is disconnected.
The connection interface between the External Storage and the Local Storage is only FC. In addition, the direct connection and switch connection topologies are supported.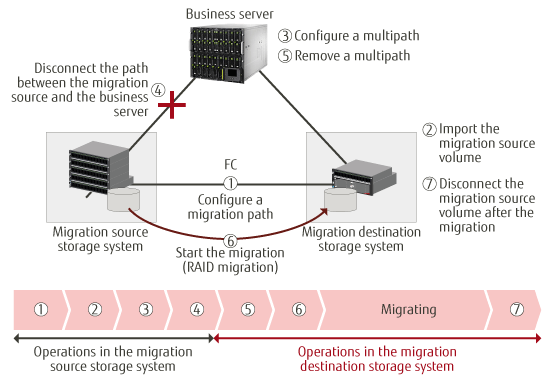 Product Requirements
Supported Storages
All-Flash Arrays
ETERNUS AF150 S3
ETERNUS AF250 S3/S2, AF250
ETERNUS AF650 S3/S2, AF650
ETERNUS DX200F
Hybrid Storage Systems
ETERNUS DX60 S5/S4/S3
ETERNUS DX100 S5/S4/S3, DX200 S5/S4/S3
ETERNUS DX500 S5/S4/S3, DX600 S5/S4/S3
ETERNUS DX900 S5
ETERNUS DX8700 S3, DX8900 S4/S3