Storage Cluster - to ensure business continuity
As some data is mission-critical, it must always be accessible. In order to ensure data availability, even in the event of a system or site failure, Storage Cluster supports application and server transparent failover based on synchronous REC (Remote Equivalent Copy) function. The basic concept is constructed around deploying a secondary storage system and a Storage Cluster Controller. As long as the primary storage system is running, data is transferred from it to the secondary system via a synchronous Replication function.
The Storage Cluster Controller continuously checks the status of the primary storage. If a failure is detected, it runs the failover logic and the primary storage information (e.g. LUN ID) is taken over to the secondary storage in order to recognize the volume transparently by the I/O server. Hence, operations run smoothly ensuring business continuity.
Primary storage system failure
When the primary storage system fails due to a natural disaster or man-made error, the second storage system serves as a critical backup.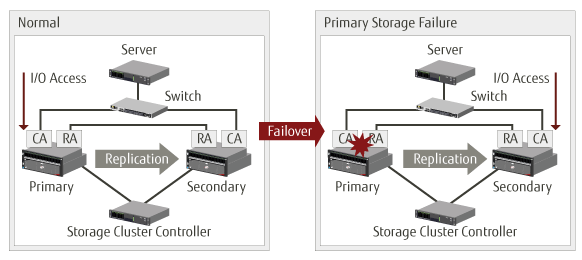 Benefit
Ensure data availability in the event of a system or site failure
The secondary storage system ensures business continuity in a disaster
Product Requirements
Supported Storages
All-Flash Arrays
ETERNUS AF250 S3/S2, AF250
ETERNUS AF650 S3/S2, AF650
ETERNUS DX200F
Hybrid Storage Systems
ETERNUS DX100 S5/S4/S3, DX200 S5/S4/S3
ETERNUS DX500 S5/S4/S3, DX600 S5/S4/S3
ETERNUS DX900 S5
ETERNUS ETERNUS DX8700 S3, DX8900 S4/S3
Required Software
ETERNUS SF Storage Cruiser Standard License
ETERNUS SF Storage Cruiser Storage Cluster Option
ETERNUS SF AdvancedCopy Manager Remote Copy License
Related Contents