Extreme Cache - the Performance Turbo
ETERNUS DX hybrid storage systems are equipped with a cache that can be expanded with flash storage directly in the controller, which is an excellent way of responding to business requirements quickly and without complexity to support easy operation. For example, this enhancement option considerably speeds up response times for business analyses with large, random read operations.
The same is true for random-read access with OLTP applications, provided that the complete database has been loaded in the Extreme Cache (EXC) in advance.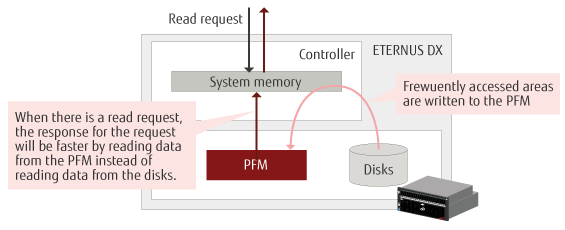 The basic architecture of the system consists of two interconnected CMs (via PCI Express), each having Channel Adapters (CA), and interfaces installed. It also supports high-speed PCI Express Flash Modules (PFM) as large capacity cache – the Extreme Cache – which provides higher performance with less number of disk drives, optimizing costs and power consumption. The EXC supports hot-swapping. The system can host up to four modules providing up to 5.6 TB cache capacity for read operations. Unlike many implementations, the PFM modules are mounted in the controllers – not in the drive enclosures – providing some benefits, such as:
Short latency due to direct PCI Express connection to CPU
Better utilization of the drive enclosures, as no DE slots need to be dedicated for EXC
I/O performance of the drive enclosures are not impacted
Benefit
Considerable acceleration of repetitive random read operations
Product Requirements
Supported Storages
ETERNUS DX500 S5/S4/S3, DX600 S5/S4/S3
ETERNUS DX900 S5
ETERNUS DX8700 S3, DX8900 S4/S3