Extreme Cache Pool - the Performance Booster
Extreme Cache Pool, the secondary cache built from dedicated drive enclosure based SSDs provides flash-drive class performance for significantly accelerated read access of servers and applications.
Using intelligent algorithms frequently accessed data is detected and automatically placed on fast SSDs – thus avoiding time consuming retrieval from spinning disk.
Extreme Cache Pool offers read performance and latency comparable to all-flash arrays while leveraging the cost advantages of conventional disk arrays. The feature can be activated separately for each volume, helping to achieve an even better cost/benefit ratio.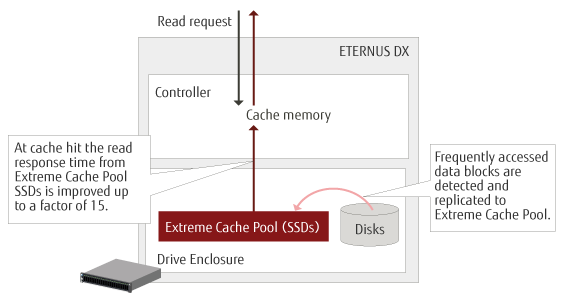 Benefit
Significant improvement of read access IOPS and latency

Ideal for near-real-time analystics, high-performance OLTP and small to medium virtual server environments

Reduces drive count previously necessary to achieve high performance

Saves investment cost
Lowers power consumption
Product Requirements
Supported Storages
ETERNUS DX100 S5/S4/S3, DX200 S5/S4/S3
ETERNUS DX500 S4/S3, DX600 S4/S3
ETERNUS DX8700 S3, DX8900 S3