Component redundancy and hot swap, hot expansion
In order to ensure reliable operation and high availability, the ETERNUS AF and ETERNUS DX have a fully redundant configuration and hot maintenance capability. The interconnection of the CMs is duplicated.
A drive enclosure (DE) has also two independent interface ports that are directly connected to two CMs for path redundancy.
The use of redundant components and multiple controller-to-drive connections ensures exceptional reliability. Hardware components supporting hot swap and hot expansion features not only enable firmware upgrades during system operation, but also provide capacity expansion together with the LUN expansion feature where DEs or HDDs are added as needed.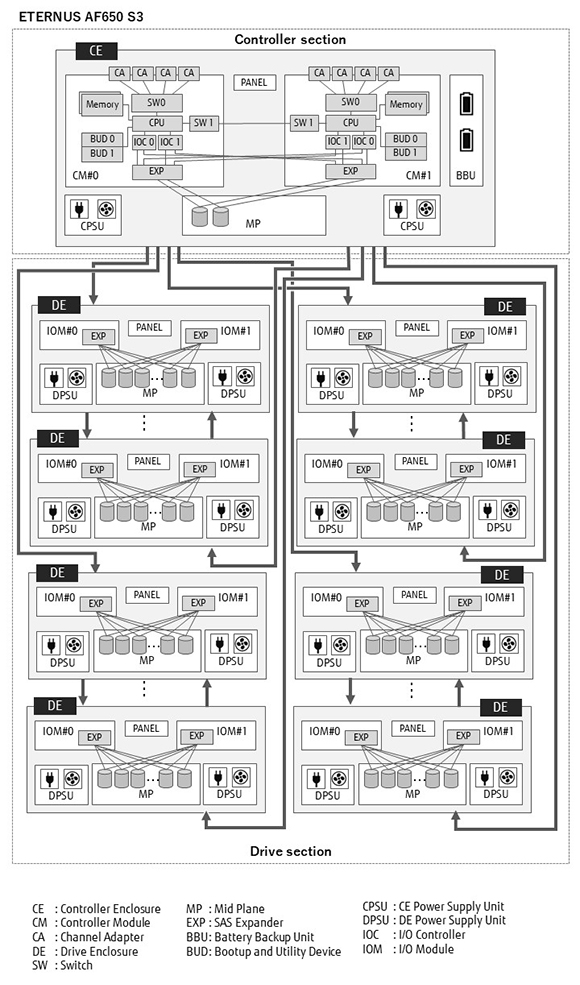 Components for hot swap
The "Design Guide (Basic)" shows whether hot swap or hot expansion for components of the ETERNUS AF or ETERNUS DX. Please refer to the "Hot Swap/Hot Expansion" section of each product manual "Design Guide (Basic)".
Benefits
During a failure, components can be exchanged without system down-time
Hot expansion provides capacity expansion during system operation
Hot swap enables firmware upgrades during system operation
Product Requirements
Supported Storages
All-Flash Arrays
ETERNUS AF150 S3
ETERNUS AF250 S3/S2, AF250
ETERNUS AF650 S3/S2, AF650
ETERNUS DX200F
Hybrid Storage Systems
ETERNUS DX60 S5/S4/S3
ETERNUS DX100 S5/S4/S3[1],DX200 S5/S4/S3[1]
ETERNUS DX500 S5/S4/S3, DX600 S5/S4/S3
ETERNUS DX900 S5
ETERNUS DX8700 S3, DX8900 S4/S3
[1]

ETERNUS DX100 S3 and DX200 S3 feature this function when they have dual controllers.

*Note:

Products/features/support content introduced on this page may be modified without notice.