Fujitsu delivers digital transformation with AI demand forecast service for TORIDOLL noodle shops throughout Japan
New service to improve operational efficiency, reduce food loss, and realize efficient energy management at 823 Marugame Udon shops in Japan
TORIDOLL Holdings Corporation, Fujitsu Limited
Tokyo, February 2, 2023
Fujitsu and TORIDOLL Holdings Corporation (hereinafter TORIDOLL Holdings) today announced the deployment of Fujitsu's AI demand forecast service at 823 Marugame Udon noodle shops in Japan (1), operated by TORIDOLL Holdings. The service will enable TORIDOLL Holdings to accurately forecast the customer numbers and sales by day and time for each shop, based on weather data and POS data held by TORIDOLL Holdings.
Fujitsu will help digitally transform operations for shop managers, optimizing complex manual processes including the ordering of products and food quantity planning to deliver greater overall efficiency, help reduce food loss, and realize efficient energy management through the optimization of staff allocation and air conditioning in shops.
Moving forward, Fujitsu and TORIDOLL Holdings will continue to leverage AI and other leading-edge technologies, as well as various data and business know-how, to promote the digital transformation (DX) of TORIDOLL Holdings' restaurants globally, and ultimately contribute to the realization of a more sustainable society.
Background
TORIDOLL Holdings in November 2022 formulated its "DX Vision 2028" to transform into a true global food company. In 2021, TORIDOLL Holdings started testing the effectiveness of a new AI demand forecast service system for predicting the customer numbers and sales of its Marugame Udon brand by shop, day, and time, to realize two goals of its vision: "2. Automated shop management using AI demand forecasts" and "4. Energy management system utilizing IoT". TORIDOLL Holdings decided to deploy the new solution at all of its 823 shops in Japan.
Overview of the AI forecast service
The AI forecast service is based on Fujitsu's AI demand prediction solution "Fujitsu Business Application Operational Data Management & Analytics Demand Forecasting SaaS," which enables users to predict future customer and sales numbers with high accuracy based on various data held by companies, including POS data, sales calendars, and sales promotion campaigns, as well as weather data.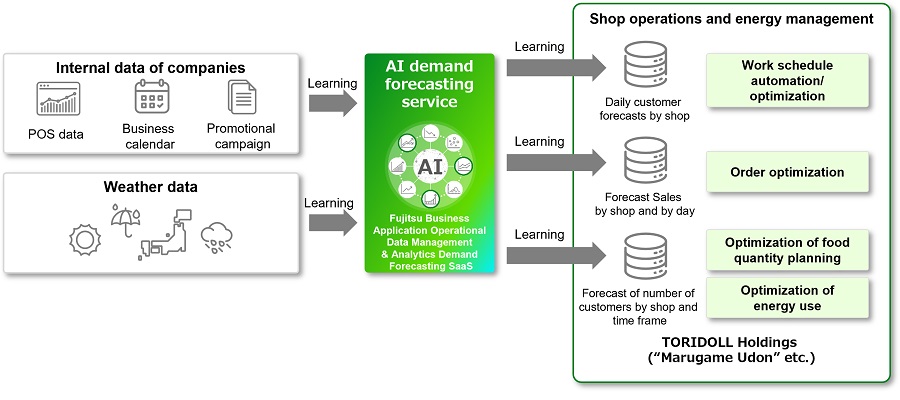 TORIDOLL Holdings and Fujitsu will utilize the AI demand prediction service to automate and improve work schedules and optimize order processes, food quantity planning and energy use.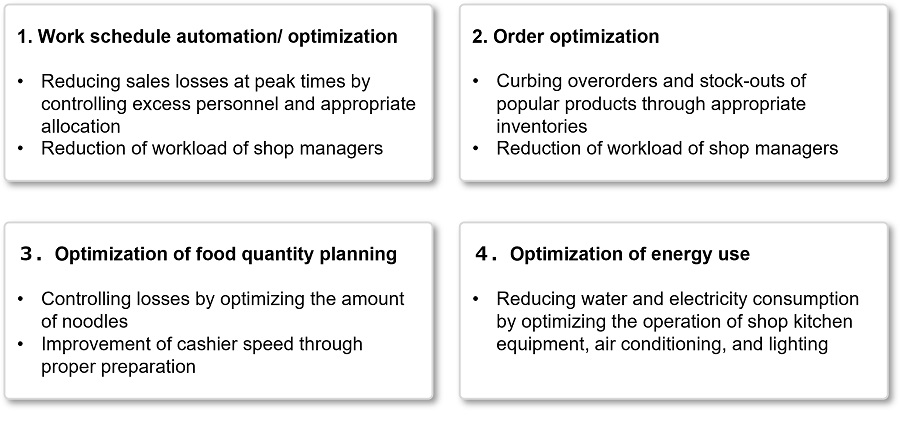 "Fujitsu Business Application Operational Data Management & Analytics Demand Forecasting SaaS," the base of the AI forecast service, provides the following features:
1. Stable and accurate demand forecasting using AI and machine learning technologies
Using a model of Fujitsu Research for dynamic ensemble forecasting that leverages AI and machine learning technology to imitate human thought processes to make predictions from data characteristics, Fujitsu realized an optimal combination of multiple demand prediction models through automatic tuning. In this way, the service can offer both stable and highly accurate forecasts without the need to select from different forecasting methods by leveraging a learning model that accurately captures the characteristics of individual prediction objects that change according to various factors including periodicities, external factors and trends.
2. Easier cooperation to make use of forecast data in various operations
As Fujitsu offers the forecast service via the cloud, required forecast data can be easily linked with various SaaS applications and APIs running in the cloud, thus supporting the use of forecast data in various planning operations including order placement, production planning, and work scheduling.
Future Plans
Under its slogan "Filling Our Planet with Dining Experiences that will Move You," TORIDOLL Holdings will continue to promote DX to offer further new food experiences by combining the two principles of "developing quickly and efficiently" and "taking time and effort".
Fujitsu will continue to promote "Digital Shifts," one of its key focus areas under its global business brand Fujitsu Uvance, to realize data-driven management and an agile shift to the "new normal."
Fujitsu will present this project at its booth at the Retailtech Japan 2023 event held Tuesday, February 28, 2023 to Friday, March 3 at Tokyo Big Sight, Koto-ku, Tokyo, Japan.
---
[1]

823 Marugame Udon noodle shops in Japan :
Number as of January 31, 2023
Related Links
About Fujitsu
Fujitsu's purpose is to make the world more sustainable by building trust in society through innovation. As the digital transformation partner of choice for customers in over 100 countries, our 124,000 employees work to resolve some of the greatest challenges facing humanity. Our range of services and solutions draw on five key technologies: Computing, Networks, AI, Data & Security, and Converging Technologies, which we bring together to deliver sustainability transformation. Fujitsu Limited (TSE:6702) reported consolidated revenues of 3.6 trillion yen (US$32 billion) for the fiscal year ended March 31, 2022 and remains the top digital services company in Japan by market share. Find out more: www.fujitsu.com.
Press Contacts
Fujitsu Limited
Public and Investor Relations Division
Inquiries
---
All company or product names mentioned herein are trademarks or registered trademarks of their respective owners. Information provided in this press release is accurate at time of publication and is subject to change without advance notice.
Date:
2 January, 2023
City:
Tokyo, Japan
Company:
TORIDOLL Holdings Corporation, Fujitsu Limited