Japanese
Realizing a safe, secure and resilient Trusted Society with World-Class Technology
SVP
Future Society & Technology Unit
Japanese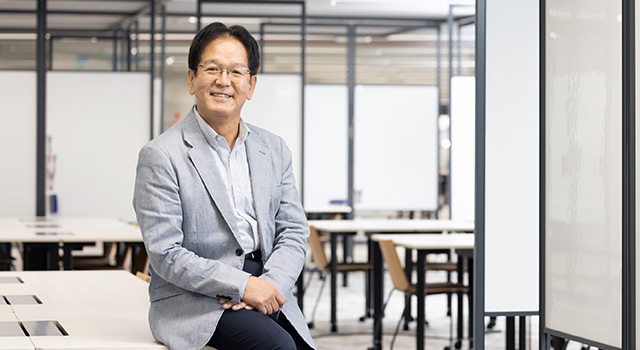 Titles, numerical values, and proper nouns in this document are those reported when this interview was made.
The power of teamwork to create compelling new communities and lifestyles
All around the world, there are diverse smart city initiatives in progress. In Japan, a number of projects have already been launched to promote the "digital transformation of cities," including the government-led "Super City" initiative and there are already numerous players from various industries entering this rapidly evolving market. Fujitsu has extensive technology and industry expertise in this sector, and we recently established the Future Society and Technology Unit to leverage this and to drive a swift, fully integrated company-wide approach.
The Future Society & Technology Unit works closely with a diverse range of people and organizations to develop world-class technologies. Our aim is to realize a trusted future society by designing a new generation of digital "communities and lifestyles". We have merged a number of our key teams as a way to fast track our activity in this area. The "Smart City" team, which creates new value for the future society, the "Computing Core" team, which is involved in solving complex problems, and the "6G Infrastructure" research and development team, working to connect vast amounts of data. We are working collaboratively together, uniting more than 400 members with diverse extensive expertise in an exciting new organic organization.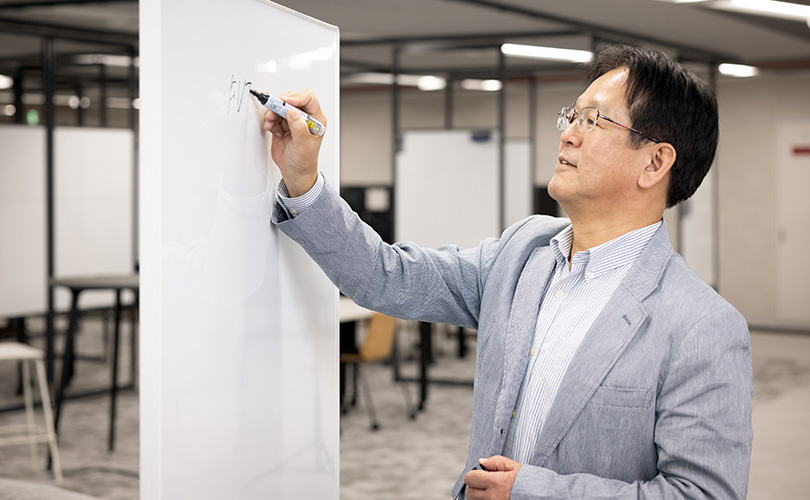 Trusted Society Challenges from Multiple Perspectives - "Human," "City" and "Planet"
The Future Society and Technology Unit will also focus on the concept of the Trusted Society, one of the seven key focus areas defined by Fujitsu's purpose for "Creating trust in society through innovation and making the world more sustainable".
In the Trusted Society, we envisage a world that combines individual human qualities with safe and secure cities, and a sustainable planet. These elements are harmonized as we broaden our focus from people to cities and the planet, grasping the key social issues from each of these three perspectives.
In order to achieve these goals, we have created a top level concept designed to help us realize the Trusted Society, setting out the scope of required technologies and platforms needed to support this vision.
Design a public-private digital touchpoint that promotes consumers' sense of wellbeing, as well as supporting optimal decision-making and action.

Leverage best practices that combine Fujitsu strengths with partner technologies to drive customer success and develop new service models globally.

Strengthen data business by leveraging the wealth of industry know-how from both the public and private sectors and promote the concept of trust.

These efforts will help resolve social issues and create added value.
By combining a wide range of related technologies that have already been put to practical use by Fujitsu, we are aiming to realize "Communities where one's own rich lifestyle leads to sustainability" in 2030, as well as sparking many future innovations.
Developing Future Communities in collaboration with Kawasaki City
Kawasaki City and Fujitsu have been working together on the concept of building a sustainable city since 2014, when we mutually embarked on a comprehensive agreement. In 2017, we conducted joint research on mitigating tsunami damage in the coastal area of Kawasaki City utilizing a supercomputer.
In June 2021, we went one step further, building on the original concept with the addition of four new focus areas, namely "health," "safety and security," "environment," and "work and living," all designed to enhance community value. This Future City Project with Kawasaki City is aimed at the Kawasaki Plant (Nakahara-ku Kawasaki-shi), which is the birthplace of Fujitsu and a core technology base, and the surrounding area. We are working together to build an advanced model for a sustainable future city by utilizing cutting-edge digital technologies such as supercomputers, AI, 5G and next-generation networks.
As an example of cutting-edge digital technology utilization, we are currently studying the implementation of the Social Digital Twin (Note 1), which reproduces virtual information related to the economy, society, and environment in real time on a digital basis (see the figure below). We are also working with Kawasaki Frontale to create new stadium experiences and fan engagement in virtual spaces.
Note 1: Social Digital Twin: this involves a group of technologies that solve diverse and complex social problems by digitizing the whole of society at the same time as following the ever-changing nature of society as a whole. It spans the interaction of people, things, and things (micro-phenomena) to social phenomena (macro-phenomena), identifying and understanding the reality of people and society.
At the same time, we believe that it is important to use ICT to solve social issues from a consumer's perspective and to contribute to enhancing the value of the community. We have launched a series of community development projects in cooperation with citizens, including the implementation of the "Living Lab", a community-based community development program. We have also launched student internships to address local issues in Kawasaki City, and joint creation activities for an inclusive society with children from Kawasaki City School for the Deaf and partner companies.
Advanced Computing and Networks to Support Future Communities Development
Our Future Society & Technology Unit is engaged not only in the evolution of smart cities, but also in the research and development of advanced technologies such as processors and networks.
In computing core field, we are further developing Fugaku, which won 4 supercomputer benchmarks in June 2020, as well as developing next-generation processors that will realize a green data center by greatly increasing power efficiency.
In the 6G infrastructure field, we launched the IOWN/6G Project to lead R & D on next-generation network technologies such as Beyond 5G and 6G, which began in parallel with the commercialization of 5G.
In April 2021, we entered into a strategic business alliance with NTT, and in collaboration with global partners that support the Innovative Optical and Wireless Network (IOWN) concept advocated by NTT, we began joint research on network and information processing infrastructure that will realize a new, low-energy, high-efficiency digital society.
Our Future Society & Technology Unit has a compelling mission; to promote strongly the research and development of a wide range of world-class technologies and to address social issues by implementing cutting-edge technologies in society.
We have a great team with diverse skills, all working together to create a trusted society across the world, in conjunction with innovative co-creation initiatives with customers and partner companies.