Japanese
Innovation Focus
Gaining Momentum to Deliver Trusted AI – Fujitsu Laboratories' Global Initiative
October 12, 2020

Artificial Intelligence (AI) is becoming increasingly pervasive in our everyday lives. As our reliance on AI grows exponentially, we cannot possibly compromise on such AI outcomes that entail bias, discrimination, or opaqueness in any form or shape. It is an established mutual understanding among the AI Ethics communities that Global Institutions, Governments, and various stakeholders should work together in order to create 'an ecosystem of trust' where AI Ethics have a key guiding role in the development of new solutions for a 'good AI society'.
To realize trusted AI, as part of Fujitsu's Human Centric approach, we believe that paying close attention to the non-technical aspects is just as essential as the technical excellence. A traditional "blackbox" approach to AI algorithms is no longer acceptable. Transparency, explainability, auditability and accountability form the essential cornerstones of trusted AI. However, the complex requirements of trusted responsible AI cannot be truly solved without considering intricate societal and ethical aspects, such as cultural differences, diversity, fairness, moral values, and equality. For example, fairness is not a monolithic concept; the fairness criteria need to be different region-to-region and targeted according to specific business domains. In turn, this involves establishing responsible design practices that satisfy such social requirements, aligned to our "human centric" approach.
An Ethical AI Culture
Fujitsu is taking a leading role in establishing an "ecosystem of trust" by evolving and implementing responsible AI initiatives, practices, standards and regulations, underpinned by ethical principles. We are a founding member of AI4People, a multi-stakeholder forum initiated in Europe with global activities focused on establishing and promoting a responsible design Framework for Ethical AI and formulating recommendations around the Governance of AI. Through our membership of the European Consultation on Artificial Intelligence (ECIA) group and the EU AI Alliance, we are contributing to establishing a robust EU regulatory and investment policy framework. Through our membership of OCEANIS (The Open Community for Ethics in Autonomous and Intelligent Systems), we are also contributing to identifying the role and scope of standards for the ethical use and application of AI.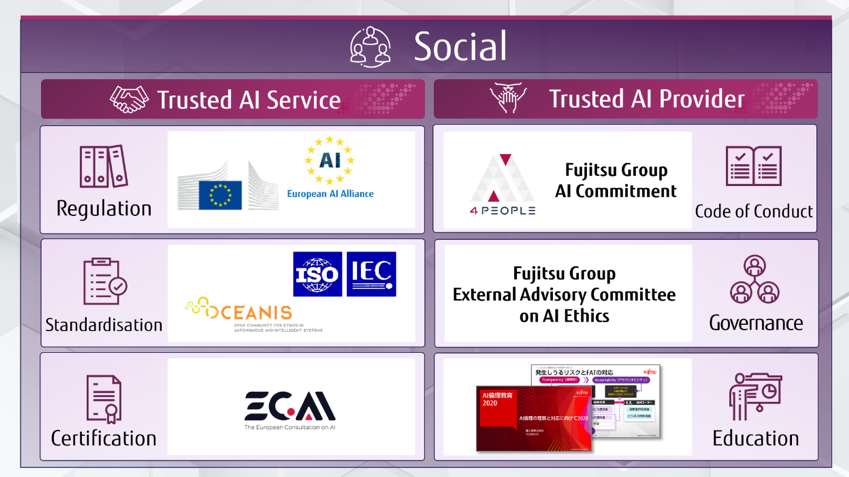 Fujitsu was also amongst the first companies to set out a global AI Commitment, published in March 2019. The Fujitsu Group's AI Commitment demonstrates dedication to the trustable, safe and responsible use of AI. Fujitsu also established the Fujitsu Group External Advisory Committee on AI Ethics in September 2019, which aims to provide advice and recommendations to the Fujitsu Group on trustable AI and to embark on an ongoing dialogue with stakeholders to support the safe and secure deployment of AI in society. In parallel to these activities, Fujitsu is rolling out a company-wide e-learning training and education initiative on AI Ethics on a global basis, with the objective of raising employees' awareness of key issues around the responsible design of AI solutions and services that would ultimately facilitate in gaining customers' trust.
AI Ethics – Underpinning Fujitsu's R&D
As Fujitsu's core R&D organization, Fujitsu Laboratories is working to ensure that AI ethics underpins every stage of its R&D activities, with this initiative involving a plethora of technical, non-technical and social activities. Our efforts towards creating a virtual ecosystem of stakeholders and partners is supported by our international collaborations, which include close partnerships with AI4People, Industry and academic partners. At Fujitsu Laboratories, we endeavor to work with a virtual ecosystem of stakeholders in order to solve real problems, reflecting our proactive participation in the development and creation of a globally acceptable framework for Trusted AI based on fairness, accountability, transparency and explainability. Our fundamental aim is to establish several best practice exemplars in building human centric AI of the future.
The Way Ahead
Fujitsu is playing a leading role and contributing to international efforts to establish essential open standards, as well as the corresponding regulations and certification programs. Internally, Fujitsu has established a company-wide Code of Conduct, established a robust governance assisted by an External Advisory Committee on Trusted AI, and a program to train and educate every employee proactively to practice and deliver "Trusted AI". Through our open innovation projects with academic and industry partners and customers, we are currently working to engineer human centric and trusted AI solutions and services.

Watch our new video on Trusted AI here
For more information on this topic, please contact nakata.tsuneo@fujitsu.com
Related Articles: