Human Resource Development and Career Design
Goal
Long-term Goal to be achieved by FY2030
The Fujitsu Group aims to enrich and continuously improve our positive health culture where our employees can work to their full potential, both in mind and body. We value the importance of our people, and will strive to enable them to succeed in their own personal development and growth.
Policy
Fujitsu emphasizes the following four themes in the development of human resources. While collaborating with each business group and the Human Resources unit, the Human Resources Development Unit works to strengthen our Group from both perspectives of cultivating human resources and strengthening organizational capability.
Cultivate Business Leaders: Cultivation of core human resources and global human resources from a long-term perspective
Cultivate by Position/Role: From new employees to executives, enable each person to acquire the knowledge and skills required for their position and role
Cultivate Professionals: Cultivate professionals in each specialized field and enable them to acquire knowledge of advanced technology and the latest skills
Support the Growth of Diverse Individuals: Support the performance of diverse individuals through measures such as promoting diversity and inclusion, supporting career development, and providing education on human rights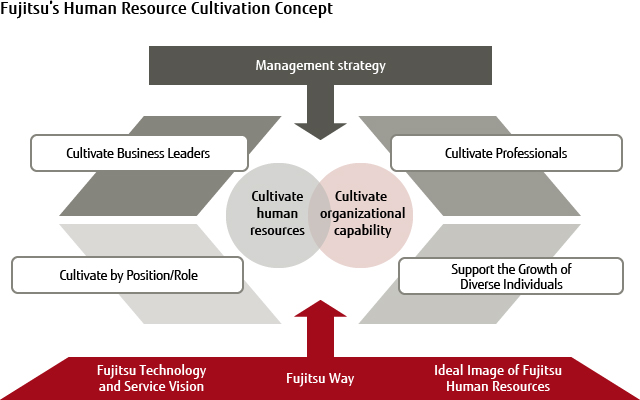 Promotion Framework and Periodic Review
Fujitsu has established a Group-Wide Talent Strategy Committee comprised mainly of executives at the management level and above. The committee meets twice a year to discuss the Fujitsu vision and human resources strategy for achieving our business strategy. Under the policies of this Group-Wide Talent Strategy Committee, the Human Resources Development Planning Office reviews priority measures and frameworks for implementing measures, and designs education initiatives shared by the entire company. Furthermore, each unit has a Human Resources Development Division which oversees education for the unit, position-specific training, and specialized training. The division conducts human resource training across the entire division for each position, including for domestic group companies.
Education is mainly conducted by the group company Fujitsu Learning Media Limited, which specializes in education.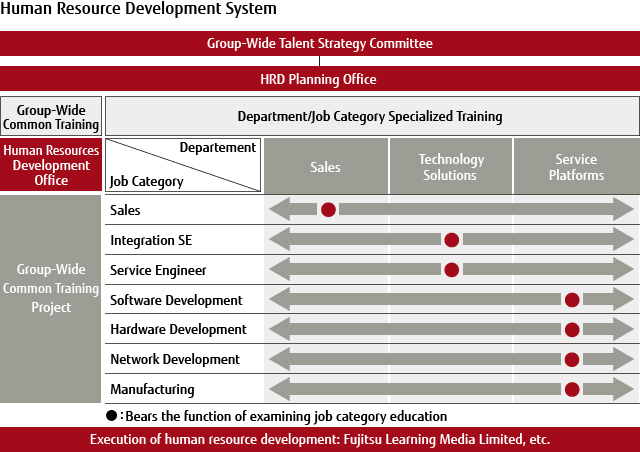 Human Resource Educational System
For all employees at Fujitsu and domestic Group companies , we provide shared education and specialized education. The latter improves the specialization of various departments and job types. We also provide various forms of self-development support to assist employees engaged in personal study.
Our rank-specific training programs are positioned as an important part of shared education. In addition to inputting necessary items across all ranks, the training includes shared items which require improvement across all ranks; for example, leadership, financial accounting, and facilitation.
Units implementing human resources development constantly work to improve training for individuals by utilizing various information such as training questionnaires and the latest educational methods.
Cultivate Business Leaders
GKI-A President Sessions
With the aim of long-term cultivation, Fujitsu selects personnel with high potential from among young to mid-range employees, and then provides opportunities for growth through action learning based on actual work. Additionally, to expand its business in the field of innovation, Fujitsu is strengthening its organizational framework and human resource to better collaborate with diverse people, to generate business opportunities. At the core of cultivating global business leaders is the Global Knowledge Institute (GKI), which started in 2000. As of FY 2018, a total of over 1,200 GKI graduates are performing in Japan and overseas. Fujitsu revises the curriculum of the GKI as occasion demands, to keep up with changes in business and managerial environment.
Efforts to Develop Human Resources in Accordance with the Management Strategy
Fujitsu and domestic Group companies are carrying out human resources development at each department with an emphasis on specialization closer to their respective fields.
For details on human resources development at each department, please refer to the following URL.
Professional Certification System
Fujitsu and domestic Group companies have established a professional certification system for cultivating professional in various specialized fields. Every year, new certifications are issued through a screening process consisting of essays and interview. For employees who are already certified, we hold periodic screenings for certificate renewals to assist with continued skill retention.
Furthermore, certified employees engage in community activities in various categories to further enhance their own skills, distribute information, and mentor their successors.
Professional Certification Categories (FY 2018, including 38 domestic group companies)
Sales:
Strategy, Account Management, Solutions
System Engineers:
Consulting, Project Management, Business Architecture, IT Architecture, Service Management, Quality Management, Product Architecture, IP Management
Engineers:
Product Planning, Architecture Development, Software Development, Hardware and Firmware Development, Quality Assurance Skills, Manufacturing and Production Skills
Support the Growth of Diverse Individuals
Fujitsu works to energize its organizations and human resources by building a rewarding workplace culture that values career development and by providing various forms of support that encourage each employee to pursue self-initiated career formation. To facilitate these efforts, we have created specialized organizations for career design support. Specifically, we implement measures such as career seminars, career counseling, the Internal Posting Program, the Internal Recruiting Program, the Free Agent (FA) Program, and support activities for senior employees. These activities are in compliance with the revisions to the Human Resources Development Promotion Act in effect since April 2016. For details, please refer to the following URL.
FY2018 Performance
Professional Certification Categories (FY 2018, including 38 domestic group companies)

Sales: 578 certified employees
System Engineers: 2,720 certified employees
Engineers: 571 certified employees
Career Design

Career seminars: 1,645 employees
Internal Posting Program: 86 employees
Average Annual Hours Spent Studying and Annual Cost of Education Per Employee (FY 2017; tabulated in October every year)
| | | | |
| --- | --- | --- | --- |
|   | Managers | Regular Employees | Total Average |
| Average Annual Hours Spent Studying | 34.8 hours | 49.4 hours | 45.3 hours |
| Annual Cost of Education | 61,100 yen | 91,300 yen | 82,300 yen |