Human Resources Development and Career Design
Goals
WHAT FUJITSU ASPIRES TO BE
The Fujitsu Group aims to enrich and continuously improve our positive health culture where our employees can work to their full potential, both in mind and body.
We value the importance of our people, and will strive to enable them to succeed in their own personal development and growth.
GOALS FOR FY2022
Enabling success in personal development and growth
KPI :

Fujitsu Group aims to achieve at least 70% in affirmative answers to Engagement Survey questions about "opportunities for personal growth and self-realization"
Policy
Fujitsu significantly revised its policies on human resource development starting in FY 2020, and made a shift in direction. Instead of providing employee training that is the same across the board, the company will support the learning and growth of each individual employee. We aim to become a company which provides support for diverse personnel with their own passions, so they can take on challenges, experience personal growth, and realize their career goals, and we will endeavor to create an organizational culture which encourages those efforts. As a company, we are expanding opportunities for employees to learn and make career choices, establishing systems and mechanisms which make use of those opportunities, and systematically supporting the growth of each employee, including management, in accordance with their individual characteristics.
Structure
Fujitsu plans and develops personnel development measures in an agile manner, based on business needs and employee feedback, in order to realize our business strategy. The Engagement & Growth Division, which is in charge of human resources development for the entire company, is responsible for company-wide HR development policies. With regard to divisional strategies and business needs, the Human Resources Development division in each business unit serves as lead reviewer, clarifying the types of human resources and skills which need to be enhanced, and promoting plans for development measures. As an initiative to reflect employee feedback, engagement surveys are conducted twice a year globally, and the results of each organizational unit are disclosed internally so that each organization can take action for improvement. In addition, we regularly conduct pulse surveys and questionnaires to get simple feedback more frequently. We analyze this data, clarify and implement key measures, and then revise them based on feedback.
In addition, we have formed a global human resources development community to plan and develop global actions based on the results of the engagement surveys, and by sharing regional actions, we are working to enhance the expertise of departments which conduct training and strengthen support for employees. Fujitsu Learning Media Limited, a Group company which offers personnel development services, is responsible for conducting training.
Human Resources Development Framework
Fujitsu and its domestic Group companies have abolished the uniform mandatory training that was previously provided for each job level. Instead, we offer employees the opportunity to select the training that best suits their characteristics and the job they are aiming for, in order to assist each diverse employee with their education and personal growth in accordance with their own career aspirations and strengths. However, we do ask employees to take the prescribed courses in the Career Ownership Program, which forms the basis for autonomous learning and growth, and in the knowledge and perspectives that are important for a Fujitsu person.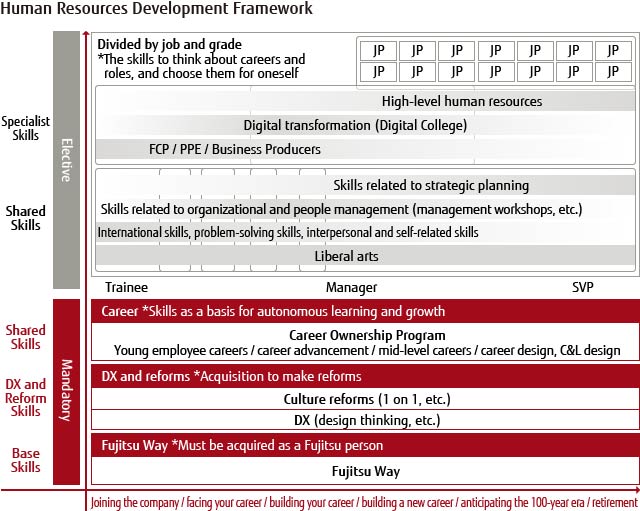 Career Design Support
Fujitsu fosters a culture that systematically supports the autonomous career development of each employee. We are enhancing the Career Ownership Program for each generation, as an opportunity for employees to periodically look back and reevaluate the career they are pursuing. We have also greatly expanded our internal posting system, and by making open positions available to the entire Group, all Fujitsu Group employees are able to apply for and attempt to take on those positions. In this way, employees can autonomously think about the career plans they want to achieve and aim for transfers and promotions of their own choosing. Through one-on-one dialogue, supervisors provide specific advice and support to their subordinates, based on their career aspirations and characteristics. Through these efforts, we aim to increase the mobility and diversity of our human resources, and ensure that the right people are in the right places.
Fostering an Organizational Culture of Learning and Mutual Improvement
On our learning platform, which is available to employees of Fujitsu and domestic group companies, we offer a wide variety of internal and external information and seminars, and provide learning support for each of our diverse employees. We also offer online sessions about organizational management and human resources management knowledge to ensure psychological safety and increase engagement as an organization, and to systematically build situations where employees can face their work and personal growth with a positive attitude. In addition, we provide chances for employees to learn from highly specialized employees on a global scale, and the opportunities for employees to learn from one another and mutually improve across organizations and countries are expanding.
Developing Business Leaders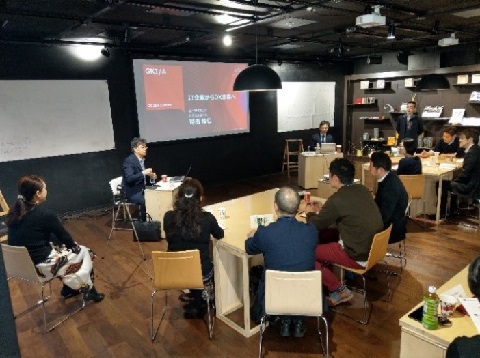 GKI President Sessions
From the perspective of employees' medium- to long-term growth, Fujitsu has a structure for young to middle-class employees with high potential that allows them to demonstrate their own leadership and aim for further growth. In particular, in order to cultivate leaders capable of creating innovation, we carry out practical programs which draw future scenarios, involve diverse human resources, and enhance their ability to envision new business models and ecosystems. In addition, the Global Knowledge Institute (GKI), our flagship institute for training the next generation of business leaders, has produced more than 400 graduates in Japan and overseas since its establishment in 2000, including our current President, Mr. Tokita, and continues to produce management leaders who are active on the global stage.
Developing Digital Talent
In order to implement reforms for turning Fujitsu into a digital transformation (DX) company, we are strengthening our support for all employees of Fujitsu and domestic group companies to acquire knowledge and skills related to DX and the latest technologies. We have developed DX human resources development systems to serve as guidelines for all employees, and we offer numerous courses on DX literacy, technology, and industry business knowledge for each role in order to help employees acquire the DX skills they need most for their jobs. We place an emphasis on speedy business impact. Not only do we work with the Human Resources Development Unit, we also work with people in the field to identify development skills and develop courses so that employees can acquire skills which can be applied and reflected in business operations the same day they are acquired. Specifically, we defined the elements (DX literacy) which are necessary for DX personnel as "having a design mindset," "having an agile mind," and "being data-driven." We created a program for all employees to acquire these practical attitudes, which is being taken by employees from the management level. The executives who have gone through the program themselves will deploy the program in their own divisions, and we are moving forward with transforming the entire company into one that behaves as a DX company.
Developing Professional Human Resources
Based on globally shared standards, Fujitsu recognizes highly skilled engineers who have made major business contributions and are playing active roles as faces of Fujitsu, and awards them the title of "Fujitsu Distinguished Engineer." Through collaborations which go beyond the national and organizational frameworks of their fellow engineers, Fujitsu Distinguished Engineers engage in mutual improvement and problem-solving for difficult technical challenges, contribute to Fujitsu's business strategy and the creation of customer value, and disseminate their outstanding engineering abilities internally and externally. By doing this, we are improving Fujitsu's presence, increasing engagement and retention of our engineers, and attracting the best technical talent from the market.
FY 2020 Performance
Average Annual Hours Spent Learning and Annual Cost of Learning Per Employee (Fujitsu and its domestic Group companies)
| | |
| --- | --- |
|   | Total Average |
| Average Annual Hours Spent Learning | 39.0 hours |
| Annual Cost of Learning | 118,400 yen |