Activities Aimed at Resolving Societal Challenges
Partnering with Centrica to Provide Homeschooling Support (UK)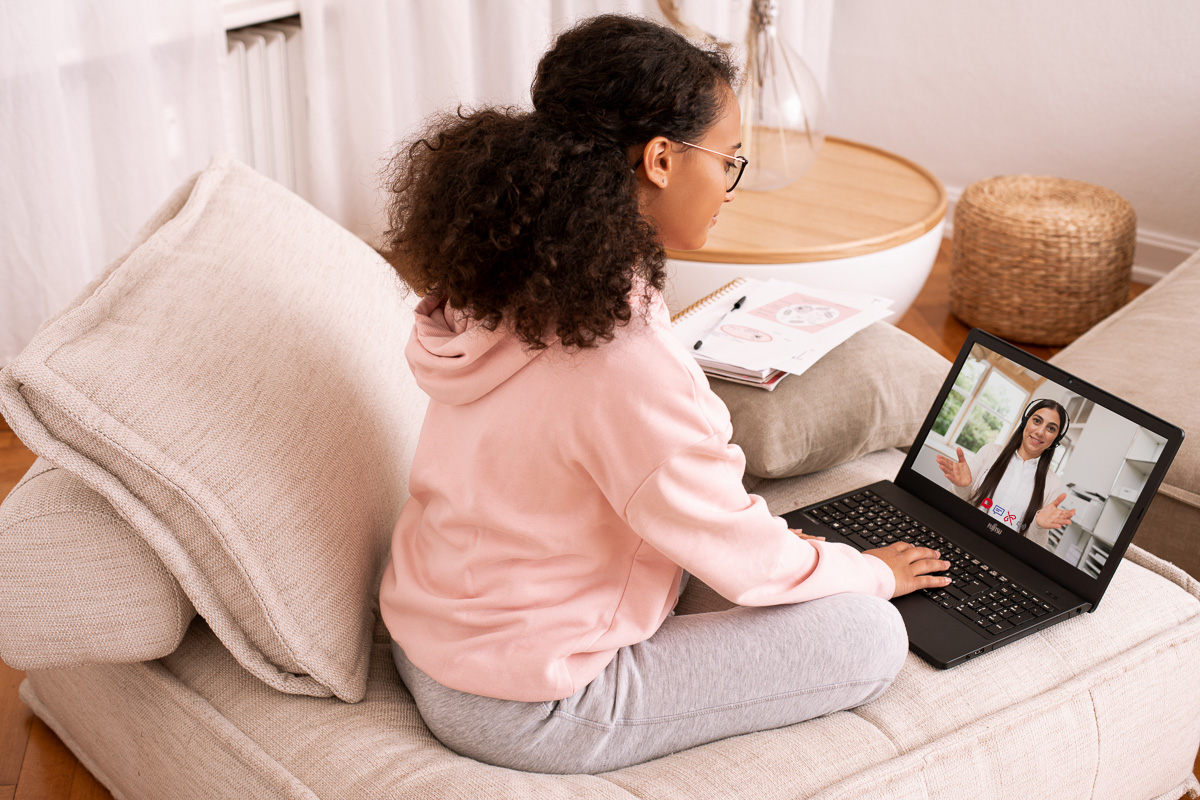 Using a donated laptop for remote learning
Many children have had to shift to remote learning from home because of the COVID-19 pandemic. Fujitsu UK has partnered with Centrica to create a system for refurbishing old business laptops and PCs and distributing them free of charge to families whose home environment prevents them from accessing a suitable level of distance learning. Approximately 350 devices have been distributed to date. PCs undergo a condition assessment and cleaning, data is securely erased, the latest operating system is installed, a final test is conducted, and each device is ready for delivery to a family the next day. These PCs also contribute to the psychological care of children while they are unable to leave the home, because a computer allows a child to communicate with friends and teachers in the outside world.
Supporting the Employment of People with Disability by Partnering with an NPO to Purchase Vocational Products (Japan)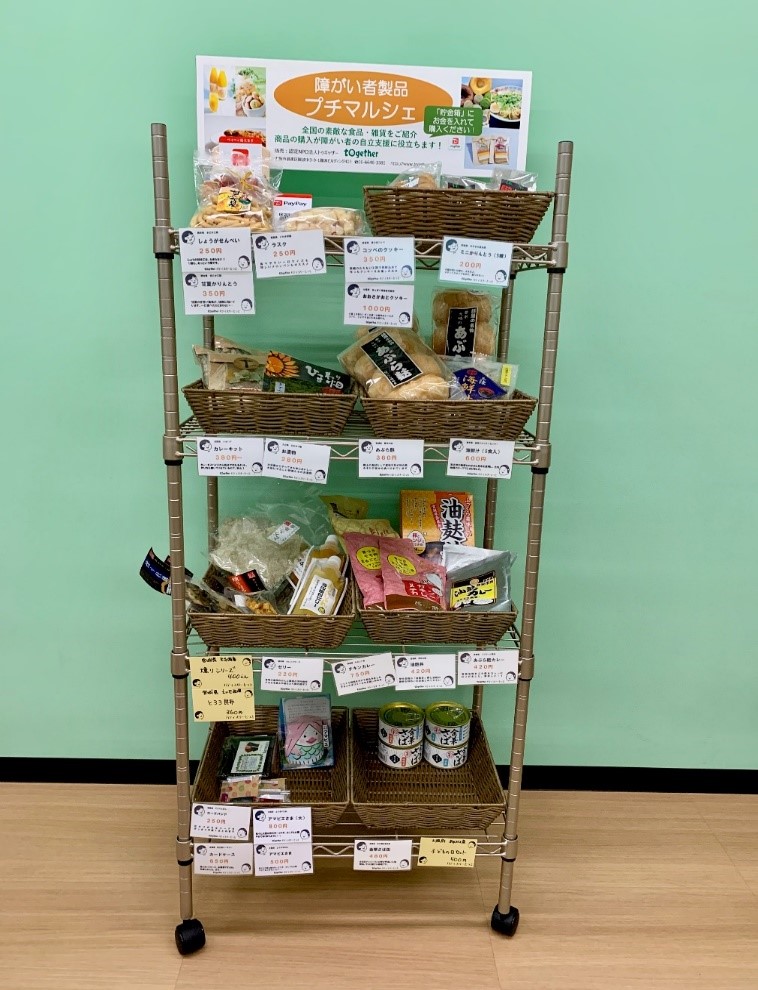 The unattended sales cart "Petit Marché" in a Fujitsu office
Fujitsu's office and other Fujitsu Group companies in the Kansai region have partnered with an accredited NPO that sells vocational products assembled by people with disability. Together, the companies organized the in-house sale of the eye-catching products made at disability workshops throughout Japan. An unattended sales cart called "Petit Marché" was designed as a permanent fixture to display the goods available, allowing work-from-home employees to make purchases whenever they visit the office. Fujitsu's partnership with the NPO led to flourishing sales, as together they planned and selected products, replacing and restocking the goods on a regular basis. This not only served as a chance for Fujitsu employees to better understand the importance of social contribution, but also provided an opportunity for the NPO to improve its sales know-how. The initiative is also contributing to the revitalization of local communities by connecting Fujitsu employees, who may find it hard to otherwise make a social contribution, with the issues commonly encountered by disability centers and NPOs that are not accustomed to marketing their products.
Supporting Entrepreneurs through the Programs of U.S. NPO Kiva Microfunds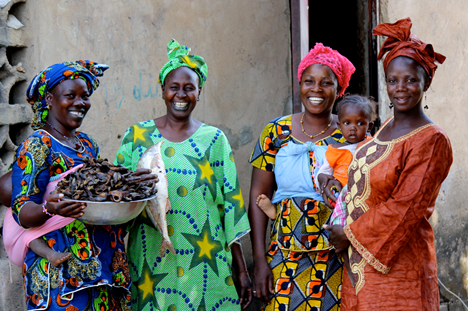 Entrepreneurs who have received funding
Fujitsu Group company, Ridgelinez Limited, is a transformation design firm that creatively integrates strategy, design and technology, acting as a pacesetter for leaders who aspire to a people-centric approach to transformation. Fujitsu believes that it is important for all employees to be personally aware of the SDGs and the need to contribute to sustainability. The company is therefore participating in programs established by Kiva Microfunds(*1), a U.S. NPO that supports the provision of microfinance(*2) to entrepreneurs in developing countries. Through the sustainable microcredit activity enabled by the Kiva crowdfunding platform, Ridgelinez is providing new business opportunities for entrepreneurs to purchase farm equipment for greater yields, to improve the communication environment for children's mobile learning, and to launch pharmacies to support the health of local communities. By discovering what drives leaders who aspire to change and by supporting their activities, the company is fostering a culture of 'acting to change the world and society'. As a transformation design firm, Ridgelinez will continue to provide sustainable support so that people around the world can enrich their lives and proactively take on new business challenges.
(*1)

The world's first person-to-person microfinance organization, founded in 2005. A system for lending money via the Internet to sole proprietors in developing countries.

(*2)

Financial services such as small loans and deposits designed to help needy people operate businesses, become self-reliant, and lift themselves out of poverty.
Social Contribution Activities Related to the Environment
The Fujitsu Group has set out Our Purpose as being to make the world more sustainable by building trust in society through innovation.
To achieve this purpose, each employee works to make a positive impact on society through our businesses and life.
Support for Damage from Natural Disasters
The Fujitsu Group is carrying out donation and contribution campaigns in order to assist with efforts to recover from the damage caused by natural disasters.
For examples of overseas cases where we donated and contributed to support natural disaster recovery, please see below (cases in Japan are available on our Japanese-language website)
FY2020


Donation to the Australian bushfire appeal (A$47,491 donated by Fujitsu Australia Limited).

FY2019


Fujitsu donated food, and hygienic materials to families affected by the fires that occurred in the Philippines where at least 1,000 families were impacted.

FY2018


Fujitsu responded to Hurricane Florence, which caused extensive damage in the southern part of the U.S., by raising money to donate to the Red Cross.
Fujitsu fundraised and matched employee donations for victims of the devastating California wildfires. Fujitsu also worked with Australia Post to quickly restore essential services after flooding in Townsville, Queensland (More information is available here)

FY2017


Fujitsu promoted initiatives to collect and deliver goods for firefighters combatting the wildfires in Portugal
Fujitsu donated food and personal care products to victims of Costa Rica's Hurricane

FY2016


Fujitsu fundraised and matched employee contributions in support of Italy's earthquake victims
See here for the Great East Japan earthquake disaster recovery and reconstruction support activities. (Japanese language only)
Contributing to Society through Sports
The Fujitsu Group promotes sports as a building block of a strong society. Company sports encompass the track and field team, the Frontiers American football team, and the RedWave women's basketball team. These organizations share the thrill of sports while building a more prosperous society and contributing to promoting the mental and physical health of people.
We also cosponsor sports and promote initiatives to promote barrier-free minds through sports.
Cultural and Sponsorship Activities
See here for information on Fujitsu's cultural and sponsorship activities. (Japanese language only)