Activities that empower people through partnerships
Goals
Long-term Goal to be achieved by FY2030
The Fujitsu Group will build collaborative partnerships to engage and empower communities.
We will contribute to the prosperity of the communities in which we work globally through collaboration with our business activities.
We will encourage our employees to develop their skills, have confidence, and be proud to work for Fujitsu through giving back to society.
Short-term Goal to be achieved by FY2020
The Fujitsu Group will promote our community policy through the Fujitsu Group to instill a shared understanding of the importance of social contribution.
We will enrich activities that support the development of the communities in which we work as shown below.
- Activities that empower people through partnerships
- Social contribution activities to develop science and technology.
KPI :

Each Fujitsu region will contribute to local society by contributing to more than one of the above mentioned activities.
Soccer watching for sensitive children (Japan)
Fujitsu held an event to watch the J.League (top tier soccer league of Japan) match of "Kawasaki Frontale vs Oita Trinita" for children with developmental disabilities and their families to promote "Barrier-free minds (*1)". This event was held by Fujitsu, JTB and ANA in cooperation with Kawasaki City, J.League and Kawasaki Frontale.
Children with sensory sensitivity to crowds and loud cheers, watched the game in the sensory room (*2). On the following day, they participated in a "Soccer class" led by a coach from Kawasaki Frontale to experience the excitement of playing sports.
Fujitsu works to achieve "Barrier-free minds" by supporting the creation of children's diaries using ICT and by holding simulated experiences of children with developmental disabilities by spectators as well as being involved in the planning and management. This work was awarded gold recognition at IAUD International Design Award 2019 hosted by International Association for Universal Design.
Fujitsu will continue to promote "Barrier-free minds" through sports in cooperation with the J.League, other sports-related organizations, and local governments.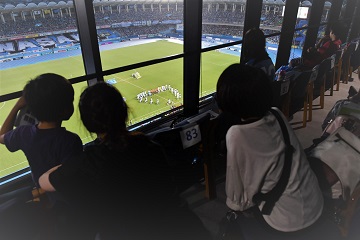 Watching a game in a sensory room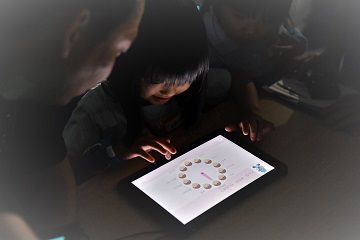 Experience making a diary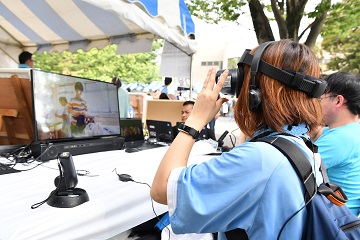 Experience outside the stadium
(Photo credit: J.League)
(*1)

"Barrier-free minds" means that all people with various mental and physical characteristics and ways of thinking communicate and support each other to deepen mutual understanding.

(*2)

This is a special area where children who have difficulties dealing with large crowds and loud cheers due to sensuality caused by developmental disorders, can watch the game without any concerns. This was the first case of watching a sporting event in a sensory room in Japan.
To provide every child with an education
A partnership towards helping all children attain an excellent education (India)
Scene of the class
Over last 5 years, Fujitsu Consulting India (FCI) has been enjoying a rewarding partnership with Teach for India (TFI), a non-profit government organization that places outstanding college graduates and working professionals as full-time teachers in under-resourced government schools.
Every year, FCI sponsors TFI fellows with an aim to eliminate educational inequity in India and help the less-privileged students compete with their counterparts in private schools, by achieving the right skill set and contemporary education.
In FY2018, FCI sponsored 17 fellows (teachers) and made a direct impact on the lives of 960 children in partnership with TFI at Pune, Delhi, Bangalore and Hyderabad.
We will continue our support to TFI and increase the level of employee participation in social activities to help students undergo transformational change in themselves, their classroom, school and community.
A partnership towards providing education for communities (Philippine)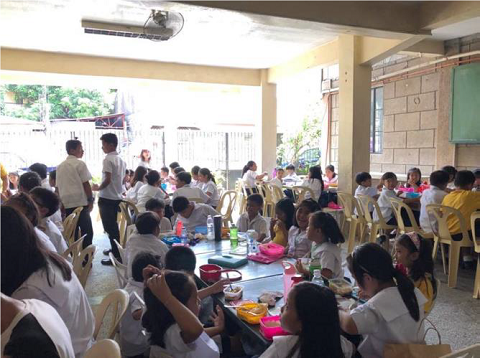 Scene of the school
On its 25th anniversary, Fujitsu Philippines Global Delivery Center (GDC) entered into a partnership with Makabata School Foundation, Inc.. Makabata School Foundation, Inc. is a not-for-profit foundation located in Pasig City that focuses on providing education for communities in extreme poverty.
We regard this partnership as an important element in realizing the vision Fujitsu aspires to be as an ICT company, in line with Fujitsu's CSR framework of "Realizing a prosperous and dream-inspiring future with job satisfaction and peace of mind".
Beginning with the renovation and refurbishment of school classrooms, we then donated equipment (Routers, projector screens, projectors, LED televisions, and other library accessories) to improve the learning abilities of all students.
In 2018, as part of the Noche Buena Bonanza (Christmas event with students and faculty) initiative, Fujitsu Philippines GDC volunteer employees provided short-term education programs.
Fujitsu Philippines GDC will continue to provide educational opportunities to the children by providing continuous support to the Makabata School Foundation.
Charity partner with Camp Quality (Australia)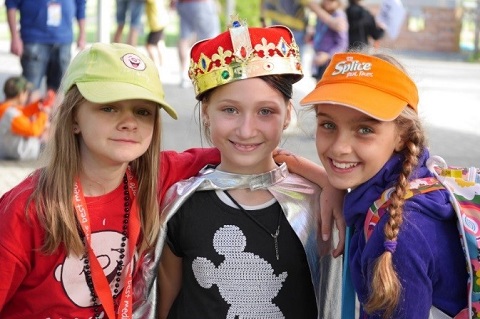 Participants of Camp Quality
Fujitsu has chosen Camp Quality as its charity partner since 2015. Camp Quality makes a real difference to children and their families living with Cancer. The services' Camp Quality provides for children (0-13 years) living with cancer and their families help create a better life through building optimism and resilience throughout each stage of their cancer journey.
Fujitsu donates over $100k per year to Camp Quality which supports the programs and services they deliver today. Our staff also have the opportunity to be involved in volunteering and fundraising events, amongst other positions such as Camp Quality's NSW Revenue committee, where our Senior Marketing Manager Sue Armstrong is currently appointed.
In addition, utilizing our digital expertize, Fujitsu funded the establishment of an online volunteer portal. It enables all of their volunteers to complete e-learning and training, before becoming fully-fledged 'vollies'.
Our support equates to over $100K each year, $27K donation+ in kind support + fundraising.
Social contribution activities related to the environment
The Fujitsu Group has listed "Contributing to Society and Protecting the Global Environment" in the Fujitsu Way, which is the Group's philosophy and guideline. Every employee is aware of the importance of the global environment and is promoting activities on a global scale to pass on the beautiful global environment to the next generation.
See here for more information on our social contribution activities related to the environment.
Donation Activities
Activities that Contribute to Society by Group Employees (Japan)
Employees of Fujitsu Group companies voluntarily participate in everyday social contribution activities, such as collecting used plastic bottle caps, stamps and prepaid cards and donating the proceeds to polio vaccine or seedling planting projects.
Employees participate in the "sutenai seikatsu", or waste free lifestyle, activities. "Sutenai seikatsu" activities are intended to support Shapla Neer (Citizen's Committee in Japan for Overseas Support), an international NGO engaged in volunteer activities, by donating the sales of used books and DVDs collected from employees.
Support for Damage from Natural Disasters
The Fujitsu Group is carrying out donation and contribution campaigns in order to assist with efforts to recover from the damage caused by natural disasters.
For examples of overseas cases where we donated and contributed to support natural disaster recovery, please see below (cases in Japan are covered on our Japanese website)
FY2019


Fujitsu donated food, and hygenic materials for the affected families of the fires that occurred in the Phillipenes where 1,000 families were effected.

FY2018


Fujitsu responded to Hurricane Florence which caused extensive damage in the southern part of the U.S, by raising money to donate to the Red Cross.
Fujitsu fundraised and matched employee donations for the devastating California wildfires.Fujitsu works with Australia Post to quickly restore essential services after flooding in Townsville, Queensland (More information is here)

FY2017


Fujitsu promoted initiatives to collect and deliver goods for firefighters combatting the Wildfires in Portugal
Fujitsu Donate Food and personal care products to relief for Costa Rica's Hurricane

FY2016


Fujitsu fundraise and matches the contributions in support of Italy earthquake victims
See here for the Great East Japan earthquake disaster recovery and reconstruction support activities. (Japanese website)
Contributing to Society through Sports
The Fujitsu Group promotes sports as a building block of a strong society. Company sports encompass the track and field team, the Frontiers American football team, and the RedWave women's basketball team. These organizations share the thrill of sports while building a more prosperous society and contributing to promoting the mental and physical health of people.
We also cosponsor sports and promote initiatives to promote barrier-free minds through sports.
Cultural and Sponsorship Activities
See here for Information on Fujitsu's cultural and sponsorship activities. (Japanese website)