Social contribution activities to develop science and technology
Goals
Long-term Goal to be achieved by FY2030
The Fujitsu Group will build collaborative partnerships to engage and empower communities.
We will contribute to the prosperity of the communities in which we work globally through collaboration with our business activities.
We will encourage our employees to develop their skills, have confidence, and be proud to work for Fujitsu through giving back to society.
Short-term Goal to be achieved by FY2020
The Fujitsu Group will promote our community policy through the Fujitsu Group to instill a shared understanding of the importance of social contribution.
We will enrich activities that support the development of the communities in which we work as shown below.
- Activities that empower people through partnerships
- Social contribution activities to develop science and technology.
KPI :

Each Fujitsu region will contribute to local society by contributing to more than one of the above mentioned activities.
Support for Mathematical Olympiad and Olympiad in Informatics (Japan)
The 18th International Olympiad in Informatics awards ceremony
Fujitsu supports the Mathematical Olympiad Foundation of Japan and the Japanese Committee for the International Olympiad in Informatics (the latter being a non-profit organization) to help discover and foster valuable human resources who will play leading roles in the future development of society. The Mathematical Olympiad Foundation of Japan was established in 1991 in order to discover gifted mathematicians for selection and entry as national representatives in the International Mathematical Olympiad (IMO) and to further develop their skills. The foundation is also committed to helping improve and promote education in mathematics from an international perspective. Fujitsu provided the basic funds for the establishment of the Foundation along with two other companies and one individual.
Meanwhile, the Japanese Committee for the International Olympiad in Informatics was established in 2005 to train human resources in support of Japan's mathematics and information science sector. It provides support for participants of the International Olympiad in Informatics (IOI), a programming contest for junior and senior high school students. As a supporting member, Fujitsu provides assistance in the committee's operation.
Macmillan pro-bono tech projects (UK)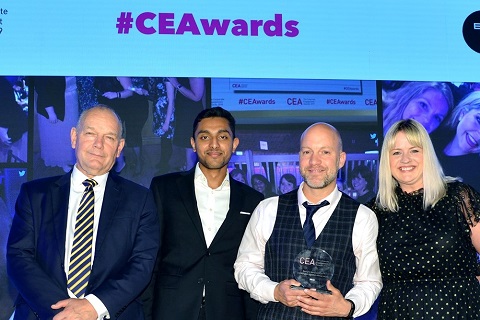 Corporate Engagement Awards ceremony
During a 2 year charity partnership with Macmillan, the UK's leading cancer supporter charity, Fujitsu used its core skills to create a lasting legacy for the charity through pro-bono co-creation technology projects. Fujitsu supported Macmillan in laying the foundations for a single technology platform to transform how volunteers give their time to the charity; this platform reaches 25,000 + users and has created transformative change for volunteers and volunteer managers. The project have had a revolutionary impact for the charity and all work to empower those living with cancer and their families, Macmillan volunteers and employees. This work was awarded silver recognition at the Corporate Engagement Awards, 2019.
Support for Student Contests at the Kazan Aviation Institute (Russia)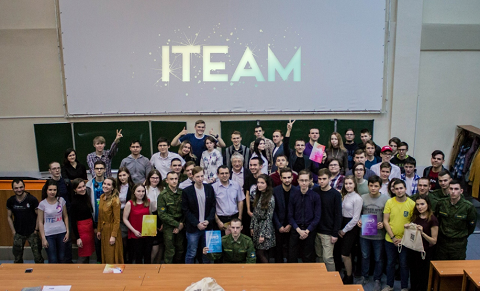 Participants of ITEAM Student Project Competition
Fujitsu Russia Global Delivery Center (GDC) is supporting the Kazan Aviation Institute's Student Initiative "ITEAM Student Project Competition". Fujitsu employees perform master classes on "mobile programming", "machine learning", "project management", "information security", "risk management", and other topics through master classes, and helped students submit business ideas to contests. These diverse courses improve student skills and help improve prototypes. Products created by the contest include food delivery apps, Kazan City tour apps, and Telegram Bots.
The strong relationship between Fujitsu Russia GDC and the University through a series of these activities will open up the possibility of students taking internships and job roles at Fujitsu in the future.
Fujitsu-JAIMS Foundation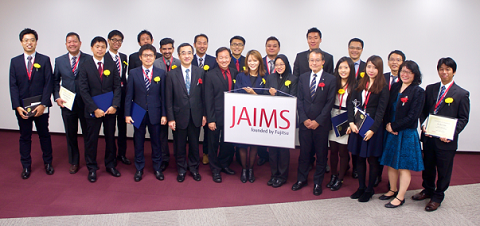 Participants
The Fujitsu JAIMS is a non-profit educational foundation that provides graduate level education. Its predecessor organization, the "JAIMS" was established in Hawaii in 1972 with the objective of fostering human resources that would serve as bridges between Japan and the United States. Since its establishment, it has produced about 23,000 graduates from 55 countries. In 2012, to strengthen ties with Asia, we established the Fujitsu JAIMS Foundation in Japan, and will fulfill its mission of contributing to creating a future full of richness and vision through training personnel capable of creating new value for society (innovation) in the Asia-Pacific region. Fujitsu has contributed working capital and has an organization within the company that has been supporting Fujitsu-JAIMS' activities. In addition to comprehensive support of the Foundation, Fujitsu has been coordinating with Fujitsu-JAIMS by incorporating its own practical wisdom, ICT, and expertise into the Foundation's activities. Fujitsu has thus been pushing forward with its social contribution activities, furthering promotion of academic and educational fields as well as international exchange.
See here for Fujitsu-JAIMES Foundation.
Fujitsu Scholarship Program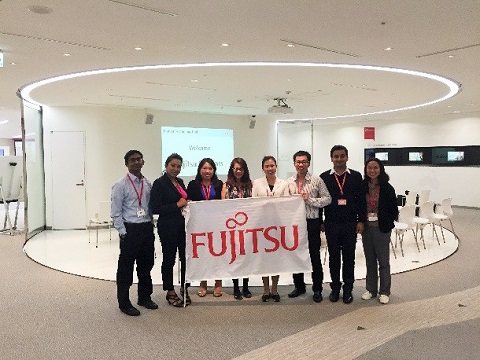 Fujitsu Scholarship Recipients
Fujitsu established the Fujitsu Scholarship Program in 1985. The aim was to foster business leaders who, through their deep understanding of Japan's culture, society, and business methods, will connect Japan with the rest of the world. 542 people have received scholarships as of April 1, 2018. It now provides opportunities to participate in the Fujitsu-JAIMS Foundation's program for business people in 18 countries and areas in the Asia-Pacific region. Fujitsu is working with Fujitsu Group companies doing business in the Asia-Pacific region to provide scholarships to people considering helping their country or community, and contribute to society by providing education rooted in local communities worldwide, aimed at developing business leaders and promoting cultural exchange and mutual understanding.
See here for Fujitsu Scholarship.
Fujitsu Kids Project: shaping tomorrow with children (Japan)
Fujitsu's mission is to create new value through IT, to realize the dreams of our customers, the dreams of the Fujitsu Group, and our employees. We also believe that our mission is to help children realize their dreams, which are important treasures for the future. We have prepared content related to school curricula and content that children can use for research and learning.
See here for "Fujitsu Kids". (Japanese website)