Activities utilizing ICT
Support for Mathematical Olympiad and Olympiad in Informatics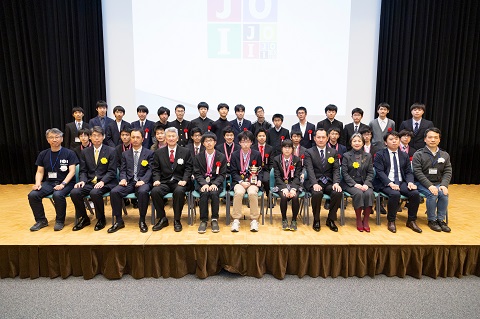 The 18th International Olympiad in Informatics awards ceremony
Fujitsu supports the Mathematical Olympiad Foundation of Japan and the Japanese Committee for the International Olympiad in Informatics (the latter being a non-profit organization) to help discover and foster valuable human resources who will play leading roles in the future development of society. The Mathematical Olympiad Foundation of Japan was established in 1991 in order to discover gifted mathematicians for selection and entry as national representatives in the International Mathematical Olympiad (IMO) and to further develop their skills. The foundation is also committed to helping improve and promote education in mathematics from an international perspective. Fujitsu provided the basic funds for the establishment of the Foundation along with two other companies and one individual.
Meanwhile, the Japanese Committee for the International Olympiad in Informatics was established in 2005 to train human resources in support of Japan's mathematics and information science sector. It provides support for participants of the International Olympiad in Informatics (IOI), a programming contest for junior and senior high school students. As a supporting member, Fujitsu provides assistance in the committee's operation.
Wabi Sabi project (Poland)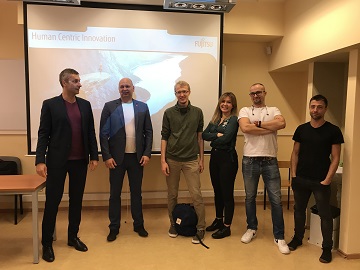 Participants of the program
Fujitsu's Global Delivery Center in Poland works on the project "Wabi Sabi", whose purpose is to engage students to look for smart and innovative ways to address significant sustainability concerns both locally and globally. The project brings together experienced IT architects and designers within Fujitsu, alongside young IT students from universities. Through a joint study process, from day-long hackathons to semester-long programs, they develop proof-of-concept applications as their results.
In addition, the employees in Poland set up a team with the objective to encourage their children to do something positive for the community, environment and their own wellbeing, while developing a positive volunteering attitude. Their activities mainly focus on educational events, including a hardware class to learn how computers work, an Internet Safety workshop, and "Soroban" (Japanese traditional abacus) classes to improve their maths skills.
Support for social participation by a smartphone app (UK)
Fujitsu UK have been collaborating with Nottingham Trent University (NTU), to help improve the wellbeing and safety of customers, employees and students. Together they have designed and built an app for smartphone, BuddyConnect. This app aims to make workplace autism inclusive. The development team brainstormed the mapping, framing, designing and prototyping of a simple and intuitive technology solution to help people with autism. The app was made to assist with the planning and managing of the issues which autism may present in the workplace, providing easy access to information that will help them, and connect them with additional support if they need it. Through this activity, Fujitsu is working on the realization of a fully inclusive workplace.
Fujitsu-JAIMS Foundation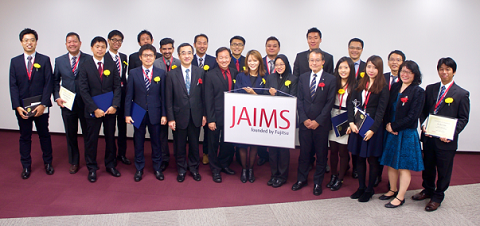 Participants
The Fujitsu JAIMS is a non-profit educational foundation that provides graduate level education. Its predecessor organization, the "JAIMS" was established in Hawaii in 1972 with the objective of fostering human resources that would serve as bridges between Japan and the United States. Since its establishment, it has produced about 23,000 graduates from 55 countries
In 2012, to strengthen ties with Asia, we established the Fujitsu JAIMS Foundation in Japan, and will fulfill its mission of contributing to creating a future full of richness and vision through training personnel capable of creating new value for society (innovation) in the Asia-Pacific region.
Fujitsu has contributed working capital and has an organization within the company that has been supporting Fujitsu-JAIMS' activities. In addition to comprehensive support of the Foundation, Fujitsu has been coordinating with Fujitsu-JAIMS by incorporating its own practical wisdom, ICT, and expertise into the Foundation's activities. Fujitsu has thus been pushing forward with its social contribution activities, furthering promotion of academic and educational fields as well as international exchange.
See here for Fujitsu-JAIMES Foundation.
Fujitsu Scholarship Program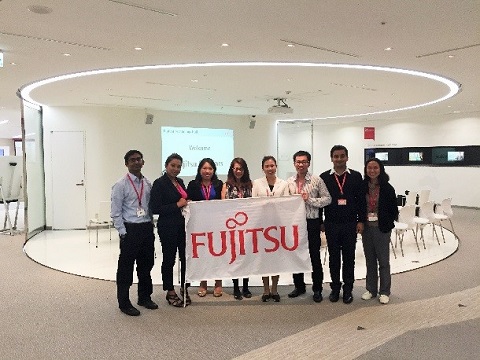 Fujitsu Scholarship Recipients
Fujitsu established the Fujitsu Scholarship Program in 1985. The aim was to foster business leaders who, through their deep understanding of Japan's culture, society, and business methods, will connect Japan with the rest of the world. 571 people have received scholarships as of April 1, 2020.
It now provides opportunities to participate in the Fujitsu-JAIMS Foundation's program for business people in 18 countries and areas in the Asia-Pacific region.
Fujitsu is working with Fujitsu Group companies doing business in the Asia-Pacific region to provide scholarships to people considering helping their country or community, and contribute to society by providing education rooted in local communities worldwide, aimed at developing business leaders and promoting cultural exchange and mutual understanding.
See here for Fujitsu Scholarship.