Our unique approach to co-creation
The digital world thrives on inspiration and innovation. Creativity drives disruption, change and transformation. At Fujitsu our Co-creating Program helps you to harness the power of collaboration to deliver your unique digital transformation by driving ideation. The Co-creating Program has been developed over decades of experience in Japan and around the world; working with customers, exchanging perspectives, ideas, and information in a highly focused, purpose-driven, and innovative way.
You get the time, space and intense focus to achieve your specific outcomes based on your strategic needs. We have Digital Transformation Centers (DTC) in major cities around the world to provide venues where we can apply the FUJITSU Human Centric Experience Design (HXD), our unique approach to Co-creation. Whilst the DTCs are purpose built, the approach is mobile – we can deliver these co-creation events anywhere, maybe much nearer to you and your people and even as a Virtual Co-creating Experience. We're applying it to real world requirements with a range of customers.
For further information or to arrange a workshop,
please register your details.
Fujitsu Co-creating Program
The approach is based on simple, collaborative engagement. We bring multiple perspectives together using digital technologies. To do that we ask customers to identify their key business and IT decision makers as well as people from across their enterprise who are open to creative thinking as well as have a deep understanding of the strategic needs of the business.
Fujitsu's talented and experienced experts facilitate their collaborative engagement to achieve a dynamic mix of knowledge, creativity, ideation and concept development. Our unique form of 'design thinking' is added to the mix – FUJITSU Human Centric Experience Design (HXD) to create innovative concepts faster than could be achieved if those people worked in isolation.
To further increase value for companies, governments, and society, Fujitsu and POLI.design - a key developer of Milan Polytechnic's highly regarded Design School courses – agreed on a partnership which includes an accreditation program for FUJITSU HXD practitioners and joint research into the use of strategic design.

Fujitsu Digital Transformation Center (DTC)
Our Digital Transformation Centers are based on successful co-creation templates.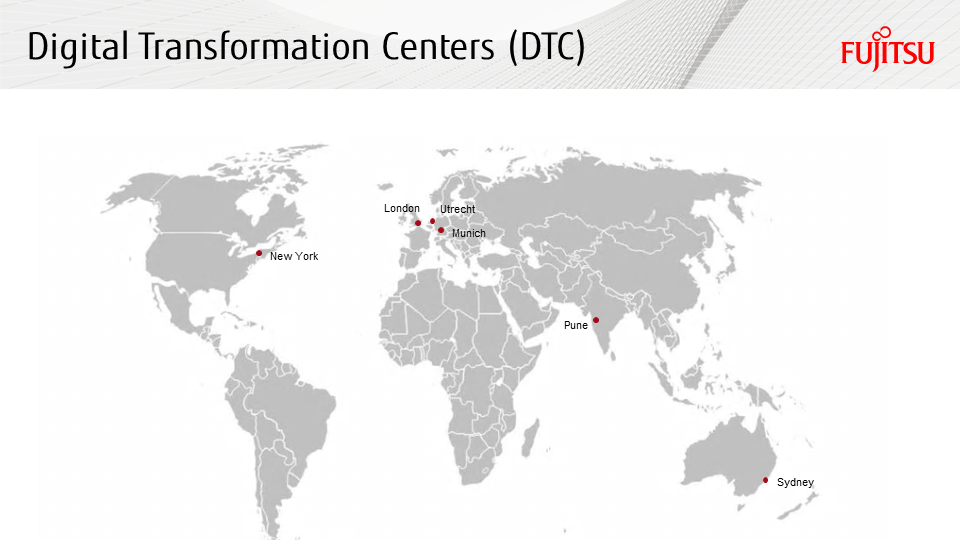 They are carefully designed to help your people work with Fujitsu experts and other partners within highly focused workshops.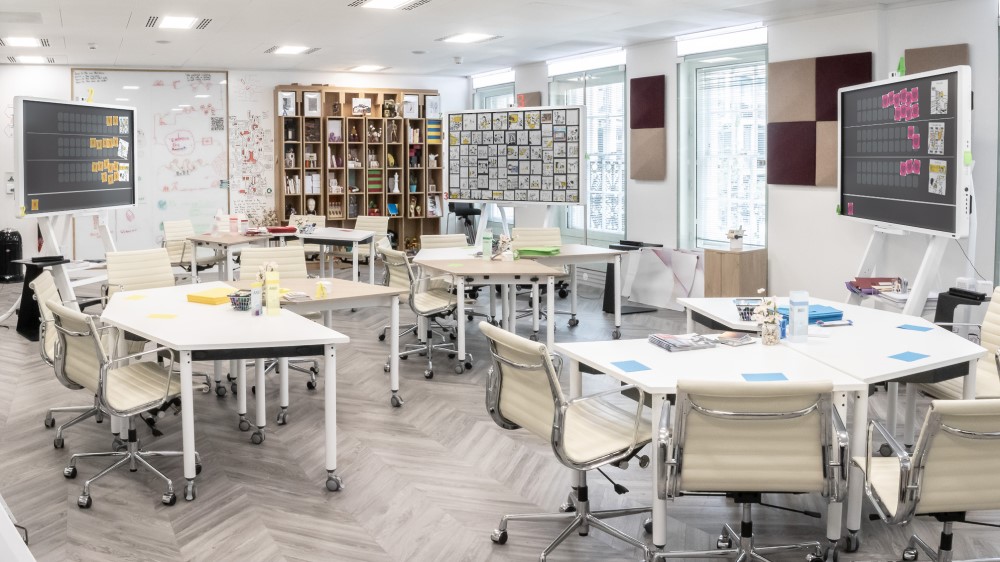 The half-day or full-day sessions take place in specially equipped studio spaces. Real-world challenges and opportunities are isolated to help generate ideas which then can be used to develop concepts. That helps build proofs-of-concept which can be tested, modified, and turned into proofs-of-business focused on delivering tangible outcomes.
Tailored tools and methods will inspire your people. The interactive workshops are carefully planned to mix the right people to achieve intensive creative thinking. Digital inspiration cards are the product of our work in a wide variety of workshops with a diverse range of customers. We use them to speed idea formation. As the ideas flow they're captured on paper cards which will, in turn, be digitalized and added to the development of specific solutions. Large digital screens show the trajectory of thought, so participants can keep track of ideas and re-arrange them to inspire new outcomes.
Virtual Co-creating Experience
To respond to customer demands for continuous co-creation during the Covid-19 pandemic, but also to save people's travel time and costs, to improve the carbon footprint, and to allow more flexible agenda scheduling, we offer our customers the Virtual Co-creating Experience.
Co-create from wherever you are. Join colleagues and partners virtually anywhere in the world and work together to convert digital transformation opportunities into business value.
The virtual environment enables the same FUJITSU HXD approach as physical environments do. Trained Fujitsu moderators facilitate the sessions. Participants work individually, as a group, and simultaneously in small teams in dedicated sound areas - by writing sticky notes, visualizing ideas on white boards, sharing their screen and using their webcam.
Find out more about Co-creating in a virtual world
From design thinking to design doing
With a business reset currently underway, it is more important than ever for decisions to be purpose-led. Design is no longer just about products - it is a strategic approach that can place your customers and employees directly at the center of your organization. By applying design thinking to strategic problems, you can uncover solutions that truly support your organization's fundamental purpose.
Do you want to know how co-creation models and design thinking are helping to reframe today's business and societal challenges and deliver impactful solutions at pace?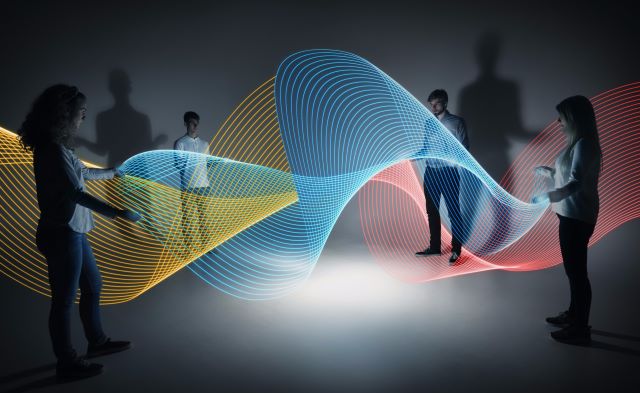 Find out more about Design in Action
FUJITSU Human Centric Experience Design (HXD)
FUJITSU HXD changes the way we look at things, seeking for opportunities. It is our approach for enabling customers to accelerate their digital journeys.
It's done at speed to focus people's minds. It enables four key things:
| | | | |
| --- | --- | --- | --- |
| Understand your business challenge and opportunity within the context of your strategy | Look at the issues through different lenses | Combine business and technology expertise to develop rapid outline concepts | Develop joint working plan for immediate experimentation |
The point is to create a powerful vision from four critical ingredients:
People
Combine the right skills and expertise from diverse backgrounds and take human needs and behaviors into account.

Purpose
Formulate a formal, strong purpose that's understood by all and relentlessly pursued. It must be of strategic importance to your business.

Outcome
Define what you want to achieve. It must relate to the needs of your business, employees, customers and markets and should consider a wider societal context.

Design
Unlock the skills of your people and leverage their creativity in a fun and energizing way, so concepts can be developed and tried out quickly.

Find out more about how Digital Transformation Workshops are run >>



Download a PDF version of the infographic >>
Customer stories - Co-creating Program in action