Our award winning graduate development programme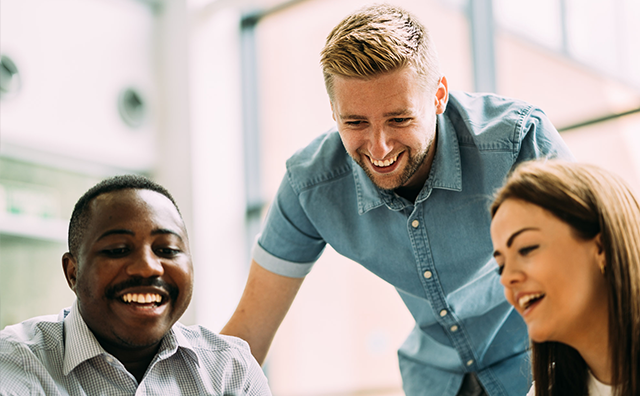 Whatever you interests or skills, Fujitsu has a role for you.
A position you can develop into, and which will offer real responsibilities from the start. A role you can make your own. You can shape your career.
We pride ourselves on our breadth of opportunities and believe we have something for every graduate. We encourage graduates from all degree disciplines to build their career at Fujitsu, although geographical mobility may be required.
Find out more information on our range of job roles...
As a sales graduate you will be trusted to deliver and become a key point of contact for our customers. You will be responsible for presenting the capabilities and culture of Fujitsu in a consistent and accurate way. You will become a real ambassador for Fujitsu, encouraging customers to embrace our technology and helping to reach sales targets. We will ensure you are supported throughout your journey and will provide the skills, knowledge, and confidence to succeed.
As a graduate in our consulting practice, you will co-create with customers to utilise technology so that they can grow and succeed. You will be at the heart of our most important customer projects, helping our clients use new technology in innovative ways, driving effective business change, optimising business processes and much more.
We have a variety of opportunities available in our Enterprise and Cyber Security team. These include technical roles, working in our Advanced Threat Centre and cyber consulting. You will have the opportunity to join an organisation which is passionate about emerging technologies and cyber security. You will be supported throughout your graduate scheme and will receive structured training and development to build the skills within cyber security.
Service Delivery Managers are an important part of Business Management for Fujitsu. You will undertake a varied role which sees you exposed to both financial and commercial aspects of services. You will work closely with our customers and take responsibility for monitoring the progress of services and maintenance of service levels. You can co-create with customers to ensure their requirements are met, and are trusted to deliver on contracts. 
Our software and solutions developer roles give you exposure to the full software delivery lifecycle in technology areas such as Cyber Security, Big Data, Cloud, Digital, Applications, and Mobile.
Graduates are able to put into practice skills that they have developed whilst at University; co-creating with customers to develop solutions. You will be supported by your team and work alongside people with different ideas. This will lead to gaining the experience and additional skills to shape your career and become a future lead applications specialist or manager.
As a HR graduate you will embark upon a 24 month development programme with three rotations in the exciting world of HR. Within this time you will be provided with the opportunity to develop both specialist and operational skills and knowledge. You'll gain exposure to every area of HR to shape your career. This includes identifying and developing talent, through to providing expert advice to senior managers, helping them to make the right decisions for both Fujitsu and its employees.
As a project associate you will collaborate with our customers, both internal and external. You will begin the scheme by supporting senior project management professionals to ensure quality planning, control, and assurance practices on all aspects of project definition and delivery. Within a short time period, you will be trusted to deliver within a project or programme environment to our customers independently. 
As a finance graduate you can shape learn from your professionally qualified team and co-create together. You will be supported throughout the scheme and be encouraged to undertake additional training. Hands-on experience in areas such as quarterly forecasting, profit and loss statements, finance analysis, and cost reduction exercises will be provided. You will enjoy the opportunity to develop a wide range of skills, knowledge, and professional competencies.
Within the testing team you will be involved you in full lifecycle testing, including automation, of the Fujitsu's developed applications and packages. You will be trusted to deliver and will develop the ability to manage a range of  projects. Our testing roles are suitable to those interested in software engineering, gaming, or computer science and much more. Fujitsu will support you and welcome you to our network of graduate testers. You will have the opportunity to shape your career and progress to lead and manage technical teams.
Need more help?
Find out how Fujitsu can help you