Our award winning Graduate development programme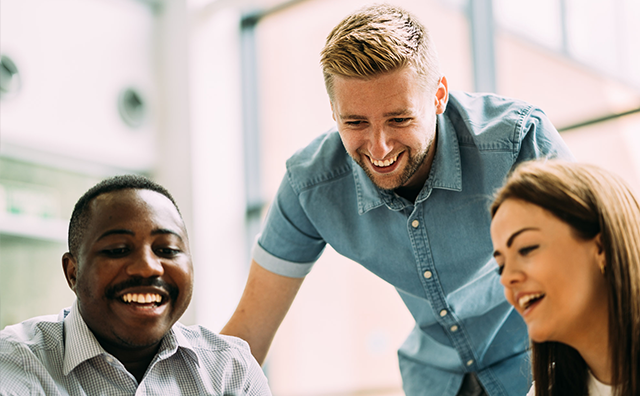 Whatever your interests or skills, Fujitsu has a role for you.
A position you can develop into, and which will offer real responsibilities from the start. A role you can make your own.
We pride ourselves on our breadth of opportunities and believe we have something for every graduate, regardless of background or degree discipline.
Simply select the area you are most interested in, then your 2 year development programme will provide the support you require to achieve your full potential. Whatever your interests or skills, we encourage graduates from all degree disciplines to apply, although geographical mobility may be required.
Find out more information on our range of job roles...
As a key point of contact for our customers, you will be responsible for presenting the capabilities and culture of Fujitsu in a consistent and accurate way. You will become a real ambassador for Fujitsu, helping to reach sales targets. You will gain the ability to offer innovative solutions to meet customer's explicit needs whilst approaching every opportunity from their perspective. We will be there to support you along the way and to give you the skills, knowledge, and confidence to meet these challenges.
These Sales roles involve support, management information, quoting, bid responses, customer presentations, forecasting, reporting, and learning the sales trade in a structured fashion, backed up with development plans that include shadowing of experienced sales staff. This means you will be responsible for ensuring that we maximise our win rate by delivering a winning bid to the customer.
Joining as a graduate in Marketing immerses you in the growth engine of a large business-to-business organisation. You will gain responsibility in an international business, with access to a wide network and training catalogue. This supports you in reaching your full potential at the start of your marketing career. For Graduates, you will take part in a structured 6-month rotation programme that provides you with the opportunity and flexibility to gain exposure to each area of marketing. This allows you to explore where your interests and abilities lie; from helping to drive tactical marketing campaigns to managing your own events, and to working on multi-million pound bids.
Service Delivery Managers are an important part of Business Management for Fujitsu. They work closely with our customers and take responsibility for monitoring the progress of each project. They are responsible for ensuring that the customer's requirements are met, and delivering everything promised in the service contract. You will gain the skills to develop effective relationships and push yourself to fully understand the customer as a person, and as a business.
A degree background in Business Management is beneficial to this role (although not mandatory); you should expect support in gaining external professional service qualifications.
IT and Technology Architect
Customer Solution Architects in our IT & Technology sector design, build, and manage customer infrastructures. This covers a variety of areas including data centre management, Cloud Technology, Sustainable Technology, and Cyber Security. In each technical area, you will become an integral part of a team that delivers solutions to our customers either internal or external. Levels of technical skill required will vary, and you will be given the chance to build on your current knowledge as well as learn new skills.
These roles offer a great opportunity to understand the requirements of our customers, and provide an excellent platform for future growth within the business. Not only do these roles offer technical growth, but growth in soft skills areas. You will collaborate with the customer, and be the face of our IT designs.
IT and Technology Testing
You will be involved you in full lifecycle testing, including automation, of the Fujitsu's developed applications and packages. You should be organised and have a problem-solving nature. Our testers have the ability to multi-task and be familiar with working to tight deadlines.
This role is suitable for software engineering, Gaming, or Computer Science students with an interest in testing or experience of the Agile environment. Fujitsu has a fantastic support network for our Graduate Testers, where you can go on to lead and manage technical teams.
A Cyber Security Graduate will work within the Security Operations Team and will have an active interest in Cyber Security and a good understanding of the Cyber Threat landscape.
Along with an inquisitive nature, experience with programming/scripting languages e.g.. Python, is key, as well as having a good understanding of wider internet protocols and how they feed into Cyber Threat Intelligence working practices.
The candidate should also understand Metasploit/Kai framework and be able to demonstrate the use of basic exploits. The successful candidate will also have knowledge of Linux and ideally be able to create and maintain a Linux Virtual Machine.
Knowledge in the following areas would also be beneficial however is not essential: SMTP, DNS, Databases, HTTP/'s, TCP-IP, Networking and the OSI model
This role is ideal for those studying or those who have studied Computer Science, Computer forensics or other security/network related degrees.
Software and Solution Development
Our software and solutions developer roles will give you exposure to the full software delivery lifecycle in technology areas such as Cyber Security, Big Data, Cloud, Digital, Applications, and Mobile.
These roles offer a great opportunity in different accounts and bids, making sure you do not only have one experience while in Fujitsu. Graduates will be able to put into practice skills that they have developed whilst at University; creating solutions for our clients. This will lead to them gaining the experience and additional skills to become future lead applications specialists and managers.
Specific skills and experience in at least one of the following are desirable: Java, Open Source, App Development, Programming Languages, Relational Databases, and Oracle experience.
Sales and Technology Development
Our Sales and Technology Development team (known internally as Offerings) rely heavily on a broad range of IT tools, digital engagement, and social media tools. They are innovative individuals who work with offering managers to influence, shape, and challenge the portfolio of offerings we present to our customers. You will help Fujitsu decide the future of our business in the technology space; keeping on top of upcoming global trends in the market. These opportunities can lead to a career as Offering Managers, Project Managers, Service Delivery Managers, and Senior Management roles.
As a Graduate Business/Systems Analyst in our Fujitsu Consulting practice, you will help our clients exploit digital technology, so that they can grow and succeed. You will be at the heart of our most important customer projects, potentially involved in developing client strategy, helping our clients use new technology in innovative ways, deriving insight from data and analytics, driving effective business change, or optimising business processes.
You will have excellent analytical and communication skills, and an inquisitive mind-set with a passion for learning and growth. Ideally you should have studied or be studying towards a technical or business related degree, however for those studying a business degree you should have demonstrable interest and knowledge in technology.
Your projects could take you across our European business and so you should be adept at operating in different cultures. Fluency in a second language is desirable, but not essential. Initially joining as a Business Analyst, and with a clear career path ahead, you will receive structured training and development to build the skills you need to become an effective Consultant.
Collaborating with our customers, both internal and external, a Project Manager will start off by supporting Senior Project Management professionals to ensure quality planning, control, and assurance practices on all aspects of project definition and delivery. Within a relatively short period of time, you will be trusted to pick up work packages, and deliver these within a project or programme environment to our customers.
A basic understanding of Project Management disciplines e.g. Risk and Issue Management, Change Management, Project Planning etc., good organisational skills, an analytical mind, or experience in MS Office/Project would be an advantage but not essential as training would be provided.
Need more help?
Find out how Fujitsu can help you