Graduate programme overview
At Fujitsu, we change the way the world works - by working together to achieve outstanding results. We will welcome and support you to shape your career with us. You will be assigned a "buddy" (a graduate from the year above) and a mentor to support you on this journey. 
We provide the opportunity for you to get involved in a number of activities alongside your chosen role. To compliment the role specific training you will receive, you will undertake a 24 month modular development programme. This covers key skills such as self-awareness, leadership, business awareness and business knowledge.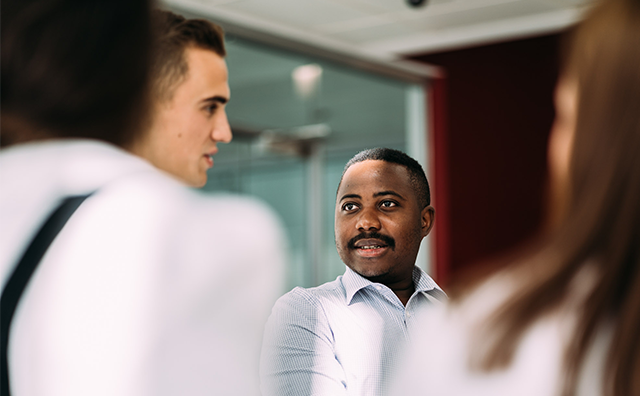 What to expect in Year One

01 Pre-joining
July
An introduction to the company, the brand,and most important, each other! This is not a mandatory event, but if you can make it along, it would be a great opportunity for you to meet some of our current graduates.

02 Induction
October
This is a great opportunity to find out even more about Fujitsu, to meet your peers and understand how you will fit into the company. You'll meet high level stakeholders, interact with current graduates and start building the network that will underpin your career at Fujitsu.

03 Resilience Awareness
November
You will learn the importance of resilience and solution focussed thinking, using a framework called FLIP (Focus, Language, Imagination, Pattern breaking).

04 Business Area Overview
December
This is ran internally by key members of all of our business areas. You will get to understand each of our business lines, how we work and how we serve our customers.

05 Business Awareness
February
During this module you will gain an insight into how the organisation wins business, delivers business and retains business. This is delivered in an interactive way with key members of the business.

06 Personal Impact
March
Understanding of your values and beliefs, developing your self-awareness, establish your personal brand and understand stakeholders and their needs.

07 Leadership in Action
July
Focuses on understanding how you work in a team, as a leader and a follower. Develop your own leadership proposition and understand your development areas.
What to expect in Year Two

01 DTC Customer Hackathons
November
We'll expose you to some of our customer problems, and over the course of two days, using our Design Thinking methodology you will present a solution back to the customer.

02 LaunchPad
May
Reflecting on the skills you have acquired over the programme and identifying where you want to go next. Using 360 feedback, individual and group activities, this module will help you to identify any skills gaps.

03 Graduation
September
An opportunity to reflect on your first two years in the company. It is a fun and interactive opportunity to celebrate with your cohort and recognise achievements, both on an individual and collective level.
Need more help?
Find out how Fujitsu can help you