Hybrid IT Orchestration
Fujitsu Hybrid Cloud Management Services
Fujitsu Service Orchestration aggregates disparate services, and provides a single, seamless solution for managing multiple platforms, technologies, services and suppliers. Ours is a holistic approach to Orchestration. We deliver a full suite of solutions that enable you to retain governance, remain in control, maintain compliance and gain enterprise-wide visibility of your entire Hybrid Cloud estate.
Why do you need Orchestration? An Independent View:
The need to increase employee productivity and process efficiency whilst reducing costs, has led many large organizations to adopt Hybrid IT; deploying a wide variety of cloud based solutions alongside on-premises IT. Research conducted by Forrester highlights that whilst the cost and agility benefits of a Hybrid model are clear, the complex IT landscape that this can create must be carefully managed. Download the report to find out how.
Industry Insight – The State of Orchestration: 2017.
In international research conducted by Fujitsu this year, more than 70% of IT decision makers surveyed agreed that Digital Transformation requires Orchestration in order to be truly effective. Whilst many organizations appear to be embracing the emergence of new digital technologies and the opportunities they bring, more than half of respondents felt that their underlying Cloud estate is too complex to manage. Download the report for more peer insights.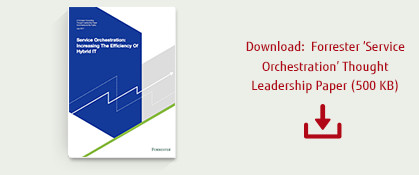 Fujitsu Orchestration is the answer to managing your Hybrid IT estate.
Our approach to Orchestration encompasses everything from a technical layer up to a service and business layer. It has the capability to deliver real business value, and support a seamless user experience across all platforms, technologies and suppliers through a single management portal.
We take a co-creation approach, meaning we're able to help bring the best out of your organization and other suppliers. We work closely with you to develop a successful solution that's perfectly matched to your business priorities. Our practical management solutions focus on 6 key areas:




Service Orchestration


Deliver a seamless, high quality service across disaggregated platforms. Increase the speed, control and value from your bi-modal environment.




Supplier Orchestration


Complexity of a multi-vendor environment managed for you. Embrace autonomy of Hybrid whilst reducing the risk of shadow IT.




Security Orchestration


Safety and compliance assured across all platforms. Monitor, discover and quickly shut down any cyber-security threats to your Hybrid estate.




Process Orchestration




Your digital supply chain delivered as a service. We'll help link your processes into the people, systems and data required to drive innovation and automated services.




Technical Orchestration


Integrate public and private cloud, SaaS and traditional IT to optimize security, speed, scalability and cost.




Compliance Orchestration


Helping you to stay in control of governance, with policy management for data protection, industry legislation, geo-specific standards and more.
The benefits of Fujitsu Hybrid Orchestration
We deliver a service model that's fit for the future, with benefits that include: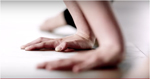 Increased financial control and cost reductions

IT governance framework aligned to your business strategy

Full visibility across your entire IT estate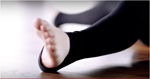 Increased speed

Compliance and high levels of data security
The Fujitsu Hybrid IT Management Portal
As a world leading managed service provider, we have wide ranging expertize from undersea cabling, network connectivity and data centre services, through to Hybrid Cloud, application services and industry solutions. We can automate your business policies, enable visibility of your business usage and improve service performance.
Through our Orchestration portal you can manage the unified end-to-end service of Hybrid IT, and aggregate Cloud Managed Services for easier adoption by business units. Our portal delivers:

Cost Analytics and Predictions
Using our Cloud Cost Simulator you can complete what-if analysis to choose the solution that's best matched to your business priorities.


System Blueprinting
Creates standardized systems, applications and services to increase the speed and predictability of your deployments.


System Monitoring
Optimizes the stability of cloud and non-cloud environments with a consolidated view of resources and performance.

Service Reporting
You can choose the types of reporting you need to better support your decision making and governance processes.

Identity and Access
Controls authentication, authorization and access across all cloud and in-house services to reduce risk.

Process Automation
Deploys, manages and connects cloud and on-premises solutions with an automated flow of services and systems.

Service Catalogue and Resource Provisioning
Simplifies and centralizes the provisioning of standardized cloud and non-cloud resources via a central service catalogue.

Backup and Restore
Simplifies backup and recovery of data across your hybrid.

Service Management
End-to-end management, coordination and optimization across your Hybrid Cloud environment.

Service Dashboard
A unified dashboard of analytics and consolidated costs.

Service Innovation
At Fujitsu we are constantly innovating to improve our service offering to ensure we deliver the best solutions to your business.

Вверх страницы