Fujitsu Highlights: Oracle OpenWorld 2013
Event: Oracle OpenWorld San Francisco 2013
Location: Moscone Center, San Francisco, California, United States
Date: September 22 – 26, 2013
Event Overview: The future begins at Oracle OpenWorld
Fujitsu participated at Oracle OpenWorld 2013 as a Marquee sponsor. Highlighted by the Fujitsu M10 SPARC server, Fujitsu demonstrated how we deliver combined solutions and services that shape the future of IT infrastructure.
Opening Day
The town was painted in red with 60,000 attendees from 145 countries, 3,500 expert speakers, 2,500 interactive sessions, 500 Oracle partners, and 400 product demonstrations.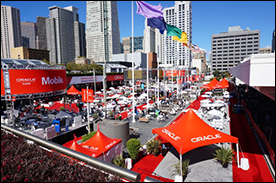 Oracle Plaza @ Howard Street, San Francisco, California.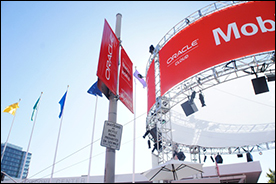 Keynote
Oracle OpenWorld kicked-off with Fujitsu's Keynote. Our Corporate Senior Vice President, Noriyuki Toyoki, gave a speech on "Shaping Tomorrow Through Modernization and Innovation" to 10,000 attendees, just prior to Oracle's Chief Executive Officer, Larry Ellison's keynote. Toyoki CSVP described how Fujitsu can help customers navigate the vast amounts of information available through big data, anticipate change, and realize the benefits of being able to predict the future. He also highlighted Fujitsu M10 as the best platform for analyzing big data.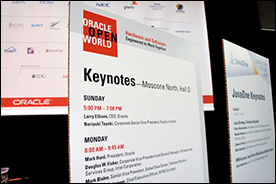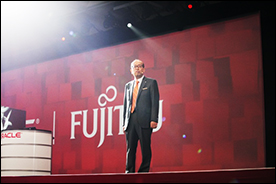 Toyoki CSVP's opening keynote on Sunday evening.
Session
Executive Solution Session is the second largest style of presentation available at the Oracle OpenWorld. Many conference attendees gathered in the Lam Research Theater to hear Bill King Executive Vice President and Goro Watanabe Executive Vice President of Fujitsu speak about Fujitsu M10, the Best Platform for running Oracle Database 12c and Big Data. They investigated Fujitsu M10 server from a more technical aspect and included customer case studies.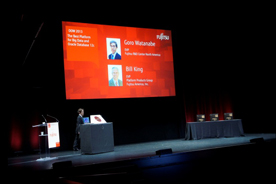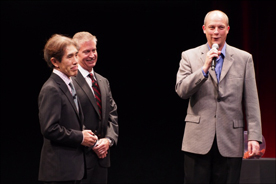 Watanabe EVP and King EVP with Richard McCormack during the Raffle at the end of the session.
Fujitsu Exhibition Booth
Exhibition Halls were open for three days during the event. More than 5300 people visited the Fujitsu Booth to learn about our latest technologies including the Fujitsu M10 SPARC server. Many enjoyed the Fujitsu M10 demonstration systems and other hands-on hardware products.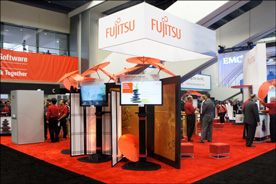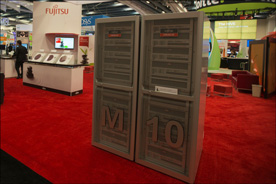 Fujitsu booth decorated with Japanese traditional motifs and the Fujitsu M10 server.