Transformation Application Managed Services Overview
Fujitsu's Transformation Application Managed Services is a full lifecycle solution providing proactive end-to-end management of the application landscape, with underlying support for business insight and next-generation aspirations.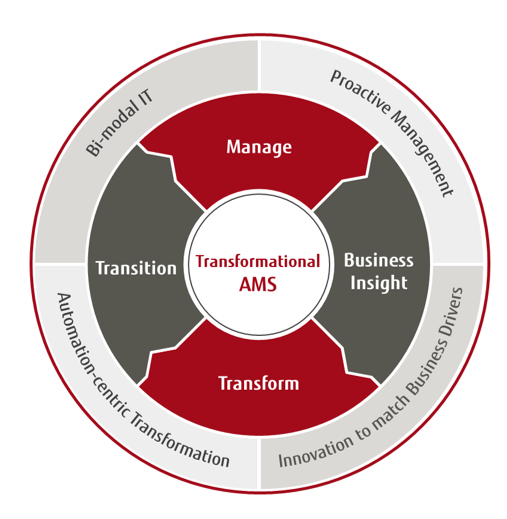 Transformation Application Management Services
Integrated 'Bi-modal IT' builds the bridge between the fast-changing digital world and existing business operations.
Proactive management of the global applications landscape, to keep the business running and up-to-date.
Innovations are driven by business insights to identify and drive change, for greater business impact.
Technology adoption enables faster business transformation to keep pace with changing market dynamics. Automation-centric transformation enables the rapid realization of goals.
Fujitsu service operations deliver continuous improvement via lean and best practices
Fujitsu's continuous improvement is a method of working that:
Eliminates waste
Applies standardization and re-use
Enables the pro-active management of change
Measures what matters
Delivers real customer value
Deploys a continuous improvement environment throughout the entire organisation
Sense and Respond® approach
Aligning measures of service success to what really matters to the business
CMMi practices and Six Sigma
Towards improvement and benefits realization