Responsible Business Report FY18/19
The second Responsible Business Report for Fujitsu Australia and New Zealand reflects our continuing efforts to be transparent about our business activities, more accountable for our performance, and more engaged with customers, employees, partners, and society. It represents the ongoing conversation with our stakeholders about what we do and how we do it. To Fujitsu Australia and New Zealand, being a responsible business means investing in a diverse, safe, and engaged workforce, adding value to the communities in which we work, ensuring high ethical standards in our value chain, and being a leader in sustainability. As one of the largest ICT companies in the region, we have a big role to play.
Responsible Business Highlights FY18/19
Some of our our key achievements this year include:

Fujitsu is the only data centre provider to have the entire portfolio NABERS rated. Our data centres are 33 per cent more efficient than the industry average, creating both economic and environmental value for our customers. Data Centres in Malaga, WA and Eight Mile Plains, QLD increased their NABERS star rating.
We recycled more than 500,000kg of eWaste, the region's fastest growing waste stream.
We supported digital inclusion for social value, with projects such as Digital Owl using Artificial Technology to protect endangered species.
We recruited 59 new graduates, up from 44 the previous year.
We have increased our Indigenous owned businesses spend by more than 60 times from FY16/17 to $272k.
Engaged our largest suppliers in due diligence process to ensure respect for Human Rights and the environment is embedded in our supply chain.
Our workplace Health & Safety Management System is externally certified to OHSAS 18001 - Occupational Health and Safety Management.
During this reporting period Fujitsu's sustainability innovations were recognised in many forums. Our Digital Owl project received the ARN Award for Smart Technology, was recognised as the Partnership of the Year at the NSW CitySwitch Awards, and our Noble Park Date Centre facility in Victoria won the business division in the Greater Dandenong Sustainability Awards.
At a global level, Fujitsu was included on the Dow Jones Sustainability Indices (World, Asia Pacific) for the 19th time and received an A Grade from the Carbon Disclosure Project (CDP) for the second year in a row.
Download previous year's report
Download the complete report FY17/18 (2.5MB)
Blaise Porter – Director, Responsible Business
"Businesses are dealing with heightened expectations about their role in society – taking actions on complex issues such as climate change, environmental protection, diversity and responsible supply chains. At the same time, technologies like artificial intelligence, machine learning and automation are entering the mainstream. Have you considered how technology could be used to solve your businesses' sustainability and social challenges?"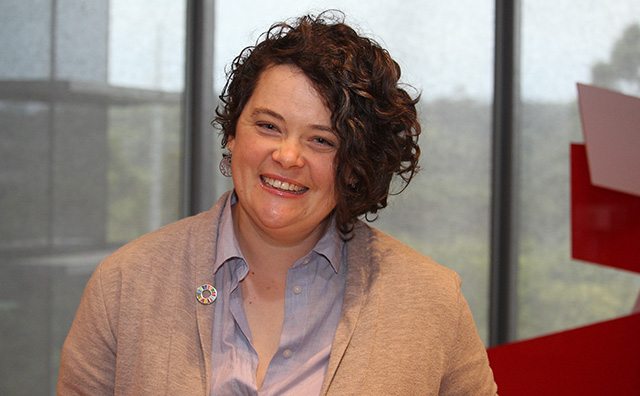 Get in touch
Let us assist you in solving your business challenges.
Thank you. We have received your request and will get back to you shortly.