<!-Subtext (optional)->
Special Talk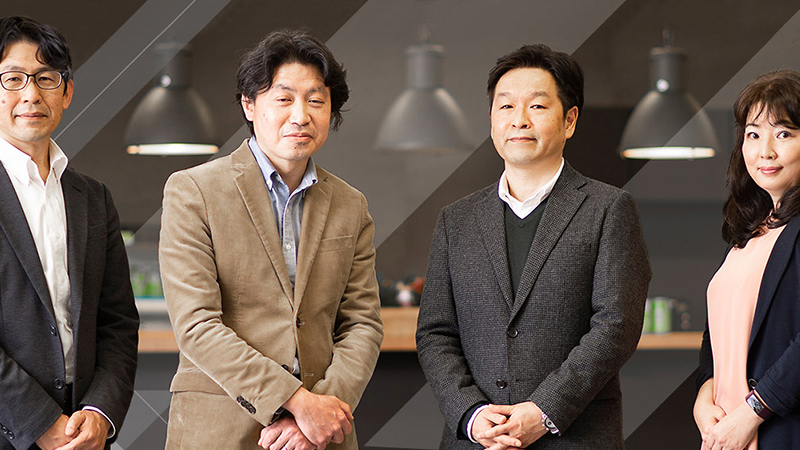 SPECIAL TALK
DX helps retail adapt to the new normal in a pandemic stricken world
True DX adapts to the new normal that drives business reform in the retail industry
Retailers are having to rapidly adjust to a new normal, in which consumer priorities and spending patterns have transformed, and traditional suppliers and operational models are being overhauled How should the retail industry respond to the new normal of consumption? Akihiko Sugimoto, publisher of Nikkei XTREND, interviewed Yoshihiro Matsumoto, Kei Shimizu, and Natsuko Higashi who provide retail industry solutions from Fujitsu.
Retail industry needs quick action to deal with rapid environment changes
Sugimoto: The spread of COVID-19 is causing a big effect on the retail industry. While business types that have been depending on inbound consumption, such as department stores, are soliciting voluntary retirement, there are also many companies that are performing well. Record-high profits are marked by some of the companies in the drug store industry, which handle commodities for safety and security such as masks and disinfectants, and those in the home center industry, which support at-home consumption.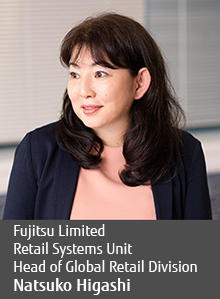 It seems that a company can be a winner or loser depending on whether it adapts to changes in consumption needs. In order to tackle such changes, companies seem to be accelerating digital transformation (DX). How are they actually tackling this challenge?
Higashi: The most advanced region in terms of DX is North America, which is the world's largest and first-line retail market.
For example, Walmart, the world's largest retail company, puts effort into the growing online market, taking advantage of its widespread stores in the United States. The company increased its revenue and profit in the August-October 2020 period, marking a 79% year-to-year increase in online sales, demonstrating consumer support for a new business model that combines physical and online stores.
In the North American market, traditional retail companies such as Walmart, which have been losing their market share because of disruptors, including Amazon, are fighting back through business transformation. This market trend in North America is very suggestive and may also happen in Japan soon.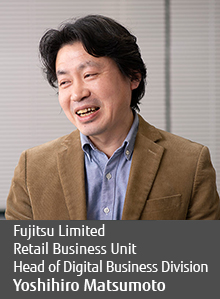 Sugimoto: What do you think of the market trend in Japan?
Matsumoto: Many companies in Japan are also beginning to combine physical and online stores.
For example, in November 2019, Aeon announced that it signed an agreement of exclusive partnership in Japan with Ocado, an online supermarket company in the UK. Aeon is aiming for 600-billion-yen in sales in the online supermarket business by FY2030, leveraging the technology and know-how of Ocado.
With quick response being required for the drastically changing market environment, IT internal manufacturing ratio is increasing among retailers in Japan, especially with systems for customer contact. In such environmental changes, I feel that the role of Fujitsu required by retailer clients is changing.
The important points of future retail business are improvement in CX and EX and sophistication of VC
Sugimoto: How should retail business change toward the future? Please explain this point in the light of Fujitsu's concept Retail DX.
Matsumoto: Fujitsu considers that the important points for our retail-business customers to realize DX are improvement in both customer experience (CX) and employee experience (EX), and sophistication of the value chain (VC) supporting EX and CX. To realize this, business model transformation through sophisticated use of digital technologies is indispensable.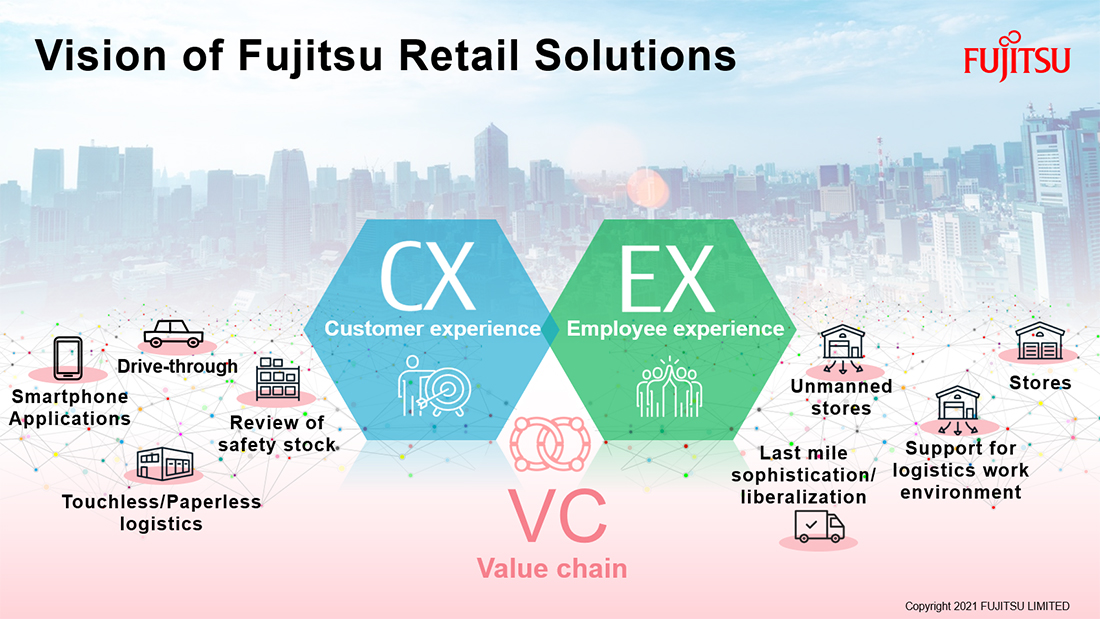 Fujitsu improves both CX and EX for the total optimization of new value chains.
First, about CX, the spread of the COVID-19 pandemic drastically changed values and behavior of consumers. To respond to this change, retailers must provide new buying experiences by combining physical and digital channels to gain support from customers. Now that most of consumers carry smart devices, it has become technically possible to provide unprecedented new CX on a real-time basis. Fujitsu has been providing technologies and solutions for CX improvement in both physical and digital aspects.
Sugimoto: Why is the improvement of EX important?
Matsumoto: COVID-19 has increased the workload per shop assistant with the necessity of infection countermeasures and other tasks. To tackle this situation, it is important to promote personnel saving and automation by using AI (artificial intelligence) and IoT technologies to conduct tasks that have been relying on human experience and intuition. Fujitsu has been reducing employee workloads and improving EX, and also has realized productivity improvement and sophistication of overall operations through automation.
Sugimoto: Why is sophistication of VC required?
Matsumoto: To solve problems that cannot be solved by retailers alone, such as the reduction of loss by disposal of goods, we consider that the optimization of the total value chain including production, delivery, and sales, as well as collaboration between companies and between industries, that means the creation of ecosystem, will be increasingly important.
Fujitsu provides platforms that promote collaboration between companies, and has many customers including food manufacturers, wholesalers, and logistics companies. We would like to work with companies from different industries and business sectors to resolve problems that cannot be solved by one company.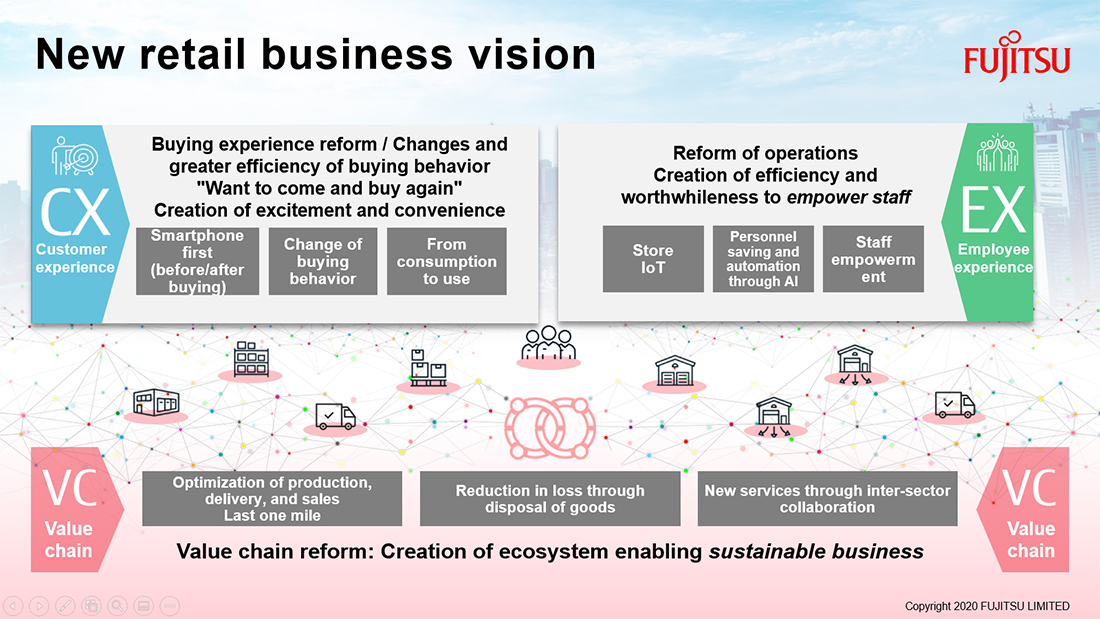 Concept of Retail DX that Fujitsu advocates
Aiming for speedy provision of solutions
Sugimoto: Please explain what Fujitsu can do to realize improvement of CX and EX and sophistication of VC.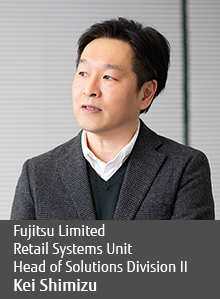 Shimizu: The methods are largely categorized into two approaches. One approach is directed at the fields in which digital shift is rapidly accelerating. We consider that the important points in this approach are speed and flexible response to changes of the market and needs.
For these, Fujitsu must also change. That is, we are required to accelerate the speed of providing solutions with agility in mind, such as micro-services, agile development, and low-code development with effective use of mega cloud PaaS services.
More importantly, we must make such efforts using know-how that Fujitsu has gained through its retail businesses. We consider that our missions are, for example, the use of microservices and definition of APIs mindful of the nature of retail business, as well as the provision of solutions with consideration for balance between quality and cost.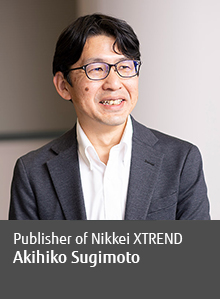 Sugimoto: What is the second approach like?
Shimizu: This is the development of solutions in the business domain of supporting core operations.
The important points in this domain are business continuity and business streamlining. In addition to continued provision of operations solutions, which we have been doing, we will aim for solutions that sophisticate core operation processes using AI to seek efficiency.
Matsumoto: One example is the case of a food supermarket that uses demand forecast SaaS in ordering. By using AI in demand forecast, for which they had been relying on human experience and intuition, forecast accuracy doubled to reduce operation workload and losses through disposal of food. We will continue to actively propose solutions like this.
For Growth—Fujitsu vision of providing solutions that contribute to customer business growth by supporting digital shift. Fujitsu will provide retail solutions in the years ahead as aggregations of applications and APIs, and create values by selecting and combining functions and services.
Sugimoto: Please tell me about the future goals.
Matsumoto: Fujitsu is not just providing technologies and solutions for the realization of improvement in CX and EX and sophistication of VC, which I mentioned earlier. In the era of rapid change in the market and competition environments, it has become difficult for customers to have future prospects. In such an environment, Fujitsu will be a true DX partner who works with retail customers, finds solutions, and supports them in their reform of business and operations.

Higashi: Fujitsu has many customers in the retail business, not only in Japan but also in North America, Europe, Asia, and Australia. Moving forward, Fujitsu will gradually carry out global activities in taking a role as a true DX partner.
Note: This content is reprinted from Nikkei XTREND special in March 2021, after deleting some of the original parts.
Note: The job titles, numerical values, proper nouns, etc. contained in this article are accurate as of the time of publication, and may have already been changed at the time of viewing this page. We ask for your understanding in this regard.