Cyber Physical System: The Key to Smart Monozukuri
Discussion on practical building methods based on advanced case studies
Product development, manufacturing, and other monozukuri* processes, all generate significant volumes of data. How can we use this data to effectively enhance competitiveness within the manufacturing sector? As part of this discussion, we describe the Cyber Physical System (CPS)** concept which is rapidly attracting attention. CPS refers to a system that uses data to enhance performance in the field. Fujitsu Forum 2019, held in May, included a panel discussion on the topic of achieving 'smart monozukuri' in the manufacturing sector. The discussion focused on the practical application of a CPS in the manufacturing industry and the future outlook for this technology. Panelists spoke about specific approaches and key points for practicing smart monozukuri. Case studies were highlighted to explain how data usage systems based on a CPS are being used effectively in the field.
* monozukuri: manufacturing or fabrication with craftsmanship.
** Cyber Physical System (CPS): A mechanism in which data is collected in the physical (real) domain, for analysis and verification in the cyber (virtual) domain, with the results being reflected back in the physical domain to solve problems through reciprocal interactions.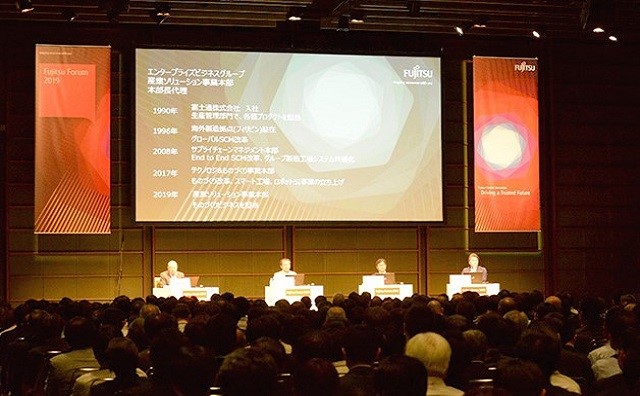 The panel:
Koichi Asari, Principal Analyst concentrating on the manufacturing sector at ITR Corporation, an ICT-focused research and advisory firm
Hideaki Terauchi, Executive Officer at Fujitsu Telecom Networks Limited (FTN), which manufactures and sells telecommunications and power control equipment, as well as electronic components
Ken Takizawa, Deputy General Manager of Fujitsu's Industrial Solutions Business Unit
The moderator was Satoshi Miyoshi, Senior Researcher at Nikkei Business Publications, Inc. He introduced Koichi Asari as an expert on trends in the manufacturing sector, Hideaki Terauchi as a pioneer in the practical use of a CPS, and Ken Takizawa as an IT solutions vendor for the manufacturing sector.
Koichi Asari gave an overview of the CPS concept. Emphasizing the importance of using a CPS in the manufacturing sector, he says, "From now on, the value and competitiveness of the manufacturing sector will depend on how well the key business elements that support development and production (people, machinery, facilities, corporations, and technologies) are connected, as well as how these elements function together as an effective and efficient system. A CPS is the underlying principle for the information systems at the core of such operations."


Koichi Asari
Principal Analyst
ITR Corporation

Next, Koichi Asari described the progress of various initiatives around the world where a CPS was being used in the manufacturing field. For example, the Japanese government's 'Society 5.0' concept, defines a super-smart society as one that integrates both cyber space and physical space. This is exactly what the CPS is. 'Industrie 4.0,' advocated by the German government, emphasizes a quick response to changes in the environment. A number of projects are currently under way in Germany aimed at creating a mechanism to automatically collect and link various data. The methodology being developed is based on the CPS concept. At the same time, a consortium of mostly US companies, called the "Industrial Internet", is engaged in diverse activities, including a testbed called 'Smart Fact Web'. The aim of the testbed is to put in place a system that links factories scattered around the world. This is also based on the CPS concept.
Anticipating and addressing near-future requirements on production lines
The main part of the discussion began after Koichi Asari's overview. Hideaki Terauchi from FTN, which is implementing a CPS at its own plant, described his company's initiatives and outcomes.
He began by providing some context around his company's fast-paced efforts to implement a CPS. "In recent years, we have increasingly seen cases where the development of services and software has preceded the development and manufacture of hardware, which occurs after the product specifications have been decided. This approach requires the swift and accurate establishment of production systems as soon as product specifications and production volumes are determined." To meet these challenging market requirements, FTN decided to enhance its production systems to be able to flexibly handle variations in the items being manufactured and in production volumes. The company manages everything in-house, from the production of modules and mechanical parts, through to the assembly of plug-in units (PIUs), shelves, and devices. By applying the concept of CPS to this process, FTN aimed at creating a mechanism for optimizing its production system by introducing flexibility between each process, thereby allowing the system to cope with variations in production requirements.
However, managing variable production requirements is extremely complex. Efficient production requires the ability to achieve real-time optimization of the complicated and interrelated schedules and conditions involved within all of the factory processes. FTN successfully deployed a CPS to achieve this. Based on the current conveyor line status and work history of the next product to be processed, FTN developed a method to predict near-future production line requirements. This enabled FTN to prevent any production schedule disruptions and line outages, resulting in improved productivity. Hideaki Terauchi adds, "Previously, FTN spent an entire year making improvements that only led to a 10% increase in productivity. However, by adopting a unique production approach with a CPS, we achieved an additional 18% improvement in just three months. This was a remarkable outcome."

Overview of the method for predicting near-future production requirements (Source: Fujitsu Telecom Networks)


Hideaki Terauchi
Executive Officer
Fujitsu Telecom Networks (FTN)

How did FTN succeed in practically applying a CPS? Hideaki Terauchi recounts, "Starting small with a limited scope of usage was the key to our success. Instead of setting our expectations too high, we undertook a repeated process of identifying and addressing issues quickly, which led to a great outcome. Our staff also had the freedom to make decisions and the ability to formulate new methods under the guidance of a determined leader. This collaborative framework brought out the best in each individual element of the equation and allowed us to work effectively to build the new system."
Combining IT and OT to maximize capabilities on the front lines
Following the FTN case study, Ken Takizawa from Fujitsu spoke about the current status of implementing a CPS from the perspective of an IT solutions vendor supporting the manufacturing industry. He says, "Many manufacturers understand the importance of smart monozukuri, but only a handful are really successful. A lot of them give up at the proof of concept (PoC) stage. Why is this?"
Ken Takizawa explained that building and operating a CPS requires knowledge in two areas: information technology (IT) for extracting and analyzing valuable information from data, and operational technology (OT) for analyzing and effectively using high-quality data collected from the field. However, not many engineers are skilled in both IT and OT, which is a major reason why there is not widespread implementation of CPSs.
As a solution, Ken Takizawa introduced Fujitsu's COLMINA manufacturing platform and described its key features. He explained how COLMINA is a service platform that enables the building and operation of highly complex systems, meaning that a CPS can be applied more widely.
COLMINA is a platform that serves as a hub and connects IT systems –including product lifecycle management (PLM) systems, supply chain management (SCM) systems, and manufacturing execution systems (MESs) – with the OT systems in the field that control data collection, robots, inspection equipment, and so on. Ken Takizawa elaborates, "COLMINA enables customers to independently and easily obtain and analyze data, and rapidly identify production line issues, find solutions, take action, and check results via the PDCA cycle. This encourages better countermeasures to be found and onsite improvements to be made. Fujitsu also offers a service that provides customer support for these onsite improvements."
In addition, Fujitsu has compiled various potential scenarios that show how to best use data to suit each individual case. The scenarios offer solutions for the manufacturing industry's most pressing demands, including the need to accelerate responses to product specification changes, optimize production input plans, improve the availability of equipment and people, and identify the causes of quality defects. Furthermore, these scenarios incorporate optimal data utilization methods based on Fujitsu's own manufacturing expertise and in-house knowledge, as well as know-how accumulated by industry-specialist systems engineers.


Ken Takizawa
Deputy General Manager
Industrial Solutions Business Unit
Fujitsu Limited

There are many scenarios available that reflect varying user requirements. By selecting and using the scenarios that best fit their own needs, users can build and operate a CPS for effective and efficient management of their business. COLMINA V2, launched in February 2019, incorporates these various scenarios. In April 2019, to augment its conventional engineering consulting services, Fujitsu launched an 'expert consulting service' which involves the provision of onsite OT technologies and expertise.
Next, Koichi Asari explained the '3 Ws' concept for implementing a CPS effectively at manufacturing sites. "The aim here is to clarify the purpose of building and operating a CPS. In essence, where, what, and who? These are the 3 Ws. We need to scrutinize these factors right at the outset. After clarifying the 3 Ws, the next task is to nail down 'how,' which means deciding which technologies to employ."
Moving forward, in addition to making manufacturing processes more productive, advice will be offered that is aimed at enhancing the overall lifecycle of monozukuri. To this end, pre-manufacturing processes, namely R&D and design, will be incorporated into the CPS mechanism. Koichi Asari explains, "In addition to starting within the existing limitations, it is also important for customers to clarify what kind of monozukuri lifecycle they hope to build in the future, and to share this information with stakeholders. In other words, 'Think big, act small'."
The future of CPS: Connecting with front-line manufacturing staff and connecting with consumers
The three panelists then commented on the future of the industry and how the manufacturing sector will develop based on the CPS concept.
According to Koichi Asari, "In the future, the era of mass production and mass consumption will no longer be viable. Instead, we will see the growth of variable production tailored to demands and needs." Most of the knowledge and skills accumulated by the manufacturing industry to date is based on meeting the requirements of mass production and mass consumption. Koichi Asari also points out the absence of existing factories that are directly connected to the market, "Going forward, we will need to strengthen and modernize monozukuri so that development and production systems can be modified rapidly and flexibly in response to changing market and consumer trends. Here, the CPS concept will play an increasingly important role in connecting the market with product development sites, and production sites in the manufacturing sector with the data."
Hideaki Terauchi continues, "Despite the evolution of technology, not all production lines can be automated. Also, there are certain tasks that require the skills of a technician, and such skills cannot easily be computerized. I would like to see CPSs included in manufacturing operations as a way of reducing the tasks that rely on human labor while simultaneously improving the capabilities of workers." FTN uses the term 'human centric smart monozukuri' as a future-oriented type of manufacturing that embraces the CPS concept. Hideaki Terauchi elaborates, "The idea here is to deploy workers' skills to enhance corporate value, which will not only improve productivity but also the well-being of the workers."
Ken Takizawa explains the current state of solution development, "COLMINA is now at the visualization stage and can finally be taken to the next level. We can forge ahead with production line optimization, and the advancement of control technologies." Looking ahead, Fujitsu will aim to conduct quality prediction monitoring in order to detect signs of product quality changes and to prevent defects. This will help accelerate the PDCA cycle for quality improvement and dramatically reduce the occurrence of defects during production. Other focuses include the digitalization of the movements of technicians, so that their skills can be passed on and automated. To this end, Fujitsu is deploying upper-limb recognition and behavioral analysis technologies – including sensors, AI-based image recognition, and skeletal detection – to develop solutions for digitally modeling the tasks of skilled technicians. Field trials are already being conducted at plants within the Fujitsu Group.
To conclude the session, the three panelists spoke about their future aspirations for putting a CPS into practice, based on their respective standpoints.
Koichi Asari: "We want to help customers establish effective and efficient CPS deployment from an objective viewpoint."
Hideaki Terauchi: "CPS technologies can also be applied outside of production sites. We want to focus on applications that are particularly relevant to people."
Ken Takizawa: "We want to maximize Japan's competitiveness by harnessing synergies between technologies and manufacturing site capabilities."
CPS, which began as a concept, has finally reached the stage of practical usage. In addition to clarifying the current status of CPS deployment, the panel discussion highlighted realistic approaches for implementing a CPS in the real world. We trust that audience members who are interested in smart monozukuri and keen to use advanced technologies obtained valuable insights from the panel discussion.