<!-Subtext (optional)->
Improving the digital employee experience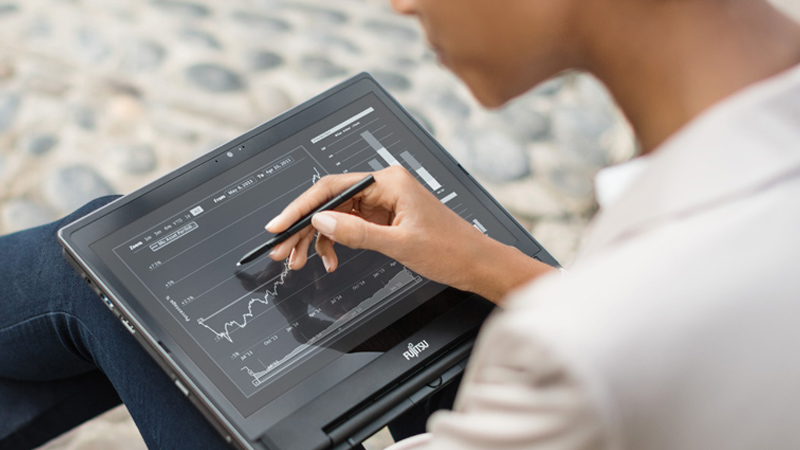 Oracle Development Tools
Fujitsu Employee Experience Platform (FACES)
Today, in the modern digital age, the quality of your digital employee experience is critical to business success. Delivering a great employee experience via intelligent and easy to use systems can enable you to attract and retain the best talent, increase efficiency and improve your customer experience.
At Fujitsu, we understand that a happy and engaged employee is a more productive employee and have introduced a new initiative – FACES (Fujitsu APEX Employee Experience Platform), a next-generation portal designed to make employees' lives easier. Used to intuitive digital experiences at home, employees now want the same experience at work.
With our Oracle employee experience solution, we enable you to deliver consumer-style experiences in a work setting. Our solution supports and promotes agile delivery to get you up and running quickly. It utilizes the power of Oracle Application Express (APEX) to deliver modern responsive screens, employee dashboards, manager dashboards and workforce management tools that deliver information organization-wide to enable workers to perform in their role.
Demonstratable solutions with pre-built templates that reduce costs
We utilize APEX, an Oracle development tool, and deliver demonstratable solutions with pre-built interfaces that reduce development times and costs, and APIs that are proven to work at scale for up to 200,000 users. APEX is purely PL/SQL driven and sits entirely in the database, and if you already have a license for the Oracle Database then you are licensed for APEX.
Fujitsu Employee Experience Solution

Modern user interface Great user experience

Single point of access: no more logging onto multiple systems

Intuitive and intelligent no need for training

Access from any device in any location

Blends reports, charts and dashboards with functionality
Why choose Fujitsu as your Oracle Employee Experience Solution partner?
At Fujitsu, our relationship with Oracle spans 3 decades, and over the years we have co-created several products as well as having built several global centers of excellence for Oracle Services.
We are experts at helping organizations on their journey to the Cloud. Over the last few years our relationship with Oracle has taken a new direction, and we are now closely collaborating with them on the provision of Cloud services utilizing the best of Fujitsu and Oracle technologies. With our innovative thinking we help to simplify processes and offer:
agile, scalable solutions delivered at speed
cost savings and efficiencies with pre-built interfaces and APIs
Our approach focuses on co-creation and agile application development

Discovery Phase
(Sprint Zero)
Discovery Workshop to identify key areas to target

Sprints
(Typically 2 – 6 weeks)
sprint planning
co-creation development phase - close collaborative working to shape the solution
sprint exit – prepare the application ready for live deployment
sprint retrospective – lessons learned
new features for future sprints
Fujitsu Oracle Partner Award Winner 2019
As a long-standing Oracle partner, we are proud to announce winning three prestigious Oracle awards in 2019:
Oracle SI Partner Of The Year
IaaS and PaaS Partner of the Year
Support Partner of the Year.
Fujitsu Cloud Premier Partner
We have already demonstrated the capability to become an Oracle Cloud Premier partner and are working towards achieving Cloud Elite with significant investment in training and development of Oracle Cloud skills.
HR Diversity within UK Government
For one government department, we implemented a solution to significantly reduce complexity for 200,000 employees. Needing to easily input and store information related to diversity, we rolled out a solution that replaced the need for seven screens for inputting data into one easy to use site.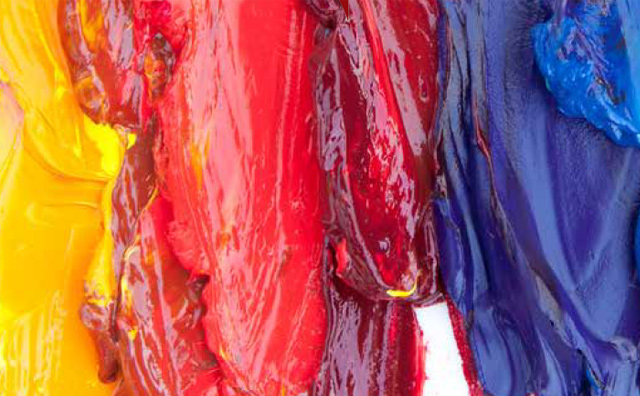 Insights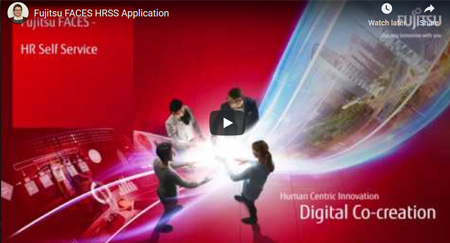 Fujitsu FACES HR Self-Service Application
Demonstration of the Fujitsu FACES HRSS solution, including mobile viewing.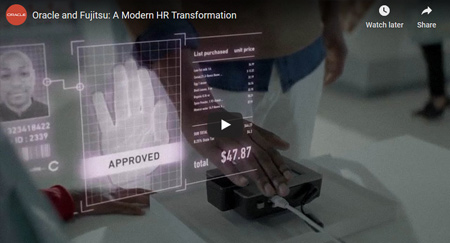 Fujitsu digital business transformation
As part of our own digital business transformation we have selected Oracle HCM as our new global HR platform.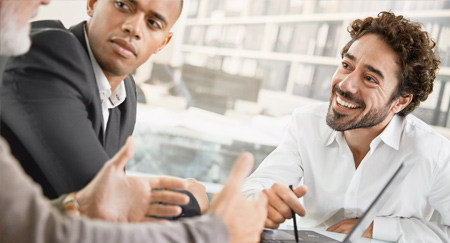 Human Capital in the Digital Age
Discover how Fujitsu is working with Oracle to co-create simpler and more powerful ways to make HR a focus for value in a rapidly changing economy.