LTO-CM (Cartridge Memory)
Included as standard with all Ultrium tape cartridges
A non-contacting memory chip (EEPROM), called LTO-CM is embedded in each LTO Ultrium tape cartridge.
Each chip holds information on data locations, usage/error logs, and user areas. A radio frequency interface is used to eliminate any need for physical contacts. This provides quick reference to the cartridge's index and usage information, after being loaded into a tape drive.
As a result, information stored on the Cartridge Memory can be accessed faster and load time is minimized. It also enables fast access to and high-speed restoration from files and data sets, regardless of their location on the tape cartridge.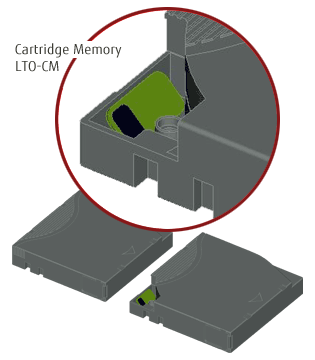 Product Requirements
Supported Tape Libraries
ETERNUS LT20 S2/LT20
ETERNUS LT40 S2/LT40
ETERNUS LT60 S2/LT60
ETERNUS LT140
ETERNUS LT260, LT250
ETERNUS LT270 S2/LT270
Note:

Products/features/support content introduced on this page, are subject to change without notice.