LTFS(Linear Tape File System)
The LTFS function accesses tape cartridges by reading/writing files on a file system that is created in a tape cartridge. Using this function, tape cartridges can be handled as if they are USB flash drives.
To use the LTFS Option, install it in a Linux server (hereinafter called LTFS server). After connecting the ETERNUS LT series to the LTFS server and formatting the tape cartridges stored in the tape library on the LTFS server, files on the tape cartridge can be displayed or operated from the LTFS server.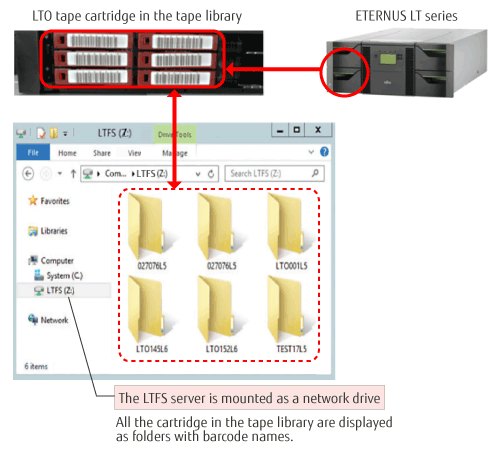 Product Requirements
Tape libraries
ETERNUS LT20 S2
ETERNUS LT40 S2
ETERNUS LT60 S2
ETERNUS LT140
ETERNUS LT260
ETERNUS LT270 S2
Tape drives
LTO Ultrium5 tape drive
LTO Ultrium6 tape drive
LTO Ultrium7 tape drive (V10L13 or higher)
LTO Ultrium8 tape drive (V20L10 or higher)[*1]
Cartridge tapes
LTO Ultrium5 data cartridge
LTO Ultrium6 data cartridge
LTO Ultrium7 data cartridge (V10L13 or higher9)
LTO Ultrium7 Type M data cartridge (V20L10 or higher) [*1]
LTO Ultrium8 data cartridge (V20L10 or higher) [*1]
OS (LTFS)
Red Hat Enterprise Linux Server 6.4 (x86 and x86_64)
Red Hat Enterprise Linux Server 6.5 (x86 and x86_64)
Red Hat Enterprise Linux Server 6.6 (x86_64) (V10L13 or higher)
Red Hat Enterprise Linux Server 6.7 (x86_64) (V10L20 or higher)
Red Hat Enterprise Linux Server 6.8 (x86_64) (V10L21 or higher)
Red Hat Enterprise Linux Server 7.2 (x86_64) (V10L21 or higher) [*1]
Red Hat Enterprise Linux Server 7.3 (x86_64) (V10L23 or higher)[*1]
Red Hat Enterprise Linux Server 7.4 (x86_64) (V20L10 or higher)[*1]
Client OS
Windows client, Linux client
*1:

LTO Ultrium 8 Tape Drive can be supported only by Red Hat Enterprise Linux Server 7.X.
In case of using LTO Ultrium 8 Tape Drive and LTO Ultrium 8/7 Tape Cartridge, please assure to select Red Hat Enterprise Linux Server 7.X as OS of LTFS servers.

Note:

There is a case the products, functions, and services mentioned in this page of which are changed without notice