File sharing among UNIX servers - PRIMECLUSTER
PRIMECLUSTER provides file sharing between multiple Solaris OS server nodes[1]. This means in SAN environments any connected server can access the same ETERNUS AF/ETERNUS DX. This used to be very difficult as there were no mechanisms to enabled UNIX servers to share storage file access while maintaining data consistency. The combination of PRIMECLUSTER and ETERNUS now makes it possible for each server to access data directly without specific server restrictions or effects on LAN communications, while achieving seamless access performance.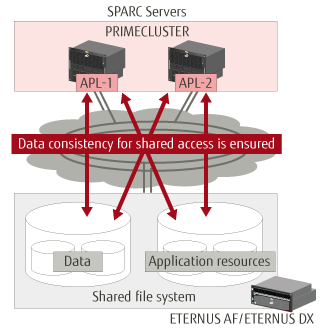 Please refer to "Specifications" on each product's information page for the maximum number of connection paths supported.
[1]

The maximum number of nodes depends on the servers and OS versions used.
Benefits
Data exchange between servers can be achieved just by sharing a file. LAN based file transfer is not necessary
Management of servers running the same application can be centralized by sharing application resources. This results in lower total cost of ownership (TCO)
Product Requirements
Supported Storages
All-Flash Arrays
ETERNUS AF150 S3
ETERNUS AF250 S3/S2, AF250
ETERNUS AF650 S3/S2, AF650
ETERNUS DX200F
Hybrid Storage Systems
ETERNUS DX60 S5/S4/S3
ETERNUS DX100 S5/S4/S3, DX200 S5/S4/S3
ETERNUS DX500 S5/S4/S3, DX600 S5/S4/S3
ETERNUS DX900 S5
ETERNUS DX8700 S3/S2, DX8900 S4/S3
ETERNUS DX60 S2, DX80 S2, DX90 S2
ETERNUS DX400 S2 series
Supported Servers
FUJITSU SPARC M12/M10
FUJITSU SPARC Enterprise
PRIMEPOWER, S series
Required Software
PRIMECLUSTER
Note: Products/features/support content introduced on this page may be modified without notice.