<!-Subtext (optional)->
Ultra-compact advanced technology server to accelerate your business
Fujitsu PRIMERGY TX1320 M5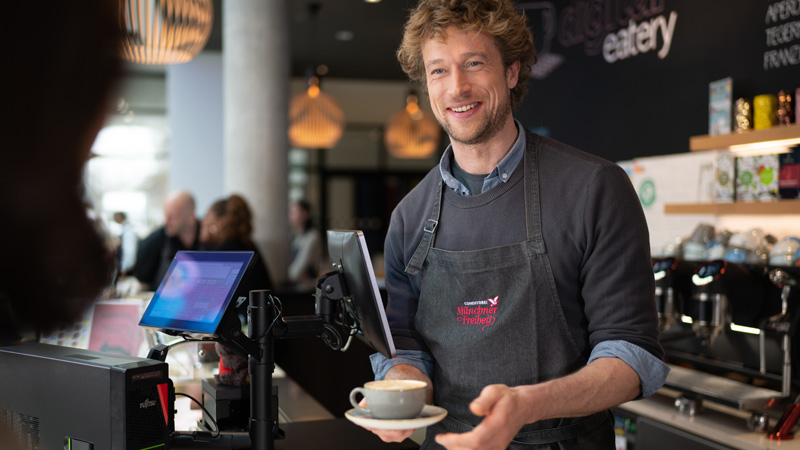 Fujitsu PRIMERGY TX1320 M5
Fujitsu PRIMERGY TX1320 M5
Supports the latest Intel® Xeon® E-2300 processor family plus up to 128GB DDR4 RAM at 3,200 MT/s

Designed for standard small & medium business workloads: infrastructure (file, print, web), collaborative (email), or industry applications

Ultra-compact, silent design with dust protection – fits anywhere and ideal for offices or showrooms or industrial environments

Full-fledged server for your business needs – up to 8x storage devices, 4x PCIe 4.0/3.0 slots and a range of controllers, OS, device options
| | | | |
| --- | --- | --- | --- |
| | | | |
| ADVANCED TECHNOLOGY TO DRIVE WORKLOADS | FLEXIBLE, FUTURE-READY PLATFORM | EFFICIENT AND RELIABLE BY DESIGN | DEPLOY ANYWHERE, SERVICE AND MANAGE EASILY |
| Powerful mono-socket compute and memory accelerate performance across both individual and virtualized business and industry workloads. Full-featured base units (with 8x 2.5-inch or 2x 3.5-inch storage drives, dual Gigabit LAN standard) to meet diverse SME storage needs. | Versatile 4x PCIe 4.0/3.0 slots (2x 4.0) to enable upgrades, with advanced options (RAID, networking, and graphics). Secure storage features protect data while M.2, dual microSD devices support flexible software boot and new high data rate USB ports enable the latest peripheral devices. | Designed to be good for both the business and the environment. Choose from amongst a 3.5-inch drive base unit with a value-oriented standard power supply, or the 2.5-inch drive base units which offer either a standard power supply or dual, hot-plug 500W power supplies for enhanced reliability and with high energy-efficiency. | Ultra-compact, low noise, easy to maintain, with Fujitsu's Cool-safe® technology, and an optional dust-protection kit enabling wide-spread deployment. The server's iRMC S6 and Fujitsu Infrastructure Manager (ISM) software suite enable efficient server remote management and infrastructure control. |
ADVANCED TECHNOLOGY TO DRIVE WORKLOADS

Powerful mono-socket compute and memory accelerate performance across both individual and virtualized business and industry workloads. Full-featured base units (with 8x 2.5-inch or 2x 3.5-inch storage drives, dual Gigabit LAN standard) to meet diverse SME storage needs.


FLEXIBLE, FUTURE-READY PLATFORM

Versatile 4x PCIe 4.0/3.0 slots (2x 4.0) to enable upgrades, with advanced options (RAID, networking, and graphics). Secure storage features protect data while M.2, dual microSD devices support flexible software boot and new high data rate USB ports enable the latest peripheral devices.


EFFICIENT AND RELIABLE BY DESIGN

Designed to be good for both the business and the environment. Choose from amongst a 3.5-inch drive base unit with a value-oriented standard power supply, or the 2.5-inch drive base units which offer either a standard power supply or dual, hot-plug 500W power supplies for enhanced reliability and with high energy-efficiency.


DEPLOY ANYWHERE, SERVICE AND MANAGE EASILY

Ultra-compact, low noise, easy to maintain, with Fujitsu's Cool-safe® technology, and an optional dust-protection kit enabling wide-spread deployment. The server's iRMC S6 and Fujitsu Infrastructure Manager (ISM) software suite enable efficient server remote management and infrastructure control.
Tech Specs
Chipset
Intel® C256

Mainboard type
D3931

Product Type
Mono Socket Tower Server

Processor
Intel® Xeon® E-2300 processor family, Intel® Pentium® processor

Memory
8 GB - 128 GB, UDIMM (DDR4)

Memory slots
4

Memory protection
ECC

Drives (optional)
DVD supermulti, ultraslim, SATA I
RDX Drive, 100 MB/s, 320 GB, 500 GB, 1 TB, 2 TB, USB 3.0

PCI-Express 3.0 x4
2 x Low profile

PCI-Express 4.0 x8
2 x Low profile (2x PCIe 4.0 x8 slots can be switched to 1x PCIe 4.0 x16)

Accessible drive bays
1 x 3.5/1.6-inch for backup devices, 1 x 5.25/9.5mm for DVD-RW/Blu-ray
1 x 3.5/1.6-inch for backup devices, 1 x 5.25/0.4-inch for CD-RW/DVD

Storage drive bays
3.5-inch non hot-plug or 2.5-inch hot-plug SAS/SATA or 2.5-inch NVMe drives
Max. 8x (4x + 4x) x 2.5-inch hot-plug
Max. 2 x 3.5-inch non hot-plug SATA

LAN Controller
Intel® i210 onboard
2 x 1 Gbit/s Ethernet (RJ45)

USB ports
6 (Front: 1x USB 3.2 Gen2x2(20 Gbps) Type C, 1x USB 3.2 Gen1x1(5 Gbps) / Rear:, 2x USB 3.2 Gen2x1(10 Gbps) / Internal: 2x USB 3.2 Gen1x1(5 Gbps))

Graphics
2 (1x Display Port (Integrated processor graphics) / 1x VGA (15-pin) / can be used exclusively)

Management LAN (RJ45)
1 x dedicated management LAN port for iRMC S6 (10/100/1000 Mbit/s), Management LAN traffic can be switched to shared onboard Gbit LAN port

Trusted Platform Module (TPM)
TPM 2.0 module (option)

Power supply configuration
1 x standard, 1 x hot-plug, 2 x hot-plug redundant (depending on
Model)

Active power (max. configuration)
613 W

Weight
up to 11.1 kg

Floor-stand (W x D x H)
98 x 400 x 340 mm

DC Infrastructure Management
Infrastructure Manager (ISM)
Essential Edition
Advanced Edition

Operating system
http://docs.ts.fujitsu.com/dl.aspx?id=d4ebd846-aa0c-478b-8f58-4cfbf3230473

Warranty period
1 year

Warranty type
Onsite warranty

Service Lifecycle
at least 5 years after shipment, for details see https://support.ts.fujitsu.com/

Service Weblink
http://www.fujitsu.com/fts/products/product-support-services/

Service Weblink
http://www.fujitsu.com/fts/products/product-support-services/

| | |
| --- | --- |
| Recommended Service | 24x7 Onsite Service with 4h Onsite Response Time |
| | |
| --- | --- |
| Recommended Service | 24x7 Onsite Service with 4h Onsite Response Time |
Resources
Datasheets
Technical Details
Brochures & Flyers
Whitepaper