FUJITSU Software Infrastructure Manager
The holistic approach for simplifying data center management
FUJITSU is standardizing on Infrastructure Manager (ISM) as its powerful tool for monitoring and managing entire IT landscapes, including servers, storage, network devices as well as power and cooling. ISM simplifies data center management by centralizing operations and monitoring of the entire IT infrastructure environment in a single unified platform. Using one user interface, ISM is not just restricted to managing a single data center, but is also capable of distributed data center management. ISM is available as Essential edition for standard infrastructure management capabilities in single configurations or as Advanced licensed edition providing comprehensive infrastructure management across multiple data centers.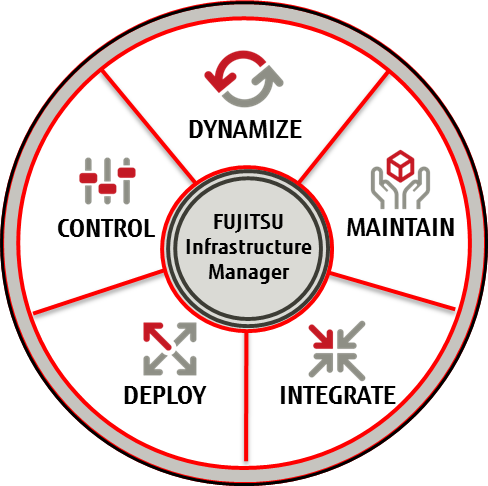 Experience the powerful and dynamic approach of FUJITSU ISM
With a consistent web-based user interface, FUJITSU ISM is able to scale with business demand in modern data center, from small groups of servers up to heterogeneous infrastructures with multiple local or remote instances. It covers most of the On-Premise IP-network connected devices that are included in our Fujitsu data center infrastructure portfolio as well as several business-relevant third party devices. ISM is part of the
Fujitsu Integrated System PRIMEFLEX solutions.
Gain agility and simplify IT operations
Designed the way people work, ISM provides an integrated view and centralized control over heterogeneous environment

Deploy IT fast, easy, reliable
Automate device configuration
Mass OS installation

Integrate IT seamlessly, manage uniformly
In enterprise management
In vendor specific management
Monitor 3rd party platforms

Control IT centralized, easy, efficient
Node management
Health status
Monitoring and control
Capacity / threshold
Management
Power management

Dynamize IT simple, sophisticated, efficient
Converged management
Virtual-IO management
Network topology management
Maintain IT in any state, at any place
Remote management
Update management
Logging and auditing
Relevant results for simplifying your data center management






Cost & time reduction with uniform
management of firmware update*
Reduction in power consumption*
Faster to troubleshoot*


* Results based on Fujitsu internal testing, 2017 in comparison to siloed software solution
Two options available to support different business requirements
Device centric monitoring and management with the ISM Essential edition:
A quick start to efficient infrastructure management with converged monitoring and management capabilities free-of-charge
Easy upgrade path to ISM Advanced edition
Versatile multi node management with the ISM Advanced edition:
Fully featured version of ISM that provides comprehensive infrastructure management across multiple data centers
Licensed software with enterprise grade support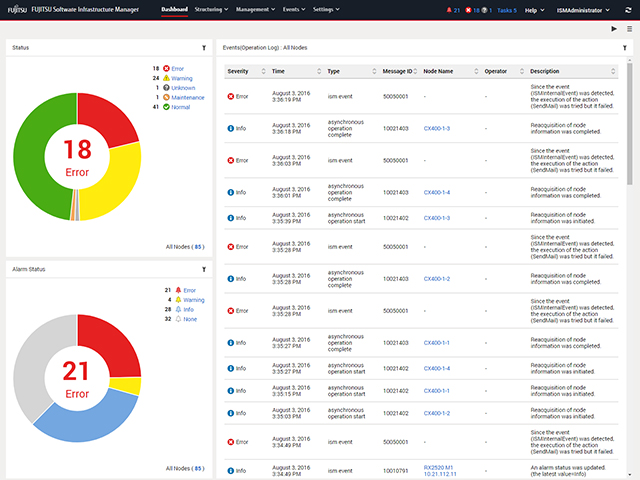 Further information
Need more help?
Find out how Fujitsu can help you