Fujitsu earns top rating from CDP in climate change, water security categories
Fujitsu Limited
Tokyo, December 13, 2022
Fujitsu Limited today announced that the Fujitsu Group has been selected for the CDP's A List for both climate change for the sixth year in a row and water security for the fourth year in a row, earning the highest rating in the CDP's evaluation of corporate activities in response to climate change and water security.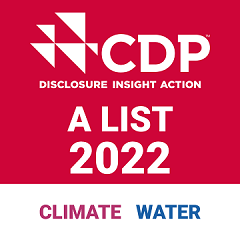 CDP is an international non-profit organization that manages annual global disclosure for companies' activities relating to climate change, forests, and water security, on behalf of institutional investors that have total investment assets in excess of US $130 trillion (as of December 2022). The survey evaluates companies' outstanding efforts to demonstrate leadership in disclosing information, identifying and managing risks, addressing challenges, as well as setting ambitious and significant goals.
The Fujitsu Group's Initiatives in Climate Change and Water Security
In 2017, The Fujitsu Group laid out its medium- to long-term environmental vision, the Fujitsu Climate and Energy Vision, setting its goal to achieve zero carbon emissions by 2050. In April 2021, Fujitsu raised its greenhouse gas emissions reduction target for 2030 from a 33% reduction compared to FY 2013 to a 71.4% reduction. This reduction target has been certified as 1.5°C-aligned by SBTi (1).
Utilizing AI and other advanced digital technologies to support innovation, Fujitsu is working to mitigate and adapt to the impacts of climate change through its business operations. Fujitsu ultimately aims to contribute to the realization of the common social goal of carbon neutrality and the construction of a more resilient infrastructure for society.
In the area of water security, Fujitsu actively promotes the reduction of water consumption at its plants and the effective use of water resources through the recycling of pure water and the use of rainwater. Fujitsu further develops high-performance computing (HPC) and AI technologies to address societal issues including disaster prevention and mitigation and resilient urban development.
Based on the "Fujitsu Group Environmental Action Plan (Stage X)", which outlines Fujitsu's environmental targets over the two-year period from FY 2021 to FY 2022, Fujitsu is working to minimize negative environmental impacts in the supply chain, while undertaking workstyle reforms and restructuring its business operations. To this end, Fujitsu has identified targets that address three key global societal challenges: climate change, resource circulation, and living in harmony with nature (conservation of biodiversity).
The Fujitsu Group will continue to promote these initiatives to realize a sustainable world.
---
[1]

SBTi (Science Based Targets initiative) :
An initiative jointly established by the United Nations Global Compact, the World Resources Institute (WRI: World Resources Institute), and other organizations in 2015.
It encourages companies to set GHG emission reduction targets consistent with science-based evidence to the level required by the Paris Agreement, validating targets that comply with criteria including indirect emissions not only within the company but also in the supply chain.
Related Links
Fujitsu's Commitment to the Sustainable Development Goals (SDGs)
The Sustainable Development Goals (SDGs) adopted by the United Nations in 2015 represent a set of common goals to be achieved worldwide by 2030.
Fujitsu's purpose — "to make the world more sustainable by building trust in society through innovation" — is a promise to contribute to the vision of a better future empowered by the SDGs.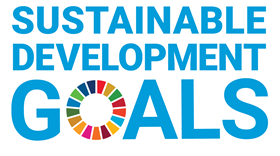 About Fujitsu
Fujitsu's purpose is to make the world more sustainable by building trust in society through innovation. As the digital transformation partner of choice for customers in over 100 countries, our 124,000 employees work to resolve some of the greatest challenges facing humanity. Our range of services and solutions draw on five key technologies: Computing, Networks, AI, Data & Security, and Converging Technologies, which we bring together to deliver sustainability transformation. Fujitsu Limited (TSE:6702) reported consolidated revenues of 3.6 trillion yen (US$32 billion) for the fiscal year ended March 31, 2022 and remains the top digital services company in Japan by market share. Find out more: www.fujitsu.com.
Press Contacts
Fujitsu Limited
Public and Investor Relations Division
Inquiries
---
All company or product names mentioned herein are trademarks or registered trademarks of their respective owners. Information provided in this press release is accurate at time of publication and is subject to change without advance notice.
Date:
13 December, 2022
City:
Tokyo, Japan
Company:
Fujitsu Limited