Fujitsu's Real-world Learnings and Solutions for Implementing the Technology Necessary to Succeed with Workplace Anywhere

With a declining birthrate and an aging population, Japan is finding it more and more difficult to maintain a substantial working-age population. Attention is increasingly turning to teleworking and its potential to provide employment opportunities via IT in homes and satellite offices. In a "super sellers' market", young job-seekers are spoiled for choice and are looking for the company that offers the best conditions. They also place a high value on workplaces that provide flexibility to attract the best candidates, such as by adopting systems like workplace anywhere (also known as telecommuting and remote working). The adoption of workplace anywhere is also an effective way of reducing the attrition rate among a generation of workers who often have the additional responsibility of being a caregiver. At Fujitsu Forum 2019, held in Tokyo in May, Motoaki Nakamura, Deputy Head of the Shared Group Services Division in Fujitsu's IT Strategy Unit, gave a speech titled "Key Points for the Use of IT in 'Workstyle Innovation' and the Results of an In-house Implementation". His talk drew on a case study within Fujitsu to summarize the key aspects of introducing a workplace anywhere system, the outcomes achieved and the issues that emerged.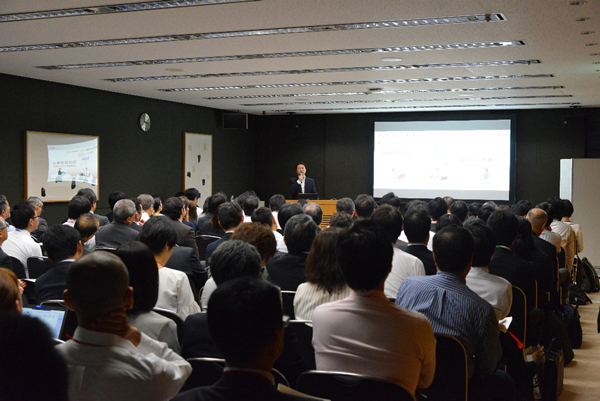 Staged introduction of workplace anywhere by eliminating the key limiting factors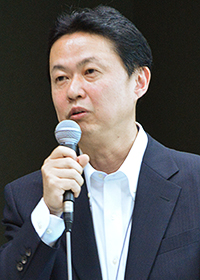 Motoaki Nakamura
Deputy Head of Group Shared Service Division
IT Strategy Unit, Fujitsu Limited
To develop its workplace anywhere system, the heads of Fujitsu's Human Resources, Administration, and IT departments formed a working group in 2015. The aim was to launch programs that would identify issues and lay the groundwork for implementing flexible working styles. Two years later, in April 2017, after numerous trials and modifications, Fujitsu formally launched its workplace anywhere system for all employees in Japan. This initiative made it possible for staff to work in a range of locations, including at satellite offices and from home.
The term workplace anywhere might suggest a system that requires numerous IT tools, which could present serious obstacles to its introduction. But while full-scale implementation can be difficult, there are still many preliminary steps that can be taken relatively easily. For example, there are various scenarios other than working from home that still involve working outside the office, such as visits to clients or other work sites and work done while traveling on business. Providing an environment that allows employees to work in such situations helps employees to be more productive, make more effective use of their spare time and work less overtime.
To actually make it possible for employees to work in scenarios like this, Fujitsu had to take into account a number of limiting factors. The three key limitations were: "Reluctance to carry around a heavy laptop PC", "Desire to work on a tablet or smartphone" and "Need for complete security".
The system had been in place at Fujitsu for some time, but there were still many requests from employees to make it simpler and more convenient. They wanted to be able to send and receive email while traveling or at a customer site. Managers wanted to be able to access the approvals workflow process while at a client's office. The easiest way of using short periods of spare time to conduct such tasks is with a smartphone rather than a laptop PC, but providing every employee with a smartphone would be very costly.
Fujitsu decided instead to allow employees to use their own smartphones. For email, we used a structure that strictly separates the company and personal areas, such as by ensuring that mail sent to a Fujitsu business account cannot be transferred or sent as an attachment to a private account. For the approvals process, rather than using separate applications for each system (budget requests, attendance, purchase orders, etc.), we developed a single application capable of handling the entire approvals process. The convenience this provides for mobile users is a key aspect of the system.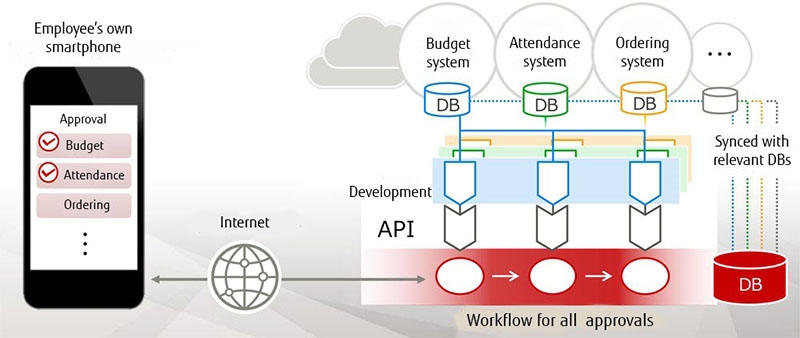 Managers can handle all tasks in the approvals process using a single app on their own smartphone
Other requested features included the ability to share on-site questions and requests, raised by clients during site visits, with the appropriate Fujitsu people and to receive real-time responses. To achieve this, Fujitsu built a system that combines electronic paper (e-paper) with the Box cloud-based file management service.
As an example, the user notes the client's detailed requirements on e-paper and uploads them to Box from their smartphone. Registered members receive an email with a link to the notes and simply click the URL to immediately view them. The feedback from client sites suggests that this makes business more efficient, because it allows details to be checked and discussed with the appropriate people immediately. This means that issues can be resolved without delay. Also, the fact that various file types, including images and videos, can easily be uploaded to Box means that the relevant information can be conveyed to members, particularly at work sites.
Three factors behind the effective use of workplace anywhere
Motoaki Nakamura went on to list "web conferencing", "going paperless" and "virtual desktop platforms" as the three essential elements that underpin the efficient operation of a workplace anywhere system. He explained how Fujitsu implemented these elements when implementing its own platform for this.
There are cases where the widespread adoption of workplace anywhere fails due to the belief that people who are at home cannot attend meetings. The first step was therefore to introduce a web conferencing service to enable people to take part in meetings regardless of where they are. Fujitsu uses Skype for Business for web conferencing, which supports features such as voice calls, chat and document sharing. The current rate of use companywide has now reached 97%. The system also enables users to check each person's 'presence', such as whether they are in the office or whether they are busy or in a meeting. This means that anyone can choose the best possible means of communication for a given scenario based on their colleague's situation, whether it be making an inquiry immediately by telephone or using the chat function to communicate via text.
Of course, having to take home large amounts of paperwork also poses an obstacle to the adoption of workplace anywhere. As mentioned earlier, Fujitsu uses Box to promote paperless operations. This means that all the documents that need to be shared while working away from the office can be stored in Box. This technology supports more than 100 file formats and allows documents to be previewed and the content to be viewed, edited or reviewed immediately on a PC or smartphone, regardless of the device or location. This is a huge step toward going completely paperless.
The other essential element in the full-scale implementation of a workplace anywhere system is a virtual desktop platform. This technology allows users to access the company's desktop screen from any location, using a thin client supplied by Fujitsu, or using their own PC screen at home as a proxy monitor. All the actual processing is carried out on the server and only the screen image is forwarded to the user's terminal. This means that business files cannot be copied locally and only required files can be uploaded. Advanced security measures can also be implemented, such as applying security patches remotely in batch mode from a datacenter.
Virtual desktops are also extremely effective for workplace anywhere. As Motoaki Nakamura points out, "When you change computers, it is often the case that you lose your favorites and you can't resume work right away because your files are still on your office desktop. But with a virtual desktop you can always get back to work in the same environment no matter where you are. We see virtual desktops as an essential part of workplace anywhere both in terms of security and work efficiency."

Virtual desktop platforms provide added security and mean you can always start work immediately in the same environment – wherever you are
It's not just the technology; the real issues lie elsewhere
Currently, Fujitsu has introduced workplace anywhere in 70% of its workplaces in Japan. The number of users is increasing steadily and so far the introduction of teleworking seems to be proceeding smoothly. However, Motoaki Nakamura noted that "a lot people reported difficulties and outright failures".
One of the initial reasons was that mailbox migration took too long. Email was changed from the Fujitsu internal mail system to Microsoft's "Office 365" cloud service. This meant that, when the Group companies were added to the numbers for the parent company, the email data for around 100,000 people had to be migrated. The initial estimate was that the work involved would take one year. However, it ended up taking a year and a half. Motoaki Nakamura explains that "the actual problem was confusion at the client sites regarding the migration period", rather than technical issues with the network or server performance.
Eventually, all the data was migrated across to Office 365. Because the email data for 100,000 people could not be transferred all at once, however, it had to be done progressively in stages. As a result, during the migration process some user data was simultaneously registered both in Fujitsu's on-premise system and in Office 365. This caused issues such as secretaries being unable to view and update executives' schedules. There were also some complaints from dissatisfied users regarding usability, such as when the plug-in tool in the existing on-premise system for preventing email transmission errors was used in Office 365. This resulted in email taking too long to send. Motoaki Nakamura went on to describe other factors that prolonged the migration period, such as dealing with system problems that were not foreseen by software vendors, as well as internal negotiations over rules and procedures between the Risk and Compliance Department and the Human Resources Department, which continued longer than anticipated.
He also explained that the Security Department was opposed to the idea of Box, as it is a cloud-based service, citing "safety concerns" and objecting to confidential materials being uploaded to the cloud. For that reason, a Cloud Access Security Broker (CASB) was introduced as a way of ensuring security when using a cloud service. One example of this is the adoption of operations where flags such as "Confidential" are assigned to data uploaded to the cloud. Notifications are then posted to state that this data should be quarantined or deleted. However, designing these processes required extensive consultation and decision-making regarding the rules to be employed. It took approximately one year before reaching the current situation in which all parties have agreed to adopt Box and the service is now being used extensively and securely.
There has also been some dissatisfaction with the performance of the virtual desktop platform. To address this, we set up a framework to quickly resolve the issue by first determining whether the problem is in the virtual desktop platform system or in the connected networks. We then designed measures to tackle the issue from a range of perspectives. These measures include monitoring and tuning facility networks and designing monitoring screens that show, at a glance, CPU and memory usage.
Virtual desktop usage rose from 48% to 70%; the challenge for the future is further embedding the system
Even if all the systems and structures to implement teleworking are in place, it is meaningless if they are not actually used by employees and do not lead to more flexible working styles and improved productivity. At Fujitsu, the system was not widely used by employees in the beginning. Immediately after its introduction, 48% of staff used the virtual desktop platform and 28% were using Box.
However, with elevated recognition within the company that workplace anywhere is an avenue for workstyle innovation, and with more widespread use of thin clients that are light and compact enough to be readily portable, the take-up of the virtual desktop platform rose to 70% by March 2019.
In terms of Box usage, messages from senior management recommending the workplace anywhere system appear to have resonated with employees. According to Motoaki Nakamura, "It wasn't just the top-down push, such as messages sent out by the President and mandatory E-learning courses for all staff. There was also a lot of effort put into bottom-up encouragement, such as identifying shared internal documents and loading them into Box, providing guidance to departments with low usage rates, and the creation and distribution of 'how-to' videos. As a result, Box usage had climbed to 70% by March 2019. Our goal is to continue our efforts until we reach 80% and then 90%."
85% of employees feel that they are using their spare time effectively
So, how have employees' workstyles actually changed with the introduction of workplace anywhere? As an example, Motoaki Nakamura cited a case involving an employee who has been with the company for two years. There had been many times when this person, based in the Shin-Yokohama office, had to travel to the Shiodome Head Office in Tokyo. It was not unusual to have to return to the Shin-Yokohama office and work overtime following a meeting at Shiodome. The introduction of workplace anywhere has enabled her to stay on and work at Shiodome, shortening the travel time involved and allowing her to finish her tasks during normal working hours. This in turn means that she now has time for activities such as English conversation classes.
"I think the introduction of workplace anywhere has enabled more employees to balance work with their childcare and other caregiving commitments. Finishing work on time also gives them more time to spend with family or to pursue hobbies or study for additional qualifications, which helps many employees achieve a better work-life balance," comments Motoaki Nakamura, noting the benefits gained. Another concrete benefit that has become clear since the system was introduced, among both the younger generations and those engaged in caregiving, is a lower attrition rate.
Fujitsu is actively expanding into satellite offices as a third work space, as distinct from the office and the home. Starting with 15 offices in the major cities, we have established Fujitsu "F3rd" satellite offices that can each be used by approximately 100 people. We have also signed agreements with several private-sector shared office providers and now have more than 170 such satellite offices available throughout Japan. Most of the main railway station hubs are now covered, particularly in the Tokyo area. This means that when an employee finishes work near a customer's office or near their own home, they can just go straight home.
With a fully implemented workplace anywhere system in place, now 85% of Fujitsu's employees feel that they are using their spare time effectively -- a major achievement. Half of all staff believe that their work-life balance has improved. In the 2017 Directory of CSR (Corporate Social Responsibility) Corporations*1, compiled by Toyo Keizai Inc., Fujitsu was selected as the top-ranked female-friendly company.
*1:

The "Directory of CSR Corporations (CSR Kigyo Soran)" is compiled based on the results of the CSR Survey, which has been conducted by Toyo Keizai Inc. every year since 2005. The 2017 edition was compiled using data from a survey of 1,408 companies (1,364 listed and 44 unlisted) conducted between June and October 2016.
Expertise gained from the real-world experience of implementing and embedding a workplace anywhere system at Fujitsu
Motoaki Nakamura comments in conclusion, "The work efficiencies and increased productivity from workplace anywhere did not come solely through the provision of systems and infrastructure. To expand and fully normalize its use, we had to put ourselves in the shoes of the users and continually improve the system to iron out the kinks."
Everything learned during the implementation of the workplace anywhere system, including the struggles and the failures, can now be seen as a major asset for Fujitsu that can be passed on to clients in the form of valuable expertise.