Stock Information
As of August 23, 2023
Securities Code
6702
Number of Authorized Shares
500,000,000
Number of Issued Shares and Stated Capital
Shares: 207,110,845
Stated Capital: ¥325,638,181,205
Shares Issued during the Business Period
109,024
Number of Shareholders
99,035 (2,623 decrease from the end of the end of fiscal 2021)
(As of March 31, 2023)
As of March 31, 2023
Principal Shareholders
Name
Shareholder's investment in Fujitsu Limited
Number of shares held (thousands)
Percentage of shares held (%)
The Master Trust Bank of Japan, Ltd. (for trust)
33,388
17.73
Ichigo Trust Pte. Ltd.
14,899
7.91
Custody Bank of Japan, Ltd. (for trust)
11,832
6.28
GIC PRIVATE LIMITED - C
6,538
3.47
STATE STREET BANK AND TRUST COMPANY 505223
4,534
2.41
SSBTC CLIENT OMNIBUS ACCOUNT
3,825
2.03
Fujitsu Employee Shareholding Association
3,590
1.91
STATE STREET BANK WEST CLIENT - TREATY 505234
3,518
1.87
Asahi Mutual Life Insurance Company
3,518
1.87
JP MORGAN CHASE BANK 385632
3,432
1.82
Note:
The investment ratio is calculated after exclusion of treasury stock holdings (18,661,673 shares).
The shares held by The Master Trust Bank of Japan, Ltd. (for trust) and Custody Bank of Japan, Ltd. (for trust) pertain to their trust business.
Equity Shareholdings by Type of Shareholder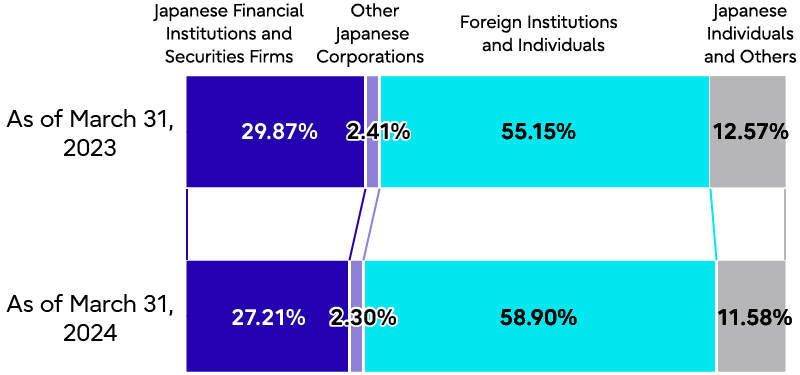 Important Matters Concerning the Stock
On April 28, 2022, the Company made a decision to repurchase its common stock up to either a maximum of 12,000,000 shares or a maximum aggregate purchase value of 150 billion yen during the period from May 2, 2022 to March 31, 2023 and purchased approximately 8,270,000 shares of its common stock with the aggregate purchase value of approximately 149.9 billion yen during fiscal 2022.