FUJITSU Way and Group-wide Dissemination
The Fujitsu Group Philosophy "FUJITSU Way"
The Fujitsu Way facilitates management innovation and promotes a unified direction for the Fujitsu Group as we expand our global business activities, bringing innovative technology and solutions to every corner of the globe.
The Fujitsu Way provides a common direction for all employees of the Fujitsu Group. By adhering to its principles and values to their daily activities, the employees enhance corporate value and their contributions to global and local societies.
Since Fujitsu began its life in 1935, the ideas and spirit of successive leaders who paved the way for our progress have been condensed and codified in the Fujitsu Way.
For the Fujitsu Group, Corporate Social Responsibility (CSR) means contributing to a sustainable, networked society by working with our customers to resolve a variety of social issues through the practice of the Fujitsu Way.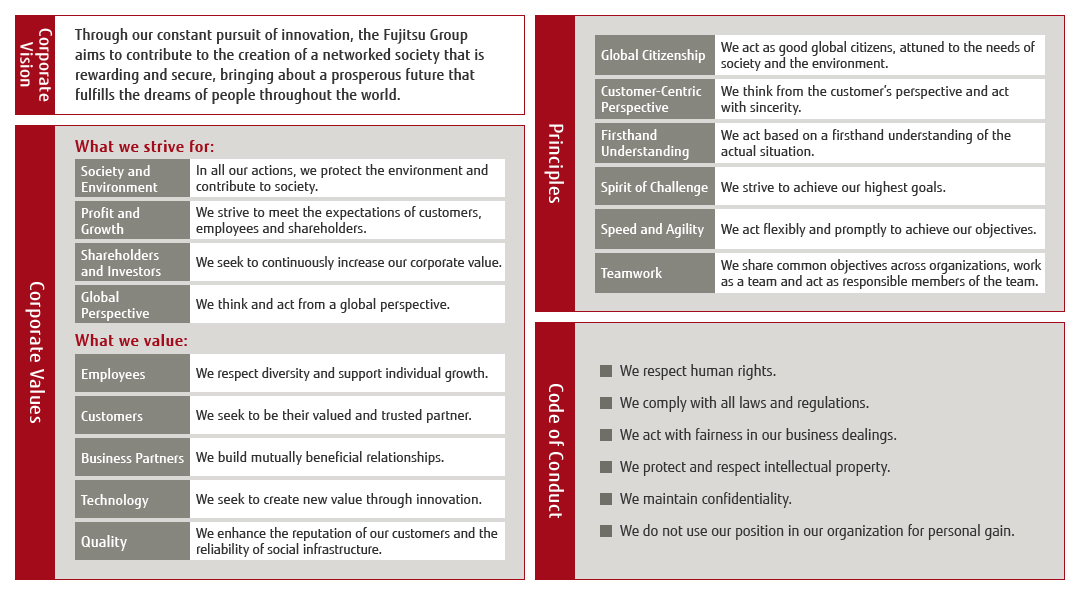 FUJITSU Way
Fujitsu's Framework for Dissemination Activities and Progress
Each company president or business unit head nominates Fujitsu Way leaders, who disseminate the Fujitsu Way to its all employees.
Cooperating with their respective presidents and business unit heads, the Fujitsu Way leaders plan appropriate activities in alignment with their business strategies. Through dialogs on the Fujitsu Way, the Fujitsu Way leaders help their colleagues to understand the relation between their daily work and the Fujitsu Way.
As of March 2019, approximately 270 Fujitsu Way leaders are working to disseminate the Fujitsu Way message in organizations across the Fujitsu Group, including subsidiaries in Japan and abroad. By surveying the condition of activities at home and overseas once a year, the leaders also share information with each other on their progress in their respective organizations on a regular basis.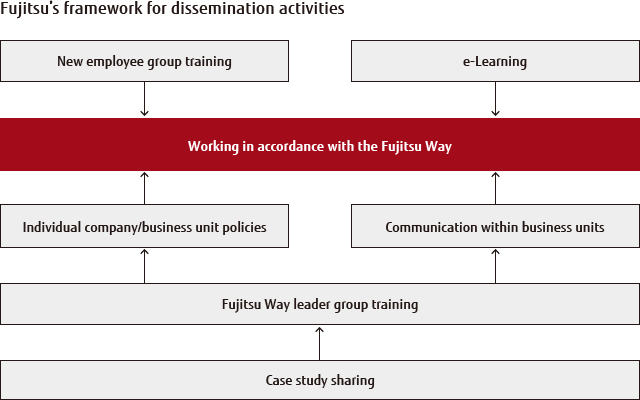 Fujitsu Way New Employee Training
In April 2018, Fujitsu held a Fujitsu Way training program for approximately 950 new employees. At Fujitsu Group companies in Japan, Fujitsu Way cards and booklets were distributed at events such as company entrance ceremonies. Furthermore, each Fujitsu Group company added its own appropriate training program. The 163 mid-career recruits completed the Fujitsu Way training program as well, in a total of 11 different sessions.
Promoting Group-wide Dissemination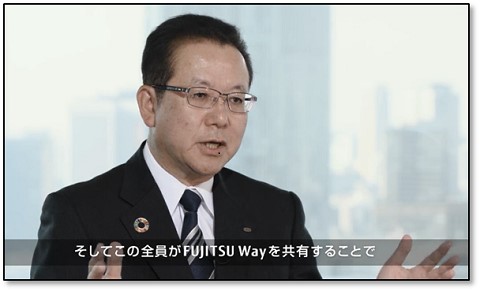 President Tanaka talking about the Fujitsu Way
The cards and booklets explaining the Fujitsu Way are distributed to all employees around the world, and posters are distributed to offices. An e-Learning course on the Fujitsu Way is always available translated in 16 languages. Also, Fujitsu Way cards data are distributed. So that each business unit head can add his or her message to the Fujitsu Way. Many business units actively utilize the data and post on internal portal website.
On our corporate intranet, we distribute a video message of President Tanaka talking about the Fujitsu Way based on his own personal experiences. Currently, the message is available in 18 languages including Japanese.
Through these efforts to share the Fujitsu Way, the Fujitsu Group tries to spread the core concepts and make all employees understand the mission of Fujitsu and how they can contribute to shape tomorrow.
Fujitsu Way Leader Training
Fujitsu Way Leader training session
We held a Fujitsu Way training program for the approximately 40 Fujitsu Way leaders that were appointed this year, divided across three instances. These were held in our in-house training centers and historic exhibitions of Fujitsu. Training participants gained a fuller understanding of the concepts at the foundation of the Fujitsu Way, and learned their roles as leaders. During the training, participants also discussed the issues in their own workplaces by each group while referencing past case studies and exchanged action plans for revitalizing organization based on Fujitsu Way.
Fujitsu Way Workshops
In FY 2018, the Fujitsu Way Office visited three group companies inside and outside Japan upon request in order to support initiatives for reforming the corporate culture. Analyzing the results of employee satisfaction surveys and preliminary questionnaires, the workshop participants tried to find key issues and make a step forward to solve them based on the Fujitsu Way.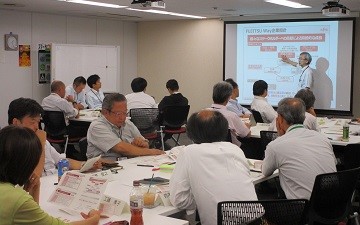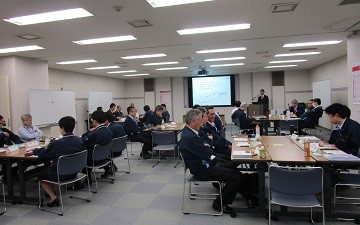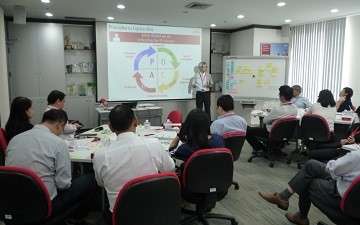 FY 2018 Performance
Fujitsu Way Employee Training


New employees: Conducted collective training for approximately 950 new employees
Mid-career recruits: Conducted training for 163 mid-career recruits, across 11 instances
All employees: e-Learning program

Fujitsu Way Leader Training: 3 times
Fujitsu Way Workshops: 3 companies