Performance Evaluation and Compensation / Work Environment
Goals
WHAT FUJITSU ASPIRES TO BE
The Fujitsu Group aims to enrich and continuously improve our positive health culture where our employees can work to their full potential, both in mind and body.
We value the importance of our people, and will strive to enable them to succeed in their own personal development and growth.
GOALS FOR FY2022
Providing a positive work environment for our people
KPI :

Fujitsu Group aims to achieve at least 71%, in favorable answers to "Work Life Balance" and "Care" question of Engagement Survey by FY2022
Performance Evaluation and Compensation
Our Approach
Incorporated in Fujitsu's Corporate Values is the importance of a positive attitude that embraces the challenges expressed in such maxims as "Set ambitious goals and hasten to achieve them" and "Grow through curiousity and learn from your mistakes and experiences." As the Statement of Purpose makes clear, Fujitsu "values fairness and equality, and promotes diversity and inclusion" while providing "flexible environments that allow people to reach their full potential" and helping employees to "continue developing their skills and capabilities to meet the needs of society."
Specifically, Fujitsu aspires to three key goals for its employees:
To provide all employees with work that is engaging and challenging

To enable all employees to continually learn and develop

To enable collaboration among diverse and talented personnel that extends beyond national and organizational boundaries
To achieve these goals, Fujitsu is building an environment aimed at improving employee engagement, reforming the organizational climate throughout the Fujitsu Group, and creating a global and group-wide personnel structure.
Given this focus, Fujitsu's approach to performance evaluation and compensation is to support employee growth and create workplaces in which employees can reach their full potential. Equally, it encourages employees to see Fujitsu as a place where they can achieve personal growth as well as be rewarded for the results of their work. Fujitsu follows this approach when evaluating and compensating staff.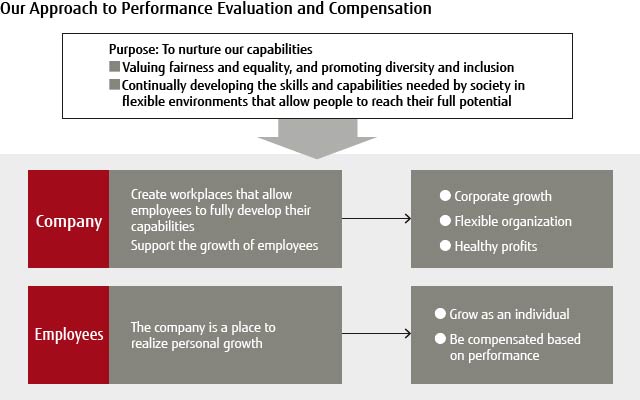 Our Policy
Fujitsu emphasizes "qualitative" fairness in its human resources system, with decisions on employee compensation based on the "level of contribution to the Company" and the "level of results achieved". For this reason, we disclose information related to human resources.
Show employees how they can be rewarded with higher compensation ⇒ Openly disclose rules of the human resources system

Show how the company evaluates staff ⇒ Provide individual evaluation feedback and compensate according to contribution

Show opportunities for challenge ⇒ Human resource development, internal postings, Free Agent program
Detailed Activities
[Employees]
In Japan, Fujitsu and the group companies have introduced a "human resources system based on functional division and competency grade". Under this system, which forms the basis for human resources compensation, we define "functional division" as the function the employee should be fulfilling and "competency grade" as the ability to achieve a specific performance that can be linked to a business outcome.
Under this human resources system, we clarify the competency grade requirements of employees in a job description for each functional division. Through periodical reviews of the competencies that each person demonstrates, we aim to support the growth of all employees over the medium and long terms.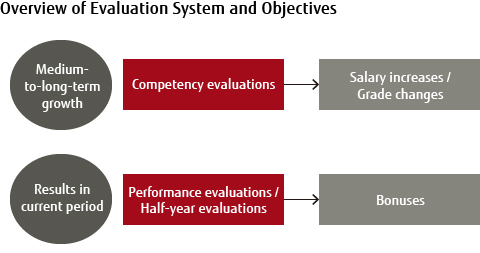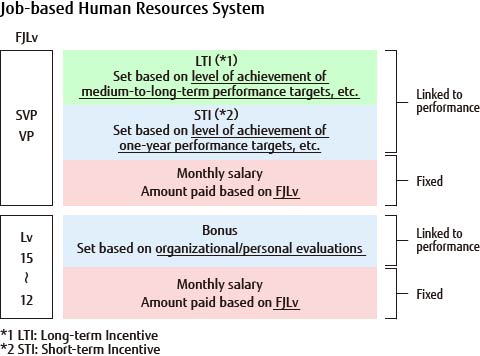 We conduct evaluations of "initiatives aimed at medium-to-long-term growth" and "maximizing results in the current financial period". To reflect these in compensation, we use a two-pronged evaluation mechanism based on competency evaluations and performance evaluations. The results of the competency evaluations are reflected in salary increases and grade changes, and the results of performance evaluations are reflected in bonuses.
We conduct activity-based evaluations of the degree to which employees demonstrate "an appropriate mindset", "business execution ability" and "specialist expertise", and then take into account the relative gap to upper-level grades before determining the overall evaluation. By separating medium-to-long-term factors from the process, we are able to conduct more clear-cut evaluations based on the scale of half-year results.
In addition, we continue to support efforts aimed at the medium-to-long-term growth of each employee. With a focus on career goals, we also encourage interactive communication between employees and their managers that covers the areas of behavioral change and medium-to-long-term growth. Review meetings are conducted annually at the beginning of each year.
[Executives]
In April 2020, we introduced a job-based human resources system for executives. This new system uses a globally unified standard to rate the magnitude and importance of the job, not the person, and the compensation reflects this rating. The goal is to encourage executives to take on the challenge of more significant jobs and to more promptly reward those who achieve results.
In addition to having a quantitative perspective, such as sales numbers, the magnitude and importance of these jobs are also rated according to a set of measures that includes reporting line, difficulty, impact, level of specialization and diversity. This set is referred to as the "FUJITSU Level". Compensation is standardized using a payment scheme based on the FUJITSU Level.
The scheme for bonuses is different to the FUJITSU Level scheme, with bonuses for FUJITSU Level 15 positions and below being paid based on organizational and personal evaluations. For VP positions and above, an STI/LTI scheme is being introduced that is more closely tied to results. This scheme will also apply to executives in Japan and other countries.
Responsibility
The Global Human Resources Unit operates this system, under the direction of the executive responsible for human resources.
Work Environment
Fujitsu Telework System
In April 2017, Fujitsu formally introduced a telework system that allows for flexible ways of working that are not tied to a specific location. This system is available to all 35,000 Fujitsu parent company employees in Japan and includes working from home or a satellite office as well as working during business trips.
The telework system facilitates business continuity in emergency situations such as the COVID-19 pandemic, allowing for work innovations such as holding online meetings and digitalizing written materials. It also provides an environment that makes it easier for employees with other commitments – such as raising children or caring for relatives – to continue working, thereby helping Fujitsu to support and retain valued personnel.
Goals of the System
To boost individual productivity and maximize the benefits of team work
To build an environment that supports continued participation by a diverse range of staff
To ensure business continuity and rapid responses to disasters
Initiatives Aimed at Reducing Long Working Hours
The Fujitsu Group aims to improve the work-life balance and the productivity of every employee through a variety of initiatives aimed at reducing long working hours. As an example, at Fujitsu Headquarters, every Wednesday is designated as a day for leaving work on time. On these days, the company turns off the lights in the office at 6:00 p.m to encourage employees to return home. We are also enhancing our systems that support diverse ways of working, allowing employees to make use of flexible working arrangements, such as flex time and exempt labor systems(*1). In addition to promoting varied ways of working, Fujitsu wants its staff to radically reconsider their approach to taking leave. To ensure that employees enjoy ample leisure time, we are encouraging them to take five continuous days of paid leave at any time during the year – not only in the key public holiday periods in Japan.
(*1)

Exempt labor system: A system in which the employee mostly determines the number of hours for the work to be performed.
Examples of specific initiatives aimed at reducing long working hours:
Adopting flex time and exempt labor systems for professional and management-related work
Sending alert e-mails regarding overtime work
Ensuring meetings are not scheduled outside of regular working hours
Specifying recommended days for taking annual leave
Insisting that staff leave work on time one day a week
Encouraging staff to leave work one hour earlier every day
Emphasizing the concept of working hours management during management training
Promoting a telework system aimed at diverse work practices
Adjusting work patterns and leisure patterns according to fluctuations in workload
Employee Benefits Program
The Fujitsu Group has programs in place that are suited to the lifestyles of employees and that enable them and their families to lead healthy, prosperous lives.
To respond to the advancing trends of globalization and diversity, and to the changing needs of employees, in October 2014 Fujitsu introduced the "F Life+" cafeteria plan(*2) as a new employee benefits program.
Furthermore, in line with the belief that active work and personal growth for every employee leads to growth and development for the company, we have established various initiatives to support employees' own efforts to prepare for the future. These include savings/property accumulation programs, an employee shareholding association, group insurance benefits, housing support, medical support, health support, and childcare support.
(*2)Cafeteria plan

A system under which employees select the employee benefits they want or need from a diverse menu prepared by the company, taking advantage of the chosen options by using "employee benefits points" awarded by the company.
Measures to Enhance Communication
Labor Relations
Based on labor-management agreements with the Fujitsu Labor Union, Fujitsu holds discussions about various employment conditions and explains management policies and business conditions, along with business reorganization and other matters, to its employees through regular and ad hoc meetings such as the Labor Council or Productivity Council. These agreements also stipulate the collective bargaining rights of the union. Fujitsu adopts a union shop system, so all non-managerial employees are members of the Fujitsu Labor Union.
In Europe, the Fujitsu European Labor Relations Council Annual General Meeting has taken place every year since 2000, with the overall financial conditions of the Fujitsu Group and other issues shared with the employee representatives from Fujitsu Group companies.
Fujitsu has established a consultation service as a contact point for email and phone queries to the Human Resources and Administration Units. This is part of a structure that is designed to make it easy for employees to seek guidance on human resource and administrative programs.
Employee Engagement Survey
We, Fujitsu Group, believe it is important for employees to be highly motivated to take on challenges, in order to continue operating as a company that "makes the world more sustainable by building trust in society through innovation" , as defined in our Corporate Values and Principles.
Therefore, we regularly conduct employee engagement survey to provide General Managers with an opportunity to seriously consider the importance.
We have been gradually introducing this survey in Japan since FY2002, and outside Japan we began conducting an Employee Engagement Survey across all overseas Group companies in FY2011. We use this survey to compare regions within the Fujitsu Group and also to benchmark ourselves against our competitors in each country and region.
Based on analysis of the results, we have identified issues specific to countries and regions, and to divisions and occupations, and we are now working toward management improvements and reform of our organizational culture.
FY2019 Performance
Initiatives Aimed at Reducing Long Working Hours
The discretionary working system applies to 17% of employees, and the flex time system applies to 74% of employees (in Fujitsu and group companies in Japan).
Work-style Reforms
Held Telework Days and Telework Month (at Fujitsu)
To encourage further uptake of the telework system by employees, we implemented an initiative where we asked all employees to participate in telework days (July 22-26, July 29-August 2, August 19-23, August 26-30). Around 50% of employees (15,000 people) teleworked on one or more days that week. During "Telework Month (November 1-30)" we again called for all employees to telework and we continue to proactively strive for diversified, flexible working practices.
Unionization Rate
The Fujitsu Labor Union membership rate is 75.0% (Fujitsu).
Employee Engagement Survey
Number of employees surveyed: Total 125,000 employees; approximately 89,000 employees at Fujitsu Limited and 120 Group companies in Japan and 36,000 overseas employees
Survey response rate: 84% globally (89% in Japan; 73% overseas)
Positive response rate: 56% (Fujitsu Limited)
Trend in Turnover Rate