Health Management
Goal
Long-term Goal to be achieved by FY2030
The Fujitsu Group aims to enrich and continuously improve our positive health culture where our employees can work to their full potential, both in mind and body. We value the importance of our people, and will strive to enable them to succeed in their own personal development and growth.
Our Health Management Policy
In order to make the corporate philosophy of the Fujitsu Way a reality, and to tackle health management while simultaneously addressing work-style reform and diversity management, the Fujitsu Group has developed the Fujitsu Group Health Statement to make it clear that we will situate the health of our employees as the cornerstone of our operations. Furthermore, taking our internal company accomplishments up to this point into account, we are strategically implementing health maintenance and improvement or our employees and their families.
Health Management Promotion Structure and Regular Checkups
The structure for promoting health management is led by the Chief Health Officer, in coordination with the Human Resources Unit, the Health Promotion Dept., and the Fujitsu Health Insurance Society. Together, the team works to enforce, enhance and expand health promotion measures at offices and Group companies. The team regularly holds meetings with related divisions within the Group, including those related to health care, and implements company-wide data-based initiatives that follow the PDCA cycle.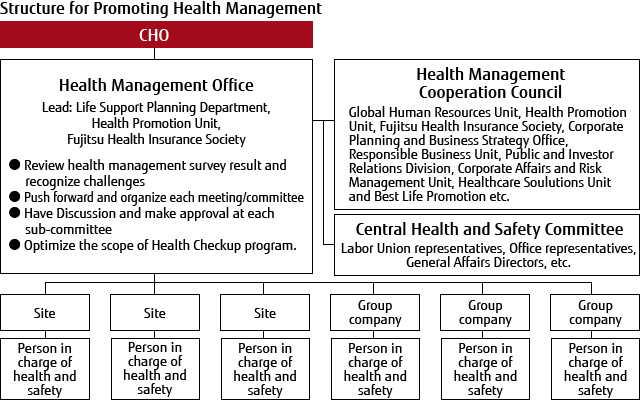 Major Initiatives
Health Checkups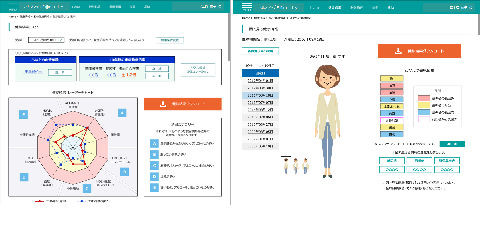 A system that allows employees to view health checkup results on their PC or smartphone
Fujitsu and domestic Group companies conduct regular health checkups which include stomach examinations, fecal occult blood tests and other examinations for each age group, in accordance with legally mandated health examination items. Through feedback from occupational physicians and occupational welfare staff about the results, we strive to have employees understand the test results correctly and improve their health awareness, while also consistently encouraging them to undergo specialized tests and outpatient consultations at medical institutions. Furthermore, as a preventative measure against major illnesses, after employee checkups, we coordinate with health insurance societies to monitor the medical prescriptions of employees who have been diagnosed as requiring medical treatment due to their test results. We contribute to appropriate medical treatment by once again encouraging employees who have not undergone treatment to go for outpatient consultations.
Furthermore, through coordination with the Fujitsu Health Insurance Society, we help to detect cancer in its early stages by offering free gynecological examinations and subsidies to offset the costs of brain and lung checkups.
Health Education
Fujitsu and domestic Group companies conduct health education to boost employees' awareness of their health, which is tailored to the workplace environment of each business office. Please consult the "FY 2018 Accomplishments" column for information about health education achievements in FY 2018.
Mental Health Care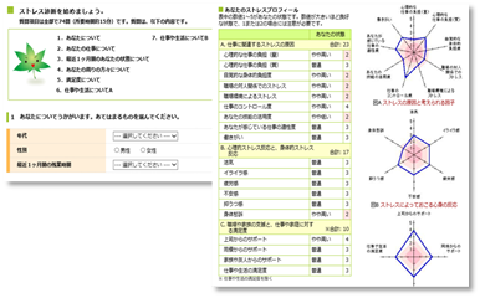 A stress diagnostic tool and individual results
Fujitsu has established in-house mental health support facilities, and full-time psychiatrists and counselors support employees and workplaces by providing consultations, counseling, employment assistance for mental health patients, relapse prevention measures and all sorts of mental health education.
We support employee self-care by providing stress diagnostic tools, while integrating analyses of group results with ES surveys and other internal company surveys and providing feedback to management. By offering stress management education and holding workshops to build healthy and enthusiastic workplaces, Fujitsu reduces employee stress and provides support to energize the places where they work.
Health Promotion Events
Fujitsu and domestic Group companies conduct walking events, strength measurement tests, lunch seminars, "stop smoking" events, and other activities to promote exercise, nutrition education and abstaining from tobacco use. We are also moving forward with looking into activities like providing healthy menu offerings at employee cafeterias and taking steps to prevent secondhand smoke, in coordination with other divisions. In addition, we are leveraging various opportunities to tackle primary prevention through measures to promote physical and mental health, such as running female employee-targeted health seminars and distributing email newsletters.
"Let's Walk Together," A Walking Event for All Companies
In this event, held twice a year in the spring and fall, participants use smartphone apps and other tools to compete based on their average number of steps. Participants can join as individuals or as teams to compete, and the top walkers in each division receive awards.
"Let's Stop Smoking Together" Challenge
In this event, two to five people form a team with one smoker, who attempts to quit smoking with the support of the team. Teams who successfully get their smoking member to quit are awarded incentives from the company.
Support for Balancing Work with Medical Treatment
Fujitsu and domestic Group companies provide support for early detection and treatment of diseases, beginning with disease prevention through various kinds of stratified health education, in addition to measures such as offering brain and lung checkups during health checkups. We also provide health support that is specially adapted to the disease of each individual, from care while they are absent up until they return to work, so that they can receive the appropriate medical treatment and work with enthusiasm during treatment.
Infectious Disease Countermeasures
Fujitsu and domestic Group companies work proactively to keep employees safe from various infectious diseases by establishing health consultation services and dispensing information, among other initiatives. As preventative measures against infectious diseases, we give seasonal influenza vaccinations at companies, in addition to giving vaccinations to employees stationed overseas which are recommended in each place they will be staying (at company expense). With regard to the issue of rubella, which has been growing in recent years, we are cooperating with local governments to conduct education and public awareness campaigns.
Assessments from Outside the Company
Certified as One of the White 500 Health and Productivity Enterprises
The Health and Productivity Enterprises (White 500) certification system recognizes companies that work to strategically improve employee health management from the perspective of management. Fujitsu, which has been lauded for its systematic approach to health maintenance and improvement, was certified in FY 2019 for the third year in a row.
Furthermore, in 2019, 10 domestic Group companies in the large-scale enterprise category and four companies in the small to medium-scale enterprise category were certified.
Large-scale enterprise category: Fujitsu FIP, Fujitsu FSAS, Fujitsu Kyushu Systems, Shimane Fujitsu, Shinko Electric Industries, Fujitsu General, Fujitsu Software Technologies, Fujitsu Social Science Laboratory, Fujitsu Marketing, PFU
Small to medium-scale enterprise category: Best Life Promotion, Fujitsu Aprico, Mobile Techno, G-Search
FY2018 Performance
Percentage of Employees with Health Concerns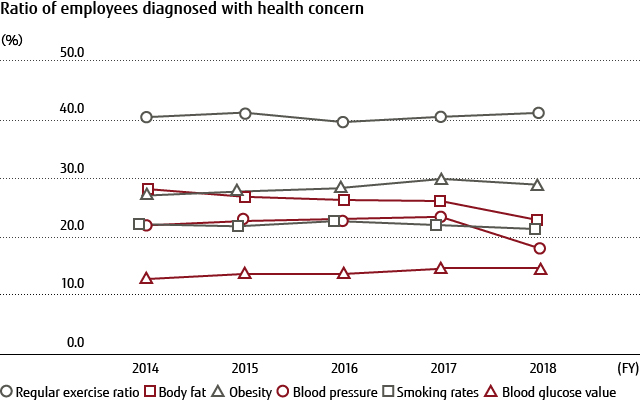 Target: Full-time employees of Fujitsu Ltd. at the end of the fiscal year Respondents who exercise regularly: Percentage of those who said they exercise regularly when they underwent health checkups
Body fat: Neutral fats of 150mg/dl or higher and HDL cholesterol below 40
Obesity: BMI of 25 or higher
Blood pressure: Systolic blood pressure of 130mmHg or higher and diastolic blood pressure of 85mmHg or higher
Percentage of smokers: Those who said that they smoke when they underwent health checkups
Blood sugar level: People with a blood sugar level over 110mg/dl or an Hba1c level over 6.0% who are receiving treatment for that particular item
Percentage of Employees Who Took a Long-Term Leave of Absence or Medical Leave
Target: Full-time employees of Fujitsu Ltd. at the end of the fiscal year
Percentage of people who had taken a leave of absence or taken medical leave for a continuous period in excess of one month by the end of the fiscal year
Health Promotion Accomplishments
"Let's Walk Together," A Walking Event for All Companies: Roughly 1,500 teams and 15,000 participants (Fujitsu and domestic Group companies)
"Let's Stop Smoking Together" Challenge: Roughly 1,490 participants (Fujitsu and domestic Group companies)
Education and Training Accomplishments
Mental health education targeted at employees receiving promotions: 1,300 learners a year (Fujitsu)
Online mental health seminars: Roughly 3,000 learners a year (Fujitsu and domestic Group companies)
Workplace management training targeted at managers: Roughly 1,800 participants, once every three years) (Fujitsu)
Percentage of Employees Who Underwent Health Checkups
Percentage of employees who underwent health checkups in 2018: 99.9% (Fujitsu)