Health and Productivity Management
Goals
WHAT FUJITSU ASPIRES TO BE
The Fujitsu Group aims to enrich and continuously improve our positive health culture where our employees can work to their full potential, both in mind and body. We will strive to enable their own personal development, and offer opportunities for them to demonstrate those abilities to the fullest extent.
GOALS FOR FY2022
Providing a positive work environment for our people
KPI :

Fujitsu Group aims to achieve at least 71%, in favorable answers to "Work Life Balance" and "Care" question of Engagement Survey by FY2022
Our Health Management Policy
With regard to being a Global Responsible Business (GRB) that is oriented towards achieving our purpose, we have positioned our health management efforts ("well-being," which is enabling our employees to succeed in their personal development and offering opportunities for them to demonstrate those abilities to the fullest extent, as well as "health and safety," which is offering a safe workplace environment that is conducive to good health) as initiatives to be promoted across the entire company. In the Fujitsu Group Health Statement, in addition to clearly positioning employee health as a management cornerstone, we are promoting the maintenance and improvement of health for our employees and their families in a more strategic manner, based on our past internal practices.
Domestic Structure for Promoting Health Management and Conducting Reviews
The structure at Fujitsu and its domestic Group companies for promoting health management is led by the Chief Health Officer (CHO), in coordination with the Human Resources Unit, the Health Promotion Unit, and the Fujitsu Health Insurance Society. Together, the team works to enforce, enhance and expand health promotion measures at offices and group companies. The team regularly holds meetings with related divisions within the group, including those related to health care, and implements company-wide data-based initiatives that follow the PDCA cycle.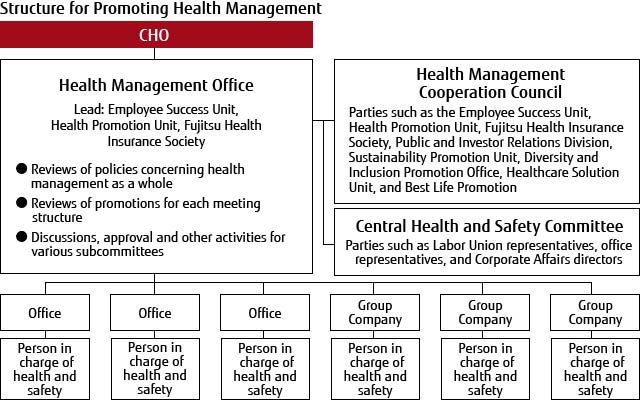 Targets and Results
Fujitsu and its domestic Group companies set numerical targets for priority measures (which are synchronized with data health planning by the Fujitsu Health Insurance Society) and engage in various initiatives to achieve those targets.
Priority Measures
Evaluation Index
FY2016
Achievements
FY2017
Achievements
FY2018
Achievements
FY2019
Achievements
FY2020
Achievements
FY2020
Goals
FY2023
Goals
Countermeasures for lifestyle-related diseases
Percentage of high-risk individuals (*1)
-
1.3%
1.1%
1.3%
1.3%
0.9%
0.6%
Percentage of those classified as overweight
15.3%
15.5%
16.3%
17.5%
19.4%
13.2%
12.9%
Cancer countermeasures
Percentage of gynecological consultations
55.6%
55.4%
56.2%
59.4%
56.8%
57.5%
60.0%
Mental health countermeasures
Percentage of those taking a leave of absence for mental health reasons (*2)
0.76%
0.70%
0.74%
0.71%
0.64%
0.66%
0.60%
Smoking countermeasures
Percentage of smokers
22.6%
22.0%
21.1%
20.6%
18.5%
22.0%
20.0%
Improvement of health awareness
Percentage of participation in walking events
-
-
15.2%
25.1%
22.8%
30.0%
36.0%
The target group is employees at domestic group companies. The percentage of those taking a leave of absence for mental health reasons is limited to full-time Fujitsu Ltd. employees.
(*1)

(*2)

The percentage of employees absent or on leave for one month or longer, due to mental health conditions during the fiscal year, calculated by dividing by the number of applicable employees by the number of employees enrolled at the end of the fiscal year
Major Initiatives
Countermeasures for Lifestyle-Related Diseases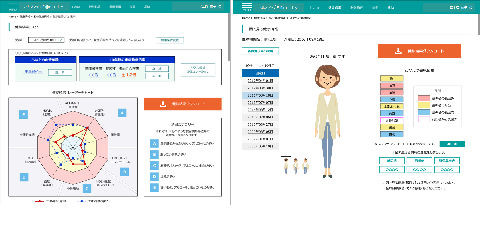 A system that allows employees to view health checkup results on their PC or smartphone
Fujitsu and its domestic Group companies provide support for independent health management by carrying out health checkup in accordance with legally mandated health examination items, with additional items by age group, as well as offering checkup results via online systems and providing information such as health risks and changes over time. In addition, with regard to employees who have abnormal findings after receiving checkups, we aim to improve their lifestyle habits, and provide thorough medical checkups and consultations, through health guidance and medical examination recommendations supplied by occupational physicians and occupational health staff. For employees who have been diagnosed as needing treatment due to their test results, the Fujitsu Health Insurance Society monitors their medical prescriptions for three months to prevent their post-diagnosis condition from worsening, and recommends checkups for employees who have not undergone treatment, which leads to appropriate medical care. In addition, family members of employees (spouses of those enrolled in the Fujitsu Health Insurance Society, and family members 40 years of age and older) are able to undergo the same health checkups as employees (including cancer screenings).
Cancer Countermeasures
Fujitsu's basic policy for taking steps against cancer is engaging in prevention through improvement of lifestyle habits, as well as early detection through health checkups and treatment. We promote regular additional screenings for stomach cancer, colorectal cancer, and prostate cancer when employees undergo legally prescribed health checkups, based on age group. The Fujitsu Health Insurance Society conducts gynecological examinations (cervical cancer and breast cancer) for all female employees. In addition, in an effort to reduce the risk of stomach cancer, the Fujitsu Health Insurance Society runs tests for Helicobacter pylori for 35-year-olds and conducts in-depth examinations on those who test positive.
In FY2019, we held "Cancer Prevention and Support for Balancing Work and Treatment" e-learning seminars for all group employees in order to equip them with accurate knowledge about cancer, and to lead to prevention through improvement of lifestyle habits, as well as early detection and treatment through health checkups. In FY2020, in cooperation with the Fujitsu Health Insurance Society, we also provided cancer education for families. The educational materials, which were provided to the Cancer Countermeasure Corporate Action Project (*3) conducted by the Ministry of Health, Labour and Welfare, are now being provided to partner companies and organizations by the project.
(*3)

A national project (commissioned by the Ministry of Health, Labour and Welfare) which aims to raise the cancer screening uptake rate to 50% or more, and build a society where people can continue to work even if they have cancer.
Mental Health Countermeasures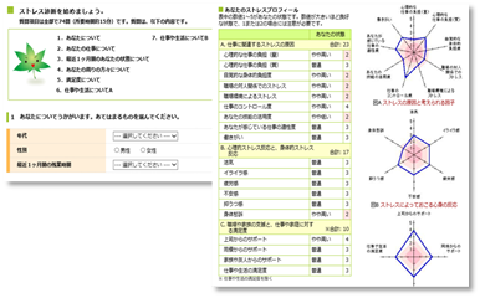 A stress diagnostic tool and individual results
At Fujitsu and its domestic Group companies, through health consultations, employment support and recurrence prevention for those with mental health issues, and mental health education provided by occupational health staff at each office, we support employees and workplaces, which leads to improved mental health. Furthermore, we have full-time psychiatrists and licensed psychologists on staff to offer counseling and other professional support within the company. In workplaces, we deployed support staff for managers, known as Work Environment Improvement Support Staff. Through awareness of employees' working situations and regular communication, we can detect the unwell at an early stage, leading to pre-emptive responses in coordination with the Health Promotion Unit.
For stress checks, in addition to supporting employee self-care through checkups, we provide feedback to management and senior staff members by integrating organizational analysis results with engagement surveys and other internal studies, then synchronizing these efforts with Work Life Shift initiatives, which leads to better working environments. In addition, for workplaces with high levels of health risk and workplaces with many employees who have been evaluated as highly stressed, we offer stress management education and workshops for creating healthy workplaces to provide support for reducing employee stress factors and energizing the places where they work.
*Work Life Shift link
Smoking Prevention Measures
Starting from October 2020, Fujitsu and its domestic Group companies have completely banned smoking at all offices to protect employees from the harmful effects of secondhand smoke, and in an attempt to reduce the health risks of smokers.
In order to support efforts to quit smoking, we also hold seminars so that employees will accurately understand the health effects of smoking, and provide support and subsidies for treatment to quit smoking. In addition, the "Let's Stop Smoking Together" Challenge, an event held once a year by all domestic group companies where smokers and non-smokers form teams to tackle quitting smoking, has improved awareness of quitting smoking and an attitude of fostering measures against smoking, group-wide and in all workplaces.
Improvement of Health Awareness
Fujitsu and its domestic Group companies work to improve employees' health awareness through the implementation of post-health checkup measures, e-learning, education by level, various seminars for health education, and a variety of events relating to exercise, diet and smoking, among other initiatives.
Company-wide e-learning: Once a year, through e-learning seminars for all domestic group employees that bring up major health topics, we strive to help them acquire knowledge and improve their health awareness.
Education for employees who are advancing in their careers: For regular employees, we provide them with self-care-related education through e-learning when they enter the company and when they advance in level. For managers, we provide them with education for taking care of employee mental health when they are promoted to manager, and as part of the management education they receive every three years.
Company-wide seminars: We conduct seminars relating to exercise, rest, diet, quitting smoking, and women's health, among others. In addition to physical attendance at the venue, we conduct video broadcasts so that all employees at domestic group companies can watch the seminars.
Office seminars: We hold seminars on themes such as mental health and physical fitness, in accordance with the issues of each office.
Refer to FY2020 Performance: Health Education Accomplishments for more information.

A company-wide walking event, "Let's Walk Together"
This event, held twice a year in spring and fall, has employees use smartphone apps and other tools in team/individual competitions based on their average steps over the course of one month. Incentives were awarded to teams and individuals, such as the employees with the highest average step count, teams who walked over 6,000 steps a day on average, and those teams and individuals who successfully walked over 8,000 steps every day.
The same initiative, implemented as a Global Challenge, takes place around the world as well. Over 2,000 employees participate every year, centered around those in EMEIA (Europe, Middle East, India and Africa).
A quitting smoking promotion event, "Let's Stop Smoking Together"
Two to five non-smokers form a team with one smoker, who attempts to quit smoking over three months with the support of the team. Teams that successfully get their smoking member to quit are awarded incentives.
A nutrition education event, "Let's Learn About Food Together"
We have declared the 19th of every month to be Food Education Day. In addition to introducing healthy recipes using seasonal ingredients and information about health effects via email newsletters, we prepare special menu items using those ingredients at the employee cafeterias all over Japan, and work to improve employee awareness of what they eat.
Refer to FY2020 Performance: Events for more information.
Health Initiatives for Female Employees
Fujitsu and its domestic Group companies are disseminating information through initiatives such as establishing an intranet portal site for female health, providing a consultation service dealing with health issues that are specific to women, as well as information about health based on the employee's stage in life, and holding various seminars.
By making this information available to all employees and not just those who are female, we are encouraging all employees to have accurate knowledge about female-specific health issues and have an interest in them, promoting the creation of better working environments for women, and supporting the empowerment of female employees.
In FY2020, Fujitsu's e-learning initiatives for Cancer Prevention and Support for Balancing Work and Treatment, which were targeted at all employees of domestic group companies, were selected for the Merit Award at the Women's Body Forum Awards 2020 by Think Pearl, an association which promotes female health education and preventative medicine.
The Fujitsu Health Insurance Society conducts examinations for all female employees. Employees may choose to have their examination at the same time as the mandatory company health examination, or at their family doctor's office.

We hold various seminars in accordance with Pink Ribbon Day in October and Women's Health Week in March. We regularly hold seminars on a variety of topics, such as pregnancy and childbirth, cancer, lifestyle-related diseases, and menopause.
As a measure for diversity promotion and female career support, we conduct education on what to pay attention to from a health perspective, as part of seminars that are conducted for employees who have returned from childcare leave and department heads with employees who have childcare-related circumstances.

FY 2020 Pink Ribbon Day Event: "What You Should Know About Cancer (Cancer That Affects Women)" online seminar
FY 2020 Women's Health Week: "What People in Their 20s Should Know About Cancer That Affects Women and Menopause" online seminar
Lunchtime Pilates sessions conducted online

We make regular updates on the portal site, ranging from information on various events to health guides by occupational health staff about women's health according to their stages in life. Videos of seminars held in the past are also available.
Fujitsu Headache Project
Since FY 2020, Fujitsu and its domestic Group companies have been implementing the world's first corporate program for helping with headaches, in conjunction with the International Headache Society and the Japanese Headache Society. The results of a 2018 survey, conducted by Fujitsu, WHO, the International Headache Society and the Japanese Headache Society, showed that the prevalence of headaches is very high, and headaches have a significant impact on daily life and work productivity. Taking this into account, with e-learning seminars "Accurate Information About Headaches and How to Deal with Them" as the starting point, we are helping employees with their headaches through various programs, such as video seminars, consultations about headaches with experts, and exercises to deal with headaches. In addition to attempting to improve QOL and boost work productivity, we are promoting understanding of headaches among employees, and creating a workplace where people suffering from headaches can work with peace of mind.
Support for Balancing Work with Medical Treatment
The fundamental idea at Fujitsu and its domestic Group companies is that employees should undergo proper treatment, then return to work after recovery. We have established various leave systems and income support mechanisms so that employees can have peace of mind and devote themselves to medical treatment. We provide support from medical staff while an employee is on leave, so that they can make a smooth return to work. When they return, we conduct joint discussions with the occupational physician (occupational health staff), HR, the employee's department head, and the employee themselves, and review their post-return work duties and employment considerations.
In order to provide support for employee treatment while they are on leave and for their return to work, we offer a guidebook aimed at the employee and their supporting department head and family members. The guidebook, entitled "How to Spend Your Days While Undergoing Treatment," is a compilation of information to be aware of, including treatment objectives, how desired treatment should be, how to think about returning to work after recovering, and procedures for returning to the workplace.
Infectious Disease Countermeasures
Fujitsu and its domestic Group companies actively engage in countermeasures to keep employees safe from various infectious diseases by establishing health consultation services and dispensing information, among other initiatives. As preventative measures against infectious diseases, we give seasonal influenza vaccinations at companies, in addition to giving vaccinations to employees stationed overseas which are recommended in each place they will be staying (at company expense). With regard to the issue of rubella, which has been growing in recent years, we are cooperating with local governments to conduct education and public awareness campaigns at offices.
Response to the Novel Coronavirus
In response to the spread of the novel coronavirus, we have established a dedicated telephone hotline and email consultation service to respond to employees and their family members who have health concerns. We provide instructions to put them at ease, and so they can take appropriate action and seek medical care. In addition, the Fujitsu Clinic (Kawasaki City, Kanagawa Prefecture) is dealing with people who are worried about infection, in conjunction with health care centers and regional specialist medical institutions.
We also offer information about matters such as the novel coronavirus and how to work comfortably from home (with regard to exercise, diet, smoking, mental health, and work environment), which are important for the physical and mental health of employees and their families, on our internal company website.
With regard to work style, we are thoroughly engaged in remote work to prevent the spread of the novel coronavirus, and we have changed face-to-face meetings to Skype meetings or conference calls. To exercise consideration for employees who have had issues from a physical and mental health perspective due to the increase in remote work, and to respond to the needs of employees who are having difficulty working due to the closure of places like schools, day care centers and kindergartens, and nursing care facilities, we have newly established the following special leave as a temporary measure.
Special leave*: All employees receive 10 days of special leave (100% fully paid), which is separate from their annual and accumulated leave

Family support leave*: Employees who are having difficulty working due to their need to support children who are elementary school age or younger, or family members who require long-term care, will receive family support leave (at 80% of their wages) in addition to special leave
Assessments from Outside the Company
Named as a 2021 Health and Productivity Stock Selection, and Certified as One of the 2021 White 500 Health and Productivity Enterprises
As a company which considers the health management of employees from a management perspective and tackles strategic initiatives to deal with it, Fujitsu was selected as a 2021 Health and Productivity Stock Selection by the Ministry of Economy, Trade and Industry and the Tokyo Stock Exchange for the first time, and certified as one of the top 500 enterprises (the White 500) by the Ministry of Economy, Trade and Industry and the Nippon Kenko Kaigi, marking its fifth consecutive certification. Up until now, we have continuously worked on measures for maintaining and improving the health of our employees and their families, such as establishing robust systems with medical professionals at our offices nationwide, providing health guidance for lifestyle-related diseases, and setting up mental health and smoking prevention programs, and these awards are recognition of our results.
In addition, in order to promote health management across the entire group, Representative Director Takahiro Tokita serves as Chief Health Officer (CHO) and disseminates messages to all employees in Japan and overseas. We are also working to have senior management directly discuss the importance of health management and its impact on the company's sustainable growth and business performance by using data-driven health information, together with occupational health staff, so that management personnel will gain a more realistic understanding of health issues.
Among domestic Fujitsu Group companies, one domestic group company was certified in the White 500 (top 500 enterprises), 14 companies were certified in the large-scale enterprise, and four companies were certified in the small to medium-scale enterprise category.
*Company names are as of the time of certification (as of March 4, 2021).
Large-scale enterprise (White 500): Fujitsu Communication Services
Large-scale enterprise category: Fujitsu Advanced Engineering, Fujitsu FSAS, Fujitsu Kyushu Systems, Fujitsu Connected Technologies, Fujitsu Japan, Shimane Fujitsu, Shinko Electric Industries, Fujitsu Software Technologies, Fujitsu Social Science Laboratory, Fujitsu Network Solutions, PFU, Fujitsu Frontech, Fujitsu Learning Media, Fujitsu YFC
Small to medium-scale enterprise category: Fujitsu Isotec, Fujitsu FSAS Kansai Customer Service, Fujitsu Banking Solutions, Best Life Promotion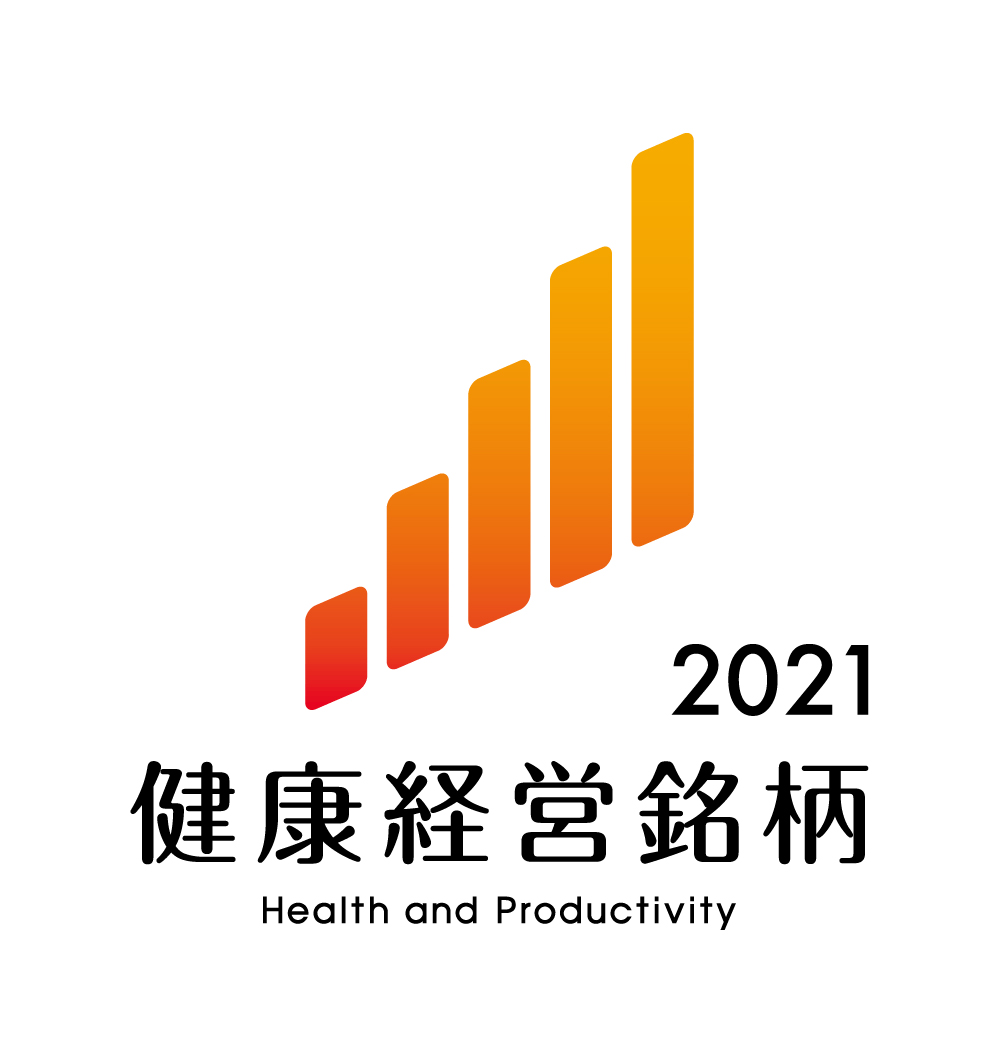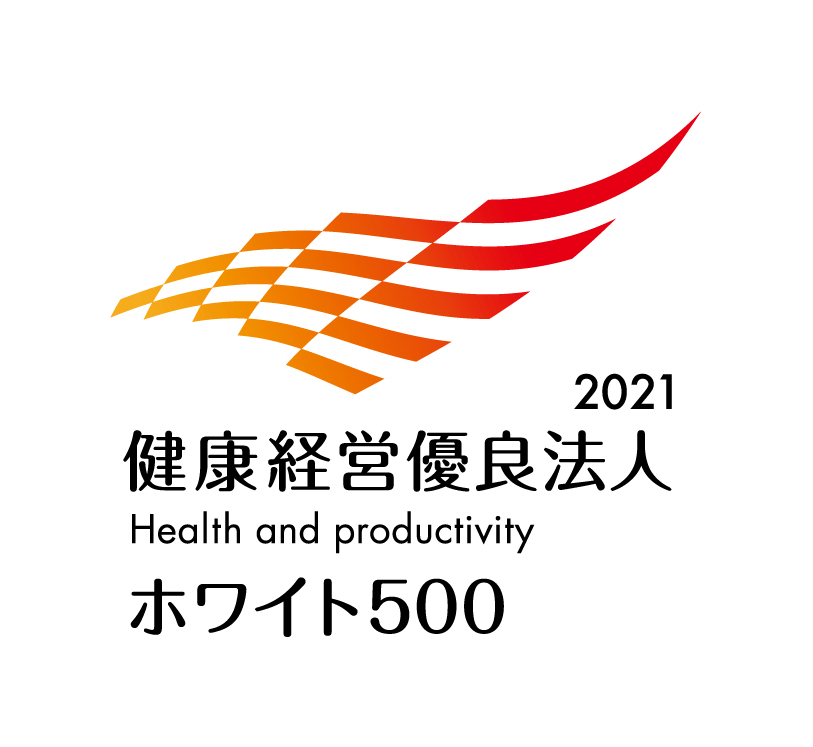 Received Outstanding Corporation Award for Promoting Cancer Countermeasures in March 2021
Fujitsu received an "outstanding corporation award in 2020" from the Cancer Countermeasures Corporate Action Project, which is conducted by the Ministry of Health, Labour and Welfare.
March 2020: Received Cancer Countermeasures Partner Award (Information Provision Category), awarded to companies that promote cancer countermeasures
October 2021: Nominated for the Grand Prize at the Women's Body Forum Awards 2020 and received Merit Award
Social Contribution Initiatives
Fujitsu contributes to better physical fitness and increased productivity for all of society, by offering and presenting things such as health management and practical cases of health and productivity management in various forms, as well as research results, to places outside the company. In addition, we accept occupational physicians, medical students, nursing students and others for training within the company, and contribute to the human resources development of occupational health staff.
Refer to FY2020 Performance: Social Contribution Initiatives for more information.
FY2020 Performance
Percentage of Employees with Health Concerns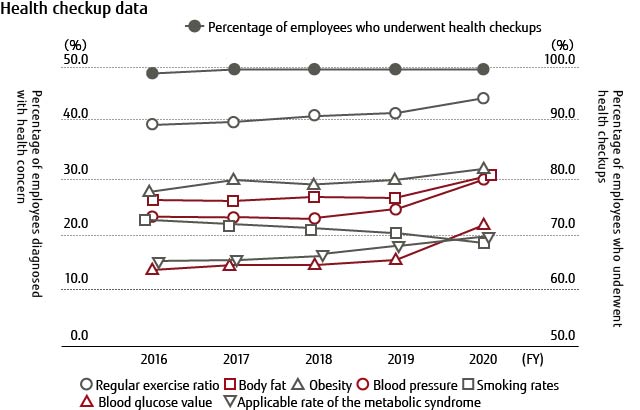 Target: Full-time employees of Fujitsu Ltd. at the end of the fiscal year Percentage of regular exercisers: Those who said they exercise regularly when they underwent health checkups
Body fat: Neutral fats of 150mg/dl or higher and HDL cholesterol below 40 mg/dl
Obesity: BMI of 25 or higher
Blood pressure: Systolic blood pressure of 130mmHg or higher and diastolic blood pressure of 85mmHg or higher
Percentage of smokers: Those who said that they smoke when they underwent health checkups
Blood sugar level: People with a blood sugar level over 110mg/dl or an Hba1c level over 6.0% who are receiving treatment for that particular item
Rate of metabolic syndrome: Based on the definition by the Japanese Society of Internal Medicine and diagnostic criteria
Percentage of Employees Who Took a Long-Term Leave of Absence or Medical Leave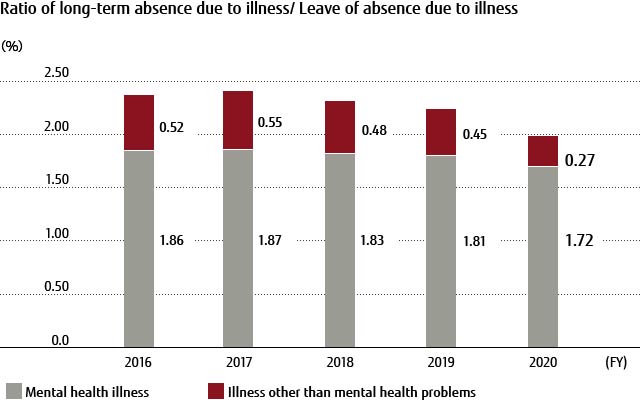 Target: Full-time employees of Fujitsu Ltd. at the end of the fiscal year
Percentage of people who had taken a leave of absence or taken medical leave for a continuous period in excess of one month by the end of the fiscal year
Health Education Accomplishments (Fujitsu)
Company-wide e-learning:
Theme: Accurate Information About Headaches and How to Deal with Them

Basic knowledge about headaches, their impact on daily life and work, and how to deal with them (such as prevention, treatment, amelioration)
For all employees/Number of participants: 29,566
Support for people with headaches
For managers/Number of participants: 6,565

Education by level:


Health education when joining Fujitsu (e-learning), 814 employees who took the e-learning seminar (Number of employees joining the company in FY2020)

Elective education:


Self-care training (e-learning) after undergoing a stress check, 3,000 employees who took the e-learning seminar

Company-wide seminars:


October 2020: "What You Should Know about Cancer: Behavioral Studies for Reducing Risk (Cancer That Affects Women)" Associate Professor Keiichi Nakagawa (Tokyo University), streamed online to 633 employees
October 2020: "COVID-19 Up to This Point, The Current Situation and Countermeasures, As Well as Preventing Influenza" Professor Kazutoshi Nakashima (Daito Bunka University), streamed online to 671 employees
March 2021: "What People in Their 20s Should Know About Cancer That Affects Women and Menopause" Dr. Mihyon Song (Marunouchi no Mori Ladies Clinic), streamed online to 574 employees
Events
A company-wide walking event, "Let's Walk Together"


Spring 2019: 3,456 teams and 19,463 participants, with a participation rate of 19.3%
Fall 2019: 4,094 teams and 25,018 participants, with a participation rate of 25.1%
Fall 2020: 3,866 teams and 22,463 participants, with a participation rate of 22.8%

A quitting smoking promotion event, "Let's Stop Smoking Together"


2018 participants: 430 teams (430 smokers, 1,060 supporters) and 300 successful quitters (69.8%)
2019 participants: 249 teams (249 smokers, 599 supporters) and 201 successful quitters(80.7%)
2020 participants: 193 teams (193 smokers, 441 supporters) and 141 successful quitters (73.1%)
Providing e-learning materials on cancer to external parties


The materials used in the Cancer Prevention and Support for Balancing Work and Treatment e-learning seminar, which Fujitsu and its domestic Group companies conducted for employees in FY2019, were made public via the Cancer Countermeasure Corporate Action Project (a Ministry of Health, Labour and Welfare project), and the same group currently provides this service to partner companies and organizations.

Collaborative Development with IHS-GPAC on a Program to Remedy Migraines


Fujitsu is engaged in collaborative research with IHS-GPAC (International Headache Society – Global Patient Advocacy Coalition) to improve employees' quality of life and improve company productivity by (1) increasing disease awareness about migraines among employees, and (2) working to develop an in-house program to remedy migraines, the first of its kind in the world, which includes understanding the realities of disruption and loss due to workplace migraines and the promotion of projects to counteract them. There are plans for the program developed and tested by Fujitsu to be made publicly available through the International Headache Society and other organizations.

Articles, Conference Presentations, External Presentations, Magazine Publications




Conference Presentations




93rd Annual Meeting of Japan Society for Occupational Health (three oral presentation, one poster presentations)
30th Annual Meeting of Japan Society for Occupational Health, National Council (one poster presentations)
9th International Conference of Global Network of Public Health Nursing (one oral presentation (workshop))

Magazine Publications




Q&A on Human Resources and Labor Practices, May 2020 Issue: Fujitsu Health Promotion Unit "Educating 70,000 Group Employees About Cancer: Early-Stage Detection and Treatment Through Prevention and Checkups"
Industrial Safety and Health, May 2020 Issue: Fujitsu Health Promotion Unit "Cancer Education is One Aspect of Supporting Employees' Work-Life Balance"
Occupational Health and Safety PR, July 2020 Issue: Fujitsu Health Promotion Unit "Establishing Workplace Development Support Staff to Back Up Busy Managers"
Safety Staff, August 2020 Issue: Fujitsu Health Promotion Unit "Educating 70,000 Employees About Cancer via e-Learning"
Beyond Health Special Edition, September 2020 "The Cancer Screening Revolution: Towards Making Healthy, Happy 100-Year Lives a Reality" 
Occupational Mental Health 2021, Vol. 29, No. 2 "Countermeasures and Collaboration with Regard to Overwork and Interviewing Highly Stressed Individuals from the Perspective of Occupational Health Nurses"
Health Development, Vol. 25, No. 3, March 2021 "Telework and Occupational Health Activities: Current Status and Issues - Actual Cases from Companies"
Occupational Health and Nursing, Spring 2021 Special Edition "All About Preventing, Responding to and Providing Support for Mental Health Issues in the Workplace"
Health Management, October 2021 Issue "Relay of Articles from Occupational Health Nurses: Documents and Records of Occupational Health Nurses"

Participation in Review Committees, etc.




Member of the Ministry of Health, Labour and Welfare Review Committee for Revising Guidelines on the Maintenance and Promotion of Workers' Health at Business Sites

Acceptance of Occupational Physicians, Medical Students and Nursing Students for Training and Internships




Kanagawa Prefecture Medical Association, occupational medicine section, training sessions (30 people)
Community medical intern training (one hospital, six people)
Early medical school trial internships (one school, four people)
Medical school field training for occupational physicians (three schools, 118 people)
Community nursing practicum and internships through nursing schools, integrated nurse internships (seven schools, 67 people)
Training lectures at schools of nursing (four schools, 285 people)