<!-Subtext (optional)->
Our Operations and Targets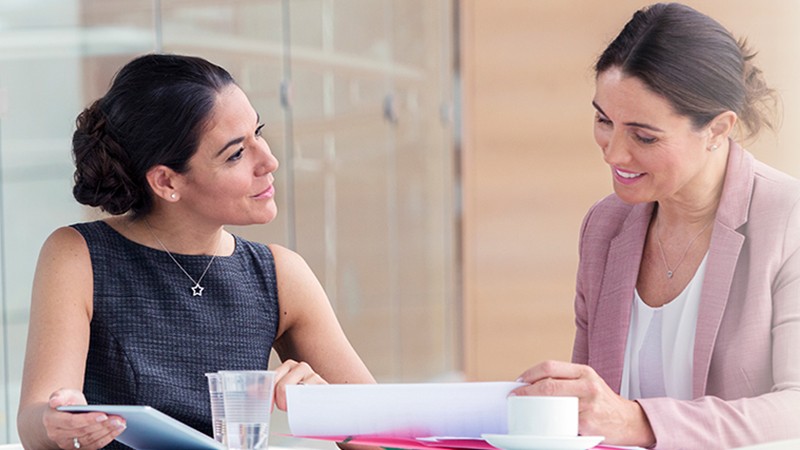 Reducing our environmental footprint
The Fujitsu Group 'Climate & Energy Vision' states our goal to be net zero CO2 organisation by 2050, as well as contribute to climate change adaptation and the decarbonisation of society.
In Australia & New Zealand, we're recognised for our strong sustainability program that delivers results across our portfolio. Our NABERS-rated data centres are recognised as being 33% more efficient than the market average, and we've reduced emissions from office energy and travel by more than 60% from our 2008 baseline.
Our global policy and targets
The Fujitsu Group recognizes that global environmental protection is a vital business issue. We are committed to effective action on climate change and have been listed on the CDP A List from 2017-2019.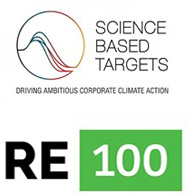 Australia and New Zealand approach
We have had a comprehensive environmental action plan in place for the Oceania region since 2007. Our ISO14001 certified management system covers all 27 Fujitsu sites in Australia & New Zealand. Our sustainability targets are determined using 2008 as a historical baseline, based on factors including our material environmental impacts, science, stakeholder expectation and accepted guidelines such as CDP.
Australia & New Zealand results
Our current sustainability targets will be measured at the end of the 2020 financial year (March 2021).

FY18 saw a number of initiatives that see us continue to exceed our target to reduce office energy emissions by 50% by 2020. We have continued our shift to agile working with the opening of new highly energy-efficient premises in both Melbourne and Auckland. Compared to our previous office spaces, we're achieving energy savings of 63% in Auckland and 87% in Melbourne. FY18 saw a full year of operation after the upgrade to LED lights at our Lidcombe warehouse and distribution centre, which saw the replacement of 119 400Mw metal halide high-bay lights with new high-efficiency LED fittings. This single change achieved a 32% reduction in total energy use at the site compared to the previous 12-month period. These developments have helped propel our progress in this area, with a record low energy consumption in our premises, and achieving a 67% reduction against our 2020 target of 50%.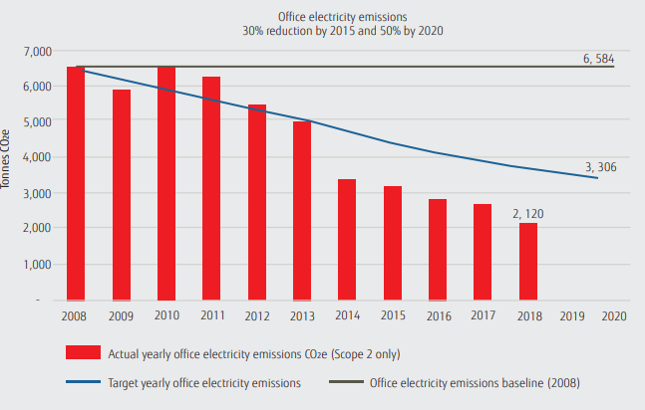 The further reduction of emissions of travel is a concern for Fujitsu as we approach our 2020 target. While progress is strong – 63% reduction against a target of 80% by 2020 – further progress against the target is challenging.
At the time the targets were set, the ambitious target forecast greater adoption of low-emission travel adoptions by 2020 than have materialised in the region. In particular, we projected an earlier availability of hybrid and electric vehicles and a greater penetration of aviation biofuel in commercial flight. Despite this allowance, through our investments in providing technology solutions to reduce the need for business travel (such as web and video conference facilities) and strict policy control on travel, we have reduced the amount of travel from 2,303km per FTE to just 716km per FTE each year.
We continue to examine ways to help Fujitsu meet its ambitious emissions reductions target, including incorporating more low emission models into our vehicle fleet and the use of offsets.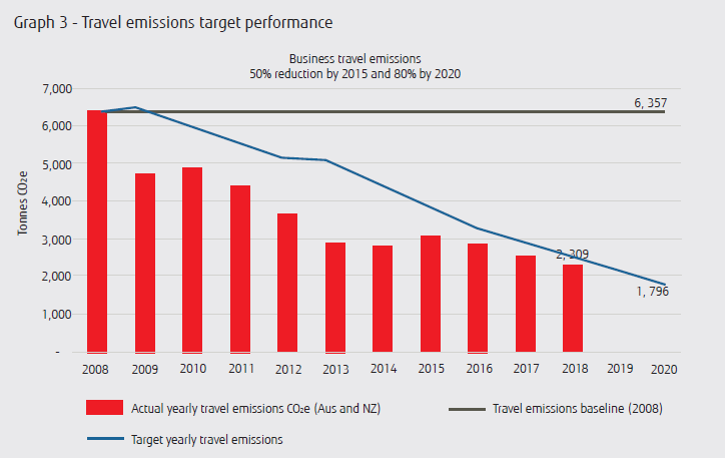 This target measures Power Usage Effectiveness (PUE), a common industry measure of data centre energy efficiency. Developed by the Green Grid, PUE is the ratio of the total amount of energy used by the facility (lighting, cooling etc) delivered to the IT equipment (servers, network equipment etc) within that facility. An ideal PUE is 1.0 (theoretical). We have achieved an average PUE of 1.54 across the portfolio, representing an avoided spend of over $12.1M had consumption continued at 2008 levels.
In FY2018, two of our data centres achieved NABERS star increases, reflecting our continuing improvement in energy efficiency. The ratings are on a 6-star scale, where 1 represents very poor performance, 3 represents average, and 6 represents outstanding performanceOur Eight Mile Plains Data Centre in QLD went from 3 to 3.5 stars, and our Malaga Data Centre in WA improved to 4 stars from its previous rating of 3.5. These increases are evidence of Fujitsu's continued improvement in energy efficiency, as well as our ongoing commitment to transparency. Our NABERS ratings indicate that Fujitsu's portfolio is 33% more efficient than the industry average. Every year through these efforts we save over 34 Gigawatt hours of energy, reduces 30,611 tonnes of carbon - equivalent to 1,700 homes.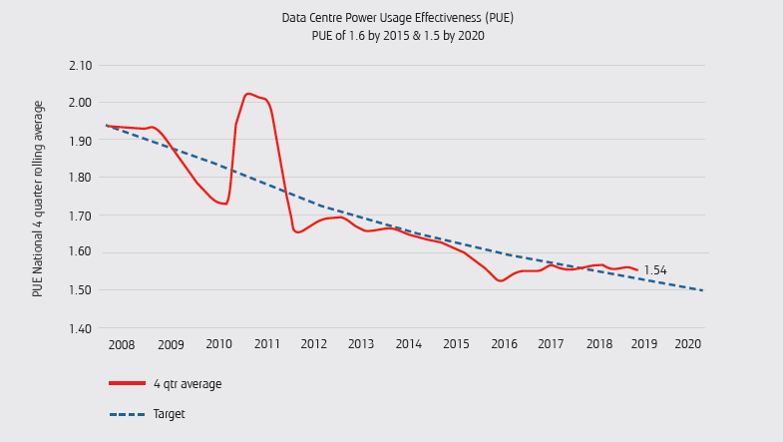 The use of renewable energy is a key priority area in our Responsible Business program as we approach the end of this target period.

In New Zealand we procure our power from Meridian Energy who only generates energy from renewable sources such as wind and hydropower. We continue to explore ways to increase the amount of renewable energy use in our business, including different procurement models and on-site generation.

In addition to our regional target of 20 percent renewable energy by 2020, the Fujitsu Group has a renewable energy target of 40% by 2030 and 100% by 2050 for operations both in and outside Japan. This commitment is formalized in our RE100 membership as Japan's first Gold Member

Discover more about our sustainability actions and offerings
Nicole Forrester - VP of Purpose, People & Culture (Asia Pacific)
"In February 2021, Fujitsu Australia and New Zealand launched its Office of Purpose to make a real difference through championing and driving transformative change across sustainability, diversity, equity and inclusion, and social impact. Fujitsu's purpose is to make the world more sustainable by building trust in society through innovation. The Office of Purpose team is pivotal in fulfilling its ambitions and creating shared values to support our customers to achieve theirs."
Get in touch
Let us assist you in solving your business challenges.
Thank you. We have received your request and will get back to you shortly.
Fujitsu Australia acknowledges all Aboriginal and Torres Strait Islander Traditional Custodians of Country and recognises their continuing connection to land, sea, culture, and community. We pay our respects to Elders past and present.