Responsible Business Report FY19/20
This year, extraordinary local and global events have threatened community and environment in a way, and on a scale, that we have not previously witnessed. The tragedy of New Zealand's White Island volcano eruption was quickly followed by the devastating Australian summer bushfires, and then the emergence of the coronavirus pandemic that has challenged every part of society. At Fujitsu, we believe that technology can and will play a key role in how Australia and New Zealand adapt to these challenges. We believe that our progress and efforts towards conducting our business responsibly – creating value for customers, employees, society and the planet - will be what ensures Fujitsu's resilience and continued success. This report (for the year 1 April 2019 – 31 March 2020) documents our continuing efforts in the Oceania region and supplements the Fujitsu Group's Global Sustainability Report.
Responsible Business Highlights FY19/20
Some of our key achievements this year include:

Our Digital Owl solution that uses artificial intelligence and drones to enhance conservation outcomes won a Banksia Award and a NSW Green Globe
Launched our Innovate Reconciliation Action Plan, our second RAP, and achieved a milestone of cumulative $1M spent with Indigenous suppliers since FY16/17
We remain the only data centre provider to have our entire portfolio NABERS rated, with our data centres assessed as 35% more efficient than the industry average
Used the LBG Impact benchmark as part of our commitment to improving the maturity of our Responsible Business program
Introduced a Fujitsu chapter of Male Champions of Change as part of our gender diversity strategy, and published our Gender Transitioning at Work Guideline that supports colleagues with paid leave whilst they transition to their affirmed gender
Moved to widescale remote working to prioritise the wellbeing of our workforce and customers in response to the coronavirus pandemic
Launched Project Sagasu, which will leverage artificial intelligence technology to help improve brain aneurysm diagnoses and improve heathcare outcomes, working alongside GE Healthcare, Macquarie University, and Macquarie Medical Imaging
Supported staff who responded to the Australian bushfires with additional 4 weeks of paid leave and donated over $120,000 to 16 frontline charities.
Download previous year's reports
Download the complete report FY18/19 (8MB)
Download the complete report FY17/18 (2.5MB)
Blaise Porter – Director, Responsible Business
"Businesses are dealing with heightened expectations about their role in society – taking actions on complex issues such as climate change, environmental protection, diversity and responsible supply chains. At the same time, technologies like artificial intelligence, machine learning and automation are entering the mainstream. Have you considered how technology could be used to solve your businesses' sustainability and social challenges?"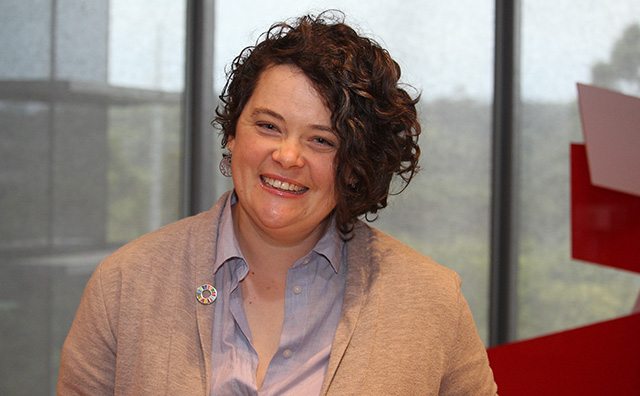 Get in touch
Let us assist you in solving your business challenges.
Thank you. We have received your request and will get back to you shortly.