Intelligent Engineering Services
Fujitsu intelligent engineering – empowering users with smarter support
It's estimated that by 2022, 50 billion things will be connected to the Internet, and all of these will require support. For engineering IT support services to keep pace with digital workplace transformation, service delivery must evolve, and become proactive rather than reactive.
Today, people engaging with support services expect choice, with access to smart support that knows who they are and what they need.
Fujitsu intelligent engineering provides convenience and choice of service for a more productive workforce – it delivers a personal, consumer experience. By building a better understanding of peoples' needs and working patterns, service intelligence can be used to enhance support and enable a 'push' approach with proactive recommendations on elements such as; convenient appointment times, fixes, and support.
Intelligent engineering is at the heart of Fujitsu digital workplace services
At Fujitsu, we have a vision of an intelligent workplace. One that's powered by data, where everything just works, and people are enabled to connect, collaborate, and innovate to excel in their jobs and deliver more value.
Our intelligent engineering services form an integral part of our digital workplace offering. Taking an intelligent proactive and preventative approach, we combine in-depth analytics, predictive technology, and our own insight to keep your business up and running 24/7.
Using analytics, we monitor your estate to anticipate and resolve issues before they can impact your business. Any problems that arise are then rapidly fixed with minimum disruption, anywhere in the world, utilizing our Global Program Management Office (GPMO) function. In addition, we also provide augmented reality for end users to resolve incidents by themselves. Proven benefits include:
fewer incidents and calls
reduction in reactive ticket data
less disruptive downtime
improved business insight
improved employee and customer satisfaction
increased productivity and profitability
* Download the Vision Document – Intelligent IT support for a digital world »
** Download the The Connect IT Bar brochure »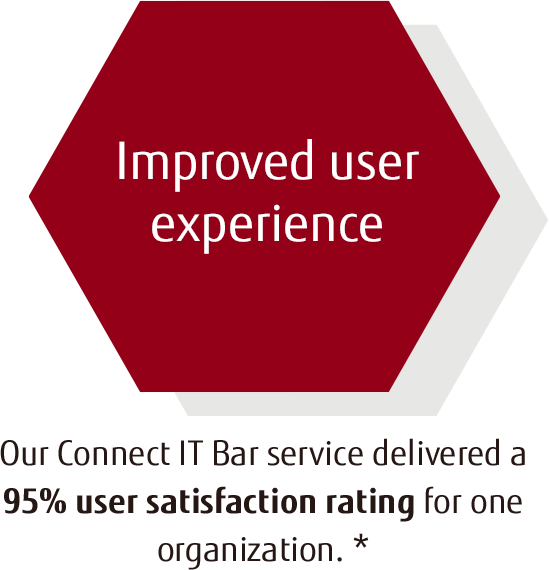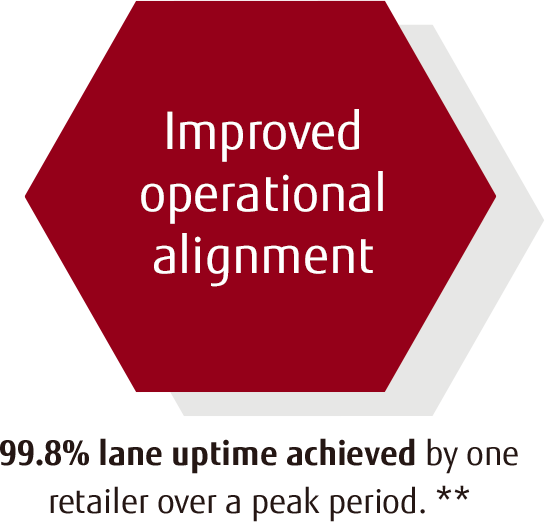 Fujitsu proactive full lifecycle engineering services
With our intelligent engineering support approach, knowledge is built up from data collected from multiple sources – including; ticket, user, product and repair information, and, where appropriate, industry specific data, such as trading or productivity metrics. Using the insight gained, a preventative and predictive approach can then be adopted to provide targeted fixes, user education, and proactive maintenance support.
Using our end-to-end multivendor capability, we provide full lifecycle support, from installation to disposal, regardless of the devices used. Our support is designed to suit your requirements. Bringing knowledge and experience from other markets, we offer a single partner, one-view perspective.
Our in-house facilities help us to reduce costs and improve our product understanding, and as a result, we can significantly reduce failure.
Turning your data into actionable insight.
Based on the latest technologies, the digital workplace delivers far more efficiency than what has gone before. Using analytics, issues can be detected and resolved before they become a problem. The valuable data that's collected can then be used and turned into actionable insight to allow you to better understand your employees' needs and working habits. With greater insight you are empowered to:
make better sourcing and deployment decisions
rapidly respond to changing business demands
deliver a better end-user experience
create value
Intelligent Support Service Vision
Standard reactive and generic 'break-fix' support services are becoming a thing of the past, with the focus shifting away from problem resolution to prediction and prevention. Intelligent IT support will become seamless, focused on enabling users to be as productive as possible. Within the workplace, employees won't be aware of the IT support that is keeping them working.
Looking to the future, user choice will be key, with a range of support options:
face to face using a consumer-style Connect IT Bar
issue resolution using augmented reality
an engineer attending at a convenient time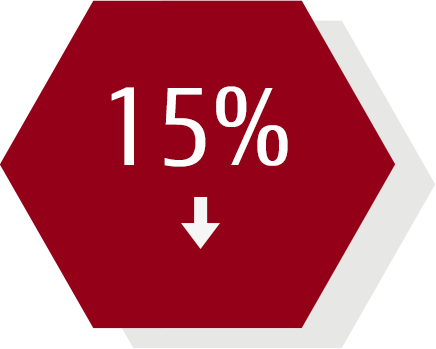 Automating incident management reduced costs for one retailer by more than 15%.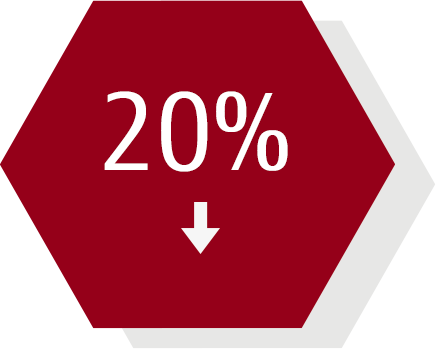 Using the CARE service reduced calls by 20% for one hospitality organization.