Why Fujitsu
Awards
For more than a decade, Fujitsu has been creating the building blocks of cloud computing, and we are investing heavily in cloud-based development on a global scale. These investments are bearing fruit in the form of industry recognition from analysts and the media, and from our customers of course.
---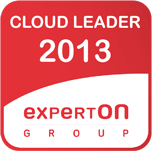 Year on year, Experton Group publishes the Cloud Vendor Benchmark and ranks with it the key players in the German cloud market. In 2013, the German analyst published its 4th edition of the independent annual benchmark study, and Fujitsu remains one of the key players. During a three-month research process over 500 providers were examined and at the end 133 providers were classified as relevant. These were then analyzed and evaluated in 14 categories. Fujitsu was ranked as a leader in six categories, including all variations of Infrastructure as a Service and our ability to deliver cloud services for the midmarket and SMBs. Experton states that our global delivery capability is one of the most important cornerstones in meeting customer requirements.
---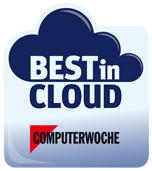 For the second year in a row, Fujitsu won the highly sought after "Best in Cloud" award from COMPUTERWOCHE in 2012. We won the "Audience Award" in cooperation with our cloud partner SSP Europe and our reference customer MEILLERGHP. Dedicated Secure Data Space is an enterprise-grade software solution that allows team-based data sharing, collaboration, and backup. This solution brings an end to problems around large email attachments, FTP downloads, and file versioning problems - and is readily available on the
Fujitsu Cloud Store

.
---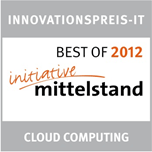 The IT Innovation Award is presented annually by the Initiative Mittelstand, awarding the best innovation in IT for medium-sized companies and is presented at CeBit. What makes this award exceptional, and therefore highly sought after, is its jury of 100 professors, economists, and journalists. Unlike other innovation awards this large jury guarantees a high degree of objectivity in its due process. The IT Innovation Award from the Initiative Mittelstand is recognized by customers as a seal of quality and trust. In 2012 the Initiative Mittelstand IT Innovation awards were held under the auspices of IBM and the German Federal Government Commissioner for Information Technology and State Secretary of the Federal Ministry of the Interior. Fujitsu won this award for its Cloud Store. Additionally, our cloud partner VERPURA also won this prestigious award. VERPURA is an Austrian web-based business software provider offering leading CRM, ERP, and team collaboration solutions - and is readily available on the
Fujitsu Cloud Store

.
---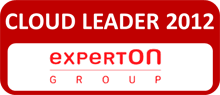 In Experton's extensive 2012 study, which examined more than 100 cloud providers in the German market, Fujitsu has already emerged as a clear leader in providing cloud services to business users. Validating the company's ongoing Billion-plus dollar investment in cloud, the independent report positions Fujitsu as a strategic pace-setter and Cloud Leader in seven categories, including the critical fields of Cloud Services (Managed Cloud, Managed Private Cloud, IaaS Public Cloud, SMBs, Enterprises), Cloud Technologies (Infrastructure) and Cloud Integration.
---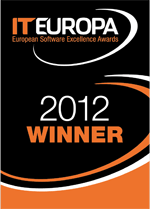 The European Software Excellence Awards are the only pan-European awards which recognize the crucial role that Independent Software Vendors (ISVs) play in the delivery of real world solutions, and attracted entries from 18 countries. Entries were submitted by ISVs describing the solution provided and each had to be supported by an endorsement by the client. 36 companies from 14 countries made the finals in 2012. The winners were selected by an independent panel of consultants and editors.
There were 2 awards for suppliers to ISVs and the award for Application Delivery Platform was awarded to Fujitsu. Fujitsu's application was submitted and endorsed by our software partner TecArt Group, a specialist for browser-based enterprise software. TecArt-CRM is a browser-based software that revolutionizes existing IT infrastructures - quickly, easily, and online. The cloud delivery model increases long term efficiency, transparency and speed of business processes, workflows and communication. TecArt-CRM focuses on CRM, Groupware and contact management - and is readily available on the
Fujitsu Cloud Store

.
---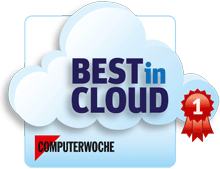 Fujitsu won the "Best in Cloud" award in the category cloud enabling software from the IT magazine Computerwoche in 2011. With the help of our Business Enablement Services, our software partner Kendox was cloud-enabled within a very short time, and was therefore able to win new customers faster for its product Diperia - Digital Personnel File. A particular advantage of this solution is that Kendox can keep all personnel-related documents easily, safely and inexpensively in a highly available and secure environment - and is readily available on the
Fujitsu Cloud Store

.
Top of Page