<!-Subtext (optional)->
Peripherals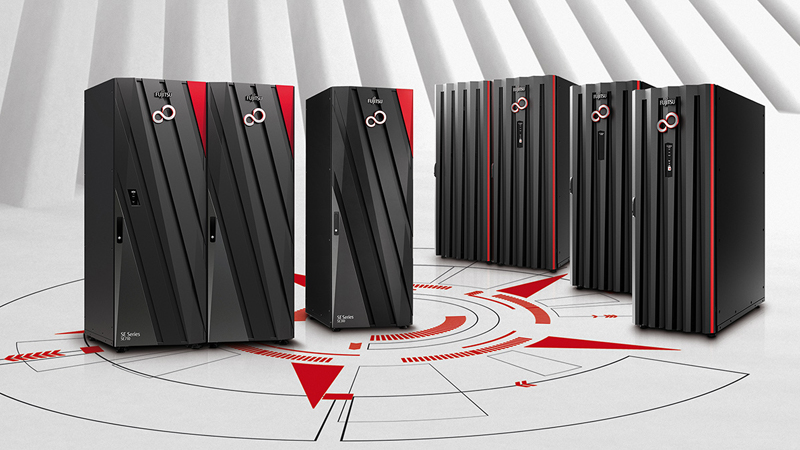 Peripherals
Capable, compatible supplements
When it comes to peripheral devices, BS2000 combines top quality and capacity with standard, open hardware. We offer a carefully chosen selection of peripherals, delivering the best value for every BS2000 performance range. Fibre Channel makes standard connection technology available for disk, tape library subsystems and network connection that features high transfer rates and extremely short response times. Because Fibre Channel supports server integration into enterprise SANs (storage area networks), it enables servers to be included in storage consolidation projects with the most advanced connection standards.
---
Storage systems
For SE Infrastructure series is with ETERNUS DX und ETERNUS AF a wide range of enterprise storage systems available to guarantee a secure storage of your data with highest performance and always-on availability. To protect your data against loss or corruption intelligent data protection appliances are available like ETERNUS CS8000. In addition, powerful and ultra-reliable tape libraries support backups and long-term archiving.
Information about storage solutions supported in BS2000 can be found in the release notices of the operating system packages or the Server Connectivity, as well as in the manuals of the SE Server on the BS2000 manual server.
Extended information to all storage solutions are available here: Fujitsu Storage Solutions.
---
Switches
BS2000 supports a variety of Brocade Fibre-Channel Switches. Please see the BS2000 support matrix for FC switches.
Information about Brocade switches are available under: Switches
---
Printers
BS2000 supports a wide selection of printers, from all-rounders to high capacity systems.
---