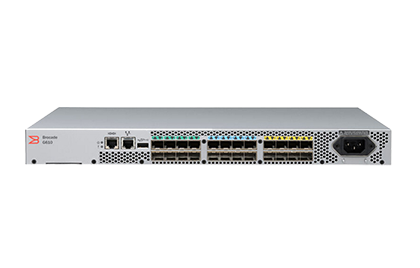 Brocade G610
Provides an affordable storage switch that redefines simplicity and flexibility

Enables the seamless transition to next-generation NVMe flash arrays, without a disruptive rip-and-replace

Starts small and grows on demand, from 8 to 24 ports, to support an evolving storage environment

Powers up from 16G to 32G to deliver increased performance on demand
| | | | |
| --- | --- | --- | --- |
| | | | |
| High Flexibility and Easy to Use | Flash-Ready Performance | Seamless Business Operations | Improve Efficiency |
| Designed for maximum flexibility, this entry-level switch offers pay-as-you-grow capability to easily and cost-effectively scale from 8 to 24 ports with Ports on Demand (PoD). With its PoD capability, the Brocade G610 provides excellent overall value and the agility needed to enable rapid deployments to meet user demands and support higher growth. In addition, the switch can be easily deployed in just three steps. | The switch meets the high-throughput, low-latency demands of critical applications with flash-ready performance and enables the seamless transition to next-generation NVMe flash arrays, without a disruptive rip and replace. | Brocade Gen 6 and Fabric Vision technology provide a breakthrough hardware and software solution that helps organizations simplify monitoring, maximize network availability, and gain insight into issues to speed resolution and meet critical service-level agreements (SLAs). Administrators can quickly identify abnormal VM behaviors to facilitate troubleshooting and fault isolation, helping to ensure maximum performance and operational stability. | By automating repetitive daily management task with Fabric Automation, IT organizations can significantly improve their efficiency and dramatically decrease the risk of operational mistakes. |
High Flexibility and Easy to Use

Designed for maximum flexibility, this entry-level switch offers pay-as-you-grow capability to easily and cost-effectively scale from 8 to 24 ports with Ports on Demand (PoD). With its PoD capability, the Brocade G610 provides excellent overall value and the agility needed to enable rapid deployments to meet user demands and support higher growth. In addition, the switch can be easily deployed in just three steps.

Flash-Ready Performance

The switch meets the high-throughput, low-latency demands of critical applications with flash-ready performance and enables the seamless transition to next-generation NVMe flash arrays, without a disruptive rip and replace.

Seamless Business Operations

Brocade Gen 6 and Fabric Vision technology provide a breakthrough hardware and software solution that helps organizations simplify monitoring, maximize network availability, and gain insight into issues to speed resolution and meet critical service-level agreements (SLAs). Administrators can quickly identify abnormal VM behaviors to facilitate troubleshooting and fault isolation, helping to ensure maximum performance and operational stability.

Improve Efficiency

By automating repetitive daily management task with Fabric Automation, IT organizations can significantly improve their efficiency and dramatically decrease the risk of operational mistakes.
Tech Specs
Fibre Channel performance
Fibre Channel: 4.25 Gbps line speed, full duplex; 8.5 Gbps line speed, full duplex; 14.025 Gbps line speed, full duplex; auto-sensing of 4 Gbps, 8 Gbps, 16 Gbps, and 32 Gbps port speeds

Fibre Channel ports
Switch mode (default): 8-, 16-, and 24-port configurations (8-port increment through Ports on Demand [PoD] license); E_Ports, F_Ports, M_Ports, and D_Ports
Brocade Access Gateway default port mapping: 40 SFP+ F_Ports, 8 SFP+ N_Ports

Maximum fabric latency
Latency for locally switched ports is 900 ns (including FEC)

Scalability
Full-fabric architecture with a maximum of 239 switches

Certified maximum
9,000 active nodes; 56 switches, 19 hops in Brocade Fabric OS® fabrics; larger fabrics certified as required

ISL trunking
Frame-based trunking with up to eight 32 Gbps ports per ISL trunk; up to 256 Gbps per ISL trunk
Exchange-based load balancing across ISLs with DPS included in Brocade Fabric OS

Aggregate bandwidth
768 Gbps end-to-end full duplex

Maximum frame size
2,112-byte payload

Frame buffers
2,000 dynamically allocated

Classes of service
Class 2, Class 3, Class F (inter-switch frames)

Port types
F_Port, E_Port, M_Port, D_Port (ClearLink Diagnostic Port) on 24 SFP+ ports
Brocade Access Gateway mode: F_Port and NPIV-enabled N_Port

Data traffic types
Fabric switches supporting unicast

Media types
32 Gbps: Brocade G610 requires Brocade hot-pluggable SFP+, LC connector; 32 Gbps SWL, LWL
16 Gbps: Brocade G610 requires Brocade hot-pluggable SFP+, LC connector; 16 Gbps SWL, LWL, ELWL
Fibre Channel distance subject to fiber-optic cable and port speed

USB
One USB port for system log file downloads or firmware upgrades

Fabric services
Monitoring and Alerting Policy Suite (MAPS); Flow Vision; Brocade Adaptive Networking (Traffic Isolation, QoS); Fabric Performance Impact (FPI) Monitoring; Slow Drain Device Quarantine (SDDQ); Brocade Advanced Zoning (default zoning, port/WWN zoning, broadcast zoning, peer zoning, target-driven zoning); Dynamic Fabric Provisioning (DFP); Dynamic Path Selection (DPS); Brocade Extended Fabrics; Enhanced BB credit recovery; FDMI; Frame Redirection; Frame-based Trunking; FSPF; Brocade ISL Trunking; Management Server; NPIV; NTP v3; Registered State Change Notification (RSCN); Reliable Commit Service (RCS); Simple Name Server (SNS); Read Diagnostics Parameter (RDP), VM Insight

Service Weblink
http://www.fujitsu.com/global/services

Service Weblink
http://www.fujitsu.com/global/services

Support Pack Options
Available in major metropolitan areas:
9x5, Next Business Day Onsite Response Time
9x5, 4h Onsite Response Time (depending on country)
24x7, 4h Onsite Response Time (depending on country)
Recommended Service
24x7, Onsite Response Time: 4h
Support Pack Options
Available in major metropolitan areas:
9x5, Next Business Day Onsite Response Time
9x5, 4h Onsite Response Time (depending on country)
24x7, 4h Onsite Response Time (depending on country)
Recommended Service
24x7, Onsite Response Time: 4h