<!-Subtext (optional)->
Tower powerhouse with the richest feature set
Fujitsu PRIMERGY TX2550 M7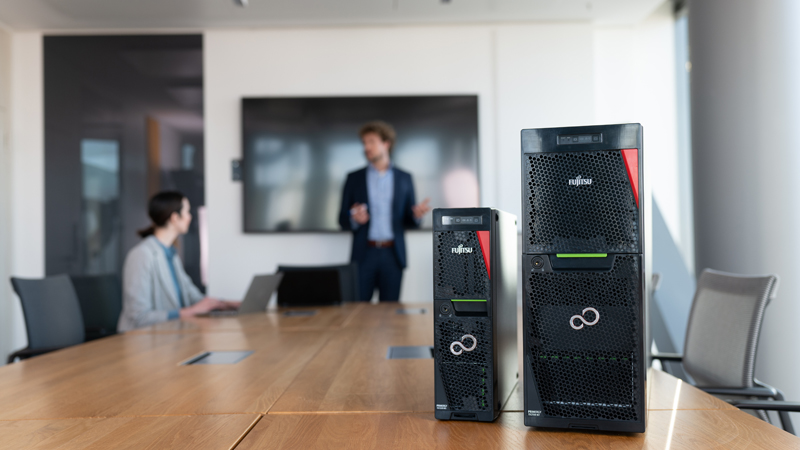 Fujitsu PRIMERGY TX2550 M7
Fujitsu PRIMERGY TX2550 M7
Small powerhouse for unprecedented business applications, processes and virtualized workloads

Up to 2x CPUs of the 4th Generation Intel® Xeon® Scalable processors with 32 cores

16x high speed DDR5 DIMM slots with up to 8TB and 4.800 MT/s

Up to 32x 2,5'' SAS/SATA/NVME storage devices with Fujitsu hot-plug frames

Room for up to 4 full height double width GPUs for AI/VID driven business workloads
| | | | |
| --- | --- | --- | --- |
| | | | |
| Power packed performance across workloads | Highly expandable and flexible design | Designed to be upgrade ready and efficient | Server and infrastructure management at your fingertips |
| The enhanced dual-socket calculator and high bandwidth DDR5 processor help to improve efficiency and increase performance while reducing power consumption. The TX2550 M7 is capable of handling a range of different tasks at the highest level: demanding industrial and analytical applications, business processes and enterprise applications, and virtualised workloads. | Storage suitable for securely managing extremely large datasets and flexible enough to be matched to a range of storage centric requirements such as IT infrastructure or collaboration workloads. Drives and RAID controllers can be tailored to specific business needs and budgets. Powerful and cost-effective networking options are available depending on your business need and budget. | Versatile PCIe slots offer flexible expandability for the integration of existing and new storage controllers, networking cards, or the benefits of graphic cards. Add capabilities per your business needs. Graphics card improves performance for graphic intensive apps; get more from your display infrastructure. The server is designed for quiet operation and offers best-in-class reliability and energy efficiency with up to 96% efficiency and dual power supplies. The rack upgrade kit allows you to invest in a system designed for scalability to match your business growth. | The onboard iRMC S6, is optimized for both data centers and SMEs who can rely on the latest generation server management. With ISM centralize the data center management as well as power and cooling by using a single user interface. Improve the whole data center productivity with converged infrastructure management. M.2 devices are perfect for hassle-free hypervisor /operating system start-up, while TPM 2.0 provides ease of mind for administrators with the latest hardware and Software driven security features. |
Power packed performance across workloads

The enhanced dual-socket calculator and high bandwidth DDR5 processor help to improve efficiency and increase performance while reducing power consumption. The TX2550 M7 is capable of handling a range of different tasks at the highest level: demanding industrial and analytical applications, business processes and enterprise applications, and virtualised workloads.

Highly expandable and flexible design

Storage suitable for securely managing extremely large datasets and flexible enough to be matched to a range of storage centric requirements such as IT infrastructure or collaboration workloads. Drives and RAID controllers can be tailored to specific business needs and budgets. Powerful and cost-effective networking options are available depending on your business need and budget.

Designed to be upgrade ready and efficient

Versatile PCIe slots offer flexible expandability for the integration of existing and new storage controllers, networking cards, or the benefits of graphic cards. Add capabilities per your business needs. Graphics card improves performance for graphic intensive apps; get more from your display infrastructure. The server is designed for quiet operation and offers best-in-class reliability and energy efficiency with up to 96% efficiency and dual power supplies. The rack upgrade kit allows you to invest in a system designed for scalability to match your business growth.

Server and infrastructure management at your fingertips

The onboard iRMC S6, is optimized for both data centers and SMEs who can rely on the latest generation server management. With ISM centralize the data center management as well as power and cooling by using a single user interface. Improve the whole data center productivity with converged infrastructure management. M.2 devices are perfect for hassle-free hypervisor /operating system start-up, while TPM 2.0 provides ease of mind for administrators with the latest hardware and Software driven security features.
Tech Specs
Chipset
Intel® C741

Mainboard type
D3985-A

Product Type
Dual Socket Tower Server

Processor
Intel® Xeon® Bronze 3xxx processor, Intel® Xeon® Silver 4xxx processor, Intel® Xeon® Gold 5xxx processor, Intel® Xeon® Gold 6xxx processor, Intel® Xeon® Platinum 8xxx processor

Memory
16 GB - 4.0 TB, DIMM (DDR5)

Memory slots
16 (8 DIMMs per CPU, 8 channels with one DIMM per channel)

Memory protection
ECC, Memory Scrubbing, SDDC, ADDDC (Adaptive Double DRAM Device Correction), Memory Mirroring support

Drives (optional)
LTO7HH Ultrium, 300 MB/s
DVD-ROM, half height, SATA I
DVD Super Multi, half height, SATA I
DVD supermulti, ultraslim, SATA I
Blu-ray Disc™ Triple Writer, ultraslim, SATA I
RDX Drive, 100 MB/s, 320 GB, 500 GB, 1 TB, 2 TB, USB 3.0
LTO7HH Ultrium, 300 MB/s, 2,500 GB, SAS 6Gb/s
LTO7HH Ultrium, 300 MB/s, SAS 6Gb/s

PCI-Express 4.0 x8
8 x Full height Note: Refer to Slot Notes.

PCI-Express 4.0 x16
4 x Full height Note: Refer to Slot Notes.

Accessible drive bays
3 x 5.25/1.6-inch

Optional accessible drives
3x 1.6x5.25" bays for an optical and/or backup drives
All possible options described in relevant system configurator.

Storage drive bays
3.5-inch or 2.5-inch hot-plug SAS/SATA
8 x 2.5-inch hot-plug SAS/SATA
8 x 3.5-inch hot-plug SAS/SATA
24 x 2.5-inch hot-plug SAS/SATA
4 x 3.5-inch hot-plug SAS/SATA
Optional expandable up to 24 storage drives
Optional expanderble up to 12 storage drives
optional expanderble up to 32 storage drives
not expandable
optional expandable up to 8 storage drives
optional expandable up to 12 storage drives
optional expandable up to 24 storage drives
optional expandable up to 32 storage drives

LAN Controller
2 x 1 Gbit/s onboard

Remote Management
IPMI 2.0 compatible, Integrated Remote Management Controller (iRMC S6, 1024 MB attached memory incl. graphics controller)

USB ports
8 x USB 3.1 Gen1(USB3.0) (2x front, 4 x rear, 1x USB 3.1 Gen1 for backup devices)

Graphics
1 x VGA(1 x rear, 1 x front(Optional))

Management LAN (RJ45)
Management LAN traffic can be switched to shared onboard LAN port, 1 x dedicated management LAN port for iRMC S6 (10/100/1000 Mbit/s)

Trusted Platform Module (TPM)
optional TPM

Power supply configuration
1x non hot-plug power supply or 2x hot-plug power supply for redundancy or 2x non hot-plug power supply

Active power (max. configuration)
2,758 W

Weight
Up to 41.9 kg

Rack (W x D x H)
483 (Bezel); 448 mm (body) x 772 x 175 mm

Floor-stand (W x D x H)
177 x 776 x 456 mm

DC Infrastructure Management
Infrastructure Manager (ISM)
Essential Edition
Advanced Edition

Server Management
ServerView Agentless Service (SVAS), ServerView ESXi CIM Provider, ServerView Installation Manager (SVIM), ServerView Update Manager Express (UME)

Operating system
http://docs.ts.fujitsu.com/dl.aspx?id=d4ebd846-aa0c-478b-8f58-4cfbf3230473

Warranty period
3 years

Warranty type
Onsite warranty Warranty conditions tbd

Service Lifecycle
at least 5 years after shipment, for details see https://support.ts.fujitsu.com/

Service Weblink
http://www.fujitsu.com/fts/products/product-support-services/

Service Weblink
http://www.fujitsu.com/fts/products/product-support-services/

Support Pack Options
Globally available in major metropolitan areas:
9x5, Next Business Day Onsite Response Time
9x5, 4h Onsite Response Time (depending on country)
24x7, 4h Onsite Response Time (depending on country)
Recommended Service
24x7 Onsite Service with 4h Onsite Response Time
Support Pack Options
Globally available in major metropolitan areas:
9x5, Next Business Day Onsite Response Time
9x5, 4h Onsite Response Time (depending on country)
24x7, 4h Onsite Response Time (depending on country)
Recommended Service
24x7 Onsite Service with 4h Onsite Response Time
Resources
Datasheets
Technical Details
Brochures & Flyers
Components
| | |
| --- | --- |
| | The enhanced Gen5 16 Gb/s Fibre Channel Host Bus Adapters (HBA) QLE2690 and QLE2692 for the PRIMERGY & PRIMEQUEST servers are ideal for virtualized environments and transaction intensive applications. The adapters support the latest PCIe 3.0 standard for lower cooling and power costs. In addition, QLogic StorFusion technology delivers streamlined provisioning, guaranteed quality of service (QoS), and improved resiliency while addressing the needs of IT organizations that require reliability, integrated management, and guaranteed network performance. |
| | The Emulex Gen 6 16 Gb Fibre Channel (FC) Host Bus Adapters (HBA) by Broadcom for PRIMERGY and PRIMEQUEST server systems are optimal Fibre Channel HBAs for virtualized, cloud and mission critical deployments. The PFC EP Emulex Gen 6 Fibre Channel HBAs LPe31000/31002 by Broadcom take performance to a new level with PCIe 3.0 support, data integrity capabilities and cloud scale reliability, and ease of use. Organizations looking to improve performance, protect against data corruption, and simplify operations of FC SANs in cloud or high performance environments can benefit from deploying the PFC EP LPe31000/31002. |