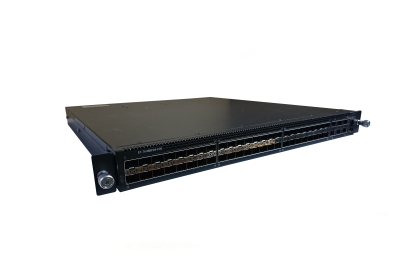 FUJITSU PSWITCH 2048
1U low-latency, Layer 2/3, Ethernet switch

Ideal platform for traditional Top-of-Rack (ToR) switch deployments

48x 10GbE BASE-T (PSWITCH 2048T) or SFP+ ports (PSWITCH 2048P) and 6x 40GbE QSFP+ ports

No additional license costs for the number of used ports

Support of advanced features such as DCB, EVB and VTEP
| | | | |
| --- | --- | --- | --- |
| | | | |
| High-performance and Availability | Auto Discovery | End Host Mode (EHM) | Data Center and Virtualization |
| Enable the efficiency and flexibility you need to support cloud computing, virtualization, mobility, and consolidation. | Reduce the initial effort of introducing the switch into network. | Establish a set of secured ports to be connected to the network without any considerations about STP, VLAN, load balancing, or other settings. | Deliver key scalable features that meet the demands of today's virtualized and cloud multi-vendor environments. |
High-performance and Availability

Enable the efficiency and flexibility you need to support cloud computing, virtualization, mobility, and consolidation.

Auto Discovery

Reduce the initial effort of introducing the switch into network.

End Host Mode (EHM)

Establish a set of secured ports to be connected to the network without any considerations about STP, VLAN, load balancing, or other settings.

Data Center and Virtualization

Deliver key scalable features that meet the demands of today's virtualized and cloud multi-vendor environments.
Tech Specs
Connection type
Ethernet ToR Switch
10/40 Gbit/s Ethernet Switch, Layer2 switching support / Layer3 Service support, End Host Mode (EHM)

Down-link ports
48 x 10 Gbit/s Eth (SFP+ / RJ45)

Up-link ports
6 x 40 Gbit/s Eth (QSFP+)

Management ports
1 x RJ45 Serial Port 1 x 10/100/1000Mbps LAN Port

Network protocol and standards compatibility
IEEE 802.1ab LLDP, IEEE 802.1p Class of Service, IEEE 802.1d Spanning Tree Protocol, IEEE 802.1Qau Congestion Notification, IEEE 802.1Qaz Enhanced Transmission Selection (ETS), IEEE 802.1Qbb Priority Flow Control (PFC), IEEE 802.1q VLAN, IEEE 802.1s Multiple Spanning Tree Protocol, IEEE 802.1w Rapid Spanning Tree Protocol, IEEE 802.1x Port Based Network Access Control, IEEE 802.1ax-2008 Link Aggregation, IEEE 802.3x Flow Control, IEEE DCBX Data Center Bridging Exchange protocol proposal for 802.1 Qaz, IPv4, IPv6 and mixed IPv4/IPv6 network protocols

Management
Telnet/SSH
Network Configuration Protocol(NETCONF)
Simple Network Management Protocol(SNMP)
Remote Monitoring(RMON)
Open vSwitch Database(OVSDB) management protocol

Link aggregation
Static LAG
IEEE 802.1ax-2008 standard (LACP)
support up to 48 ports in a LAG
virtual port channels (VPCs)

Performance
720Gbps switching bandwidth (1440Gbps duplex)
Automatic address learning function to build the packet-forwarding information table. The table contains up to 96K MAC addresses
12 MB of packet buffer memory
Support Jumbo Frame up to 9Kbyte
Store-Forward mode - Cut-through is available to minimize the latenc

Spanning tree
Spanning Tree Protocol (STP)
Rapid Spanning Tree Protocol (RSTP)
Multiple Spanning Tree Protocol (MSTP)

VLAN
Port Based VLAN
MAC Based VLAN
Protocol Based VLAN
IP Subnet Based VLAN
Private VLAN

Weight
8.4 kg

Service Weblink
http://www.fujitsu.com/global/services

Support Pack Options
Available in major business areas:
9x5, Next Business Day Onsite Response Time
9x5, 4h Onsite Response Time (depending on country)
24x7, 4h Onsite Response Time (depending on country)
Recommended Service
24x7, Onsite Response Time: 4h
Support Pack Options
Available in major business areas:
9x5, Next Business Day Onsite Response Time
9x5, 4h Onsite Response Time (depending on country)
24x7, 4h Onsite Response Time (depending on country)
Recommended Service
24x7, Onsite Response Time: 4h
Resources
Technical Details
Brochures & Flyers